No category
SafeCom G4 Release Note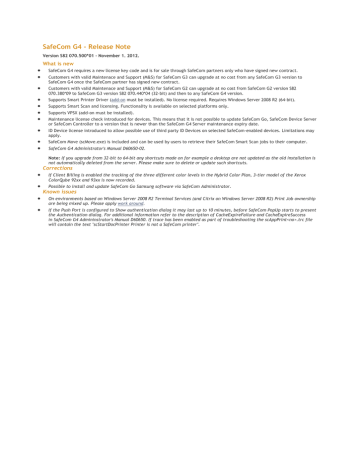 SafeCom G4 - Release Note
Version S82 070.500*01 - November 1. 2012.
What is new


SafeCom G4 requires a new license key code and is for sale through SafeCom partners only who have signed new contract.

Customers with valid Maintenace and Support (M&S) for SafeCom G2 can upgrade at no cost from SafeCom G2 version S82
070.380*09 to SafeCom G3 version S82 070.440*04 (32-bit) and then to any SafeCom G4 version.




Supports Smart Printer Driver (add-on must be installed). No license required. Requires Windows Server 2008 R2 (64-bit).

ID Device license introduced to allow possible use of third party ID Devices on selected SafeCom-enabled devices. Limitations may
apply.


SafeCom Move (scMove.exe) is included and can be used by users to retrieve their SafeCom Smart Scan jobs to their computer.
Customers with valid Maintenace and Support (M&S) for SafeCom G3 can upgrade at no cost from any SafeCom G3 version to
SafeCom G4 once the SafeCom partner has signed new contract.
Supports Smart Scan and licensing. Functionality is available on selected platforms only.
Supports VPSX (add-on must be installed).
Maintenance license check introduced for devices. This means that it is not possible to update SafeCom Go, SafeCom Device Server
or SafeCom Controller to a version that is newer than the SafeCom G4 Server maintenance expiry date.
SafeCom G4 Administrator's Manual D60650-02.
Note: If you upgrade from 32-bit to 64-bit any shortcuts made on for example a desktop are not updated as the old installation is
not automatically deleted from the server. Please make sure to delete or update such shortcuts.
Corrections


If Client Billing is enabled the tracking of the three different color levels in the Hybrid Color Plan, 3-tier model of the Xerox
ColorQube 92xx and 93xx is now recorded.
Possible to install and update SafeCom Go Samsung software via SafeCom Administrator.
Known issues

On environments based on Windows Server 2008 R2 Terminal Services (and Citrix on Windows Server 2008 R2) Print Job ownership
are being mixed up. Please apply work around.

If the Push Port is configured to Show authentication dialog it may last up to 10 minutes, before SafeCom PopUp starts to present
the Authentication dialog. For additional information refer to the description of CacheExpireFailure and CacheExpireSuccess
in SafeCom G4 Admininstrator's Manual D60650. If trace has been enabled as part of troubleshooting the scAppPrint<no>.trc file
will contain the text "scStartDocPrinter Printer is not a SafeCom printer".

* Your assessment is very important for improving the work of artificial intelligence, which forms the content of this project