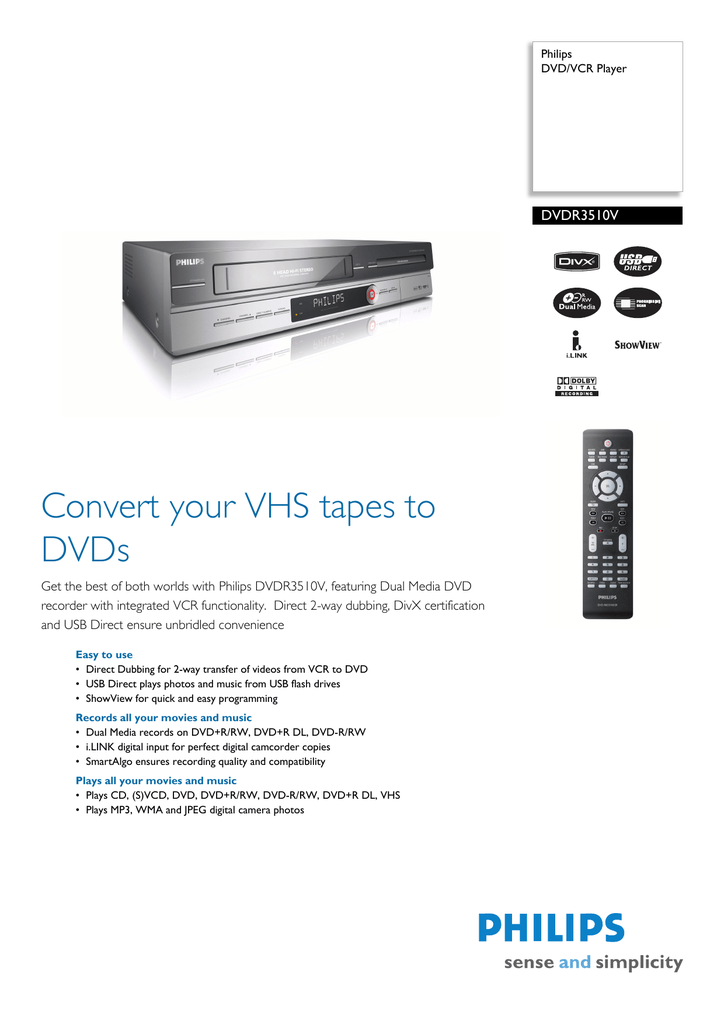 Philips
DVD/VCR Player
DVDR3510V
Convert your VHS tapes to
DVDs
Get the best of both worlds with Philips DVDR3510V, featuring Dual Media DVD
recorder with integrated VCR functionality. Direct 2-way dubbing, DivX certification
and USB Direct ensure unbridled convenience
Easy to use
• Direct Dubbing for 2-way transfer of videos from VCR to DVD
• USB Direct plays photos and music from USB flash drives
• ShowView for quick and easy programming
Records all your movies and music
• Dual Media records on DVD+R/RW, DVD+R DL, DVD-R/RW
• i.LINK digital input for perfect digital camcorder copies
• SmartAlgo ensures recording quality and compatibility
Plays all your movies and music
• Plays CD, (S)VCD, DVD, DVD+R/RW, DVD-R/RW, DVD+R DL, VHS
• Plays MP3, WMA and JPEG digital camera photos
DVDR3510V/58
DVD/VCR Player
Specifications
Product highlights
Picture/Display
• A/D converter: 10 bit, 27 MHz
• D/A converter: 10 bit, 54 MHz
• Picture enhancement: Progressive Scan
Sound
• A/D converter: 24 bit, 48 kHz
• D/A converter: 24 bit, 192 kHz
Video Recording
• Recording system: PAL
• Compression formats: MPEG2
• Recording Modes: High Quality (HQ), Standard
Play (SP), Standard Play Plus (SPP), Long Play
(LP), Extended Play (EP), Super Long Play (SLP)
• Recording enhancements: Chapter Marker
Insertion, Divide, Erase, Manual Chapter
Marking, One Touch Record (OTR), Safe
Record, Selectable Index Pictures, Station ID
Recording
• Audio compression: Dolby Digital
• Recording Media: DVD+R DL, DVD+R/+RW,
DVD-R/-RW
Video Playback
• Picture compression format: JPEG
• Picture enhancement: Rotate, Zoom, Slideshow
with music playback
Tuner/Reception/Transmission
• TV system: PAL D/K, SECAM B/G, SECAM D/K,
PAL B/G, PAL I, SECAM L/L'
Connectivity
• Front / Side connections: i.LINK DV in
(IEEE1394, 4-pin), CVBS in, Audio L/R in, USB
1.1
• Rear Connections: Analog audio Left/Right out,
Composite video (CVBS) output, Digital coaxial
out, S-Video out, SCART1 (CVBS, RGB out),
SCART2 (CVBS, RGB in), RF antenna in / TV
out, Component Video output
Convenience
• Programmable Events: 8
• Programming/Timer Enhancements: ShowView,
VPS/PDC recording control, One Touch
Recording, Daily/Weekly Repeat Program,
Manual Timer
• Playback Media: DVD-Video, CD-R/CD-RW,
DVD+R/+RW, DVD-R/-RW, Video CD/SVCD,
DVD+R DL, USB flash drive, VHS Tapes
• Compression formats: MPEG2, MPEG1, DivX
3.11, DivX 4.x, DivX 5.x, DivX 6.0
Power
Audio Playback
• Included Accessories: Quick start guide, Remote
Control, User Manual, 2 x AAA Batteries, RF
cable, Warranty Leaflet
• Playback Media: Audio CD, CD-R/RW, DVD+R
DL, DVD+R/+RW, DVD-R/-RW, USB flash
drive
• Compression format: Dolby Digital, PCM, MP3,
MPEG2 Multichannel, WMA
Still Picture Playback
• Playback Media: DVD+R/+RW, DVD-R/-RW,
CD-R/RW, DVD+R DL, USB flash drive
• Power supply: 50Hz, 220-240V
• Power consumption: 32 W
• Standby power consumption: < 5 W
Accessories
Dimensions
• Weight incl. Packaging: 6 kg
• Product dimensions (WxDxH): 435 x 344 x 100
• Product weight: 5.2 kg
•
Date of issue 2007-05-08
© 2007 Koninklijke Philips Electronics N.V.
All Rights reserved.
Version: 1.0
Specifications are subject to change without notice.
Trademarks are the property of Koninklijke Philips
Electronics N.V. or their respective owners.
12 NC: 8670 000 27075
EAN: 87 12581 31664 8
www.philips.com
Direct Dubbing
Having a Direct Dubbing button allows for the user to
start recording from the DVD disc without complicated
menu system selection or input/output selection for
separates.
Dual Media
Philips DVD Recorders support 'dual media' recording the ability to create recordings on DVD+R/RW, DVD-R/
RW and DVD+R DL discs. Now you can buy any disc
and the Philips recorder will always create fully
compatible recordings, which can be played by any DVD
player.
i.LINK digital input
Also known as IEEE 1394 and FireWire. i.LINK is the
worldwide standard for connecting digital video devices,
used on digital home video equipment such as DV and
D8 camcorders, as well as PCs. Conveniently, it carries
all audio and video signals via a single cable.With i.LINK
Digital Video input you can copy your home videos in
their original digital picture quality.
USB Direct
Simply plug your device into the USB port on your Philips
DVD system. Your digital music and photos will be
played directly from the device. Now you can share your
favorite moments with family and friends.
ShowView
With the ShowView system, all you need to do to
program your video recorder is to enter the ShowView
number – a single code of up to nine digits (but usually
less) that is printed next to each TV program in most TV
guides.