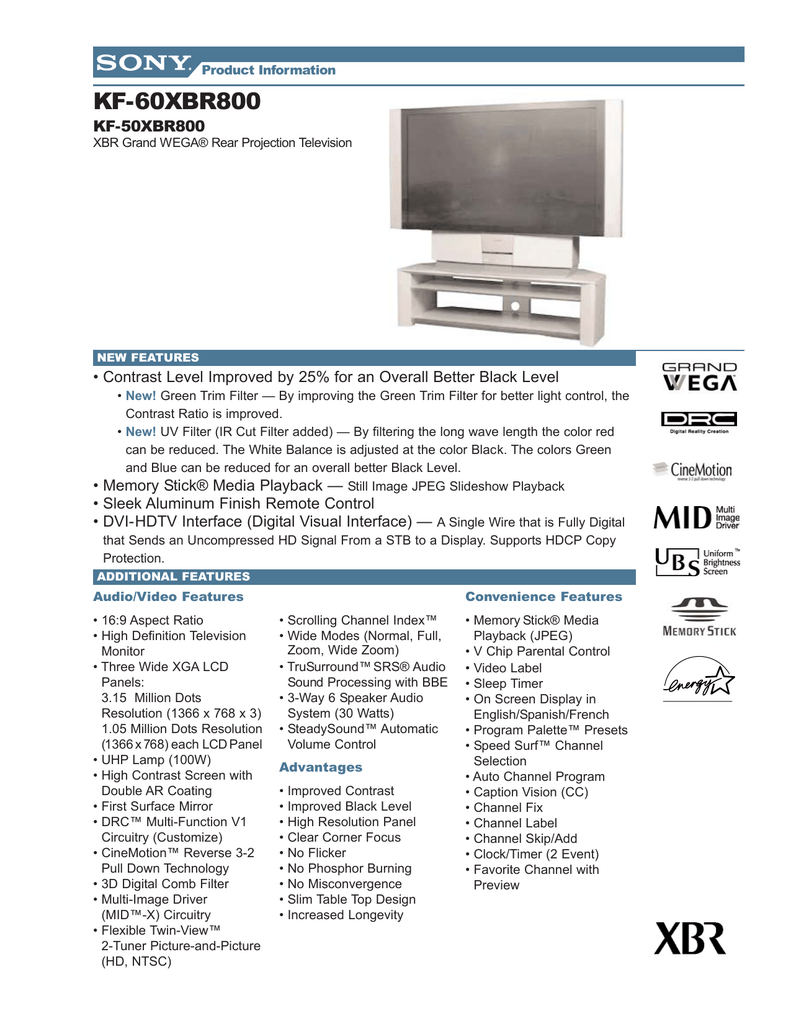 Product Information
KF-60XBR800
KF-50XBR800
XBR Grand WEGA® Rear Projection Television
NEW FEATURES
• Contrast Level Improved by 25% for an Overall Better Black Level
• New! Green Trim Filter — By improving the Green Trim Filter for better light control, the
Contrast Ratio is improved.
• New! UV Filter (IR Cut Filter added) — By filtering the long wave length the color red
can be reduced. The White Balance is adjusted at the color Black. The colors Green
and Blue can be reduced for an overall better Black Level.
Memory Stick® Media Playback — Still Image JPEG Slideshow Playback
•
• Sleek Aluminum Finish Remote Control
• DVI-HDTV Interface (Digital Visual Interface) — A Single Wire that is Fully Digital
that Sends an Uncompressed HD Signal From a STB to a Display. Supports HDCP Copy
Protection.
ADDITIONAL FEATURES
Convenience Features
Audio/Video Features
• 16:9 Aspect Ratio
• High Definition Television
Monitor
• Three Wide XGA LCD
Panels:
3.15 Million Dots
Resolution (1366 x 768 x 3)
1.05 Million Dots Resolution
(1366 x 768) each LCD Panel
• UHP Lamp (100W)
• High Contrast Screen with
Double AR Coating
• First Surface Mirror
• DRC™ Multi-Function V1
Circuitry (Customize)
• CineMotion™ Reverse 3-2
Pull Down Technology
• 3D Digital Comb Filter
• Multi-Image Driver
(MID™-X) Circuitry
• Flexible Twin-View™
2-Tuner Picture-and-Picture
(HD, NTSC)
• Scrolling Channel Index™
• Wide Modes (Normal, Full,
Zoom, Wide Zoom)
• TruSurround™ SRS® Audio
Sound Processing with BBE
• 3-Way 6 Speaker Audio
System (30 Watts)
• SteadySound™ Automatic
Volume Control
Advantages
•
•
•
•
•
•
•
•
•
Improved Contrast
Improved Black Level
High Resolution Panel
Clear Corner Focus
No Flicker
No Phosphor Burning
No Misconvergence
Slim Table Top Design
Increased Longevity
• Memory Stick® Media
Playback (JPEG)
• V Chip Parental Control
• Video Label
• Sleep Timer
• On Screen Display in
English/Spanish/French
• Program Palette™ Presets
• Speed Surf™ Channel
Selection
• Auto Channel Program
• Caption Vision (CC)
• Channel Fix
• Channel Label
• Channel Skip/Add
• Clock/Timer (2 Event)
• Favorite Channel with
Preview
Product Information
KF-60XBR800
KF-50XBR800
XBR Grand WEGA® Rear Projection Television
KEY TECHNOLOGY
Wide XGA LCD Panels Three 1.35-inch wide XGA LCD panels, one for each
RGB (Red, Green, Blue) signal that resolve 1.05 million dots. This provides a
total picture resolution of 3.15 million dots for crisp, precise picture detail.
Advanced Screen Technology
Superfine Pitch Lenticular Screen
Conventional CRT PJ = 0.72mm
Grand WEGA® = 0.155mm
Wide (Vertical) Viewing Angle
Conventional CRT PJ = 34 Degrees
Grand WEGA® = 60 Degrees
High Contrast Screen with Double Anti-Reflective Coating
Reduces glare allowing only 1.5% of ambient light to be reflected back at the
viewer.
Optical Engine Sony's original engine, that provides a high-resolution picture
from corner to corner across the entire screen; it also renders an image with
high brightness utilizing a 100W UHP (Ultra High Pressure) Lamp that can be
easily replaced by the owner.
Digital Reality Creation™ MultiFunction V1 This latest version of
DRC™ circuitry minimizes the visibility of scanning lines to create an impressively smoother and more beautiful picture, while also offering user control over
detail and smoothness levels, to allow for a customized picture that is optimized
for signal quality, viewing conditions and personal preference.
CineMotion™ Reverse 3-2 Pull-Down Technology Ensures a crisp,
clean image by minimizing motion artifacts.
ADDITIONAL FEATURES
Specifications
General
Inputs and Outputs
• Power Requirements:
AC120V, 60Hz
• Power Consumption
(Standby): 0.5W
• Power Consumption (in
Operation): 220W
• HD Component Video
Inputs x 2
(1080i/720p/480p/480i)
• DVI-HDTV Interface x 1
• A/V Inputs x 4
• S-Video Inputs x 3
(Including Front Inputs)
• Control S (In/Out)
• Audio Out
• Monitor Out
Accessories
Supplied Accessories
• Instruction Manual
• Remote Control (RM-Y912)
• AAA Batteries (2)
Weights & Measures
Optional Accessories
• Spare Lamp XL-2000U
• A/V Stand: SU-GW1
(W x H x D):
541/4" x 157/8" x 211/2"
(1375 x 403 x 545mm)
Weight: 115 lbs. (52 kg)
• Dimensions (W x H x D):
KF-60XBR800:
633/4" x 431/2" x 213/8"
(1618 x 1102.5 x 542mm)
KF-50XBR800:
541/4" x 38" x 163/8"
(1376 x 964 x 415mm)
• Weight:
KF-60XBR800: 146 lbs.
(68kg)
KF-50XBR800: 111 lbs.
(50kg)
©2002 Sony Electronics Inc. All
rights reserved. Features and specifications are subject to change without
notice.

* Your assessment is very important for improving the work of artificial intelligence, which forms the content of this project