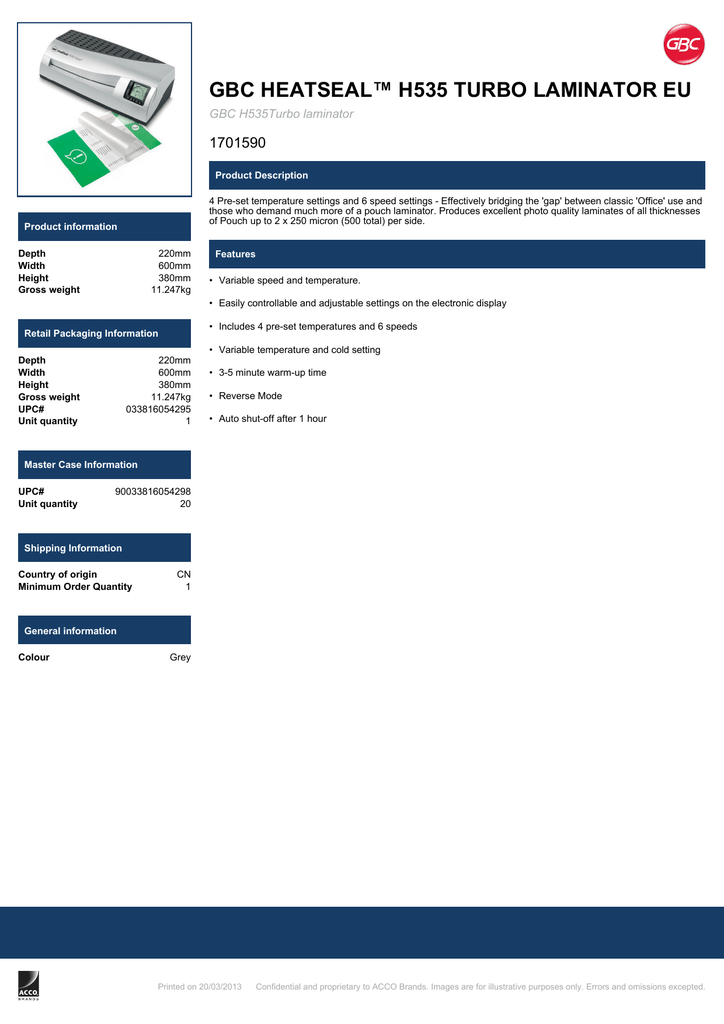 GBC HEATSEAL™ H535 TURBO LAMINATOR EU
GBC H535Turbo laminator
1701590
Product Description
4 Pre-set temperature settings and 6 speed settings - Effectively bridging the 'gap' between classic 'Office' use and
those who demand much more of a pouch laminator. Produces excellent photo quality laminates of all thicknesses
of Pouch up to 2 x 250 micron (500 total) per side.
Product information
Depth
Width
Height
Gross weight
220mm
600mm
380mm
11.247kg
Features
• Variable speed and temperature.
• Easily controllable and adjustable settings on the electronic display
• Includes 4 pre-set temperatures and 6 speeds
Retail Packaging Information
• Variable temperature and cold setting
Depth
Width
Height
Gross weight
UPC#
Unit quantity
220mm
600mm
380mm
11.247kg
033816054295
1
• 3-5 minute warm-up time
• Reverse Mode
• Auto shut-off after 1 hour
Master Case Information
UPC#
Unit quantity
90033816054298
20
Shipping Information
Country of origin
Minimum Order Quantity
CN
1
General information
Colour
Grey
Printed on 20/03/2013
Confidential and proprietary to ACCO Brands. Images are for illustrative purposes only. Errors and omissions excepted.

* Your assessment is very important for improving the work of artificial intelligence, which forms the content of this project