DC320/37 Philips docking entertainment system with wOOx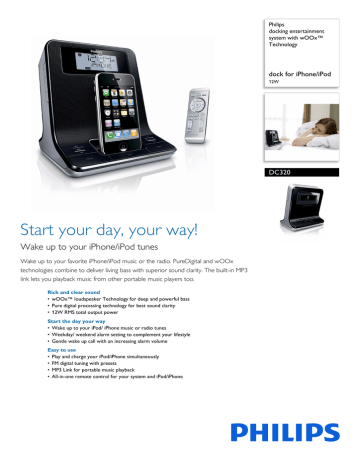 Philips
docking entertainment
system with wOOx™
Technology
dock for iPhone/iPod
12W
DC320
Start your day, your way!
Wake up to your iPhone/iPod tunes
Wake up to your favorite iPhone/iPod music or the radio. PureDigital and wOOx
technologies combine to deliver living bass with superior sound clarity. The built-in MP3
link lets you playback music from other portable music players too.
Rich and clear sound
• wOOx™ loudspeaker Technology for deep and powerful bass
• Pure digital processing technology for best sound clarity
• 12W RMS total output power
Start the day your way
• Wake up to your iPod/ iPhone music or radio tunes
• Weekday/ weekend alarm setting to complement your lifestyle
• Gentle wake up call with an increasing alarm volume
Easy to use
• Play and charge your iPod/iPhone simultaneously
• FM digital tuning with presets
• MP3 Link for portable music playback
• All-in-one remote control for your system and iPod/iPhone
Docking entertainment system with wOOx™ Technology
DC320/37
dock for iPhone/iPod 12W
Specifications
iPhone compatibility
• Compatible with: iPhone, iPhone 3G, iPhone 3GS
iPod compatibility
• Compatible with: iPod touch, iPod touch 2nd
generation, iPod nano 3rd generation, iPod nano
4th generation, iPod classic, iPod 5th generation,
iPod with color display, iPod mini, iPod nano 1st
generation, iPod nano 2nd generation, iPod nano
Audio playback
• Docking playback modes: fast forward and
backward, next and previous track, play and pause
Tuner/Reception/Transmission
•
•
•
•
Tuner bands: FM
Station presets: 20
Antenna: FM antenna
Tuner enhancement: auto digital tuning
Convenience
• Alarms: buzzer alarm, radio alarm, repeat alarm
(snooze), dual alarm
• Backlight color: white
• Clock: Digital, sleep timer
• Display type: LCD display
• Charging device: iPhone, iPod
Sound
• Sound system: stereo
• Volume control: up/down
• Output power: 2 x 6 W RMS
Highlights
Loudspeakers
• No. of built-in speakers: 5
• Speaker drivers: Neodynium magnet system
• Loudspeaker enhancement: wOOx Bass Radiator
Weekday/ weekend alarm
Connectivity
• MP3 Link: 3.5mm stereo line in
Power
• Power supply: 100 - 240V AC, 50/60Hz
• Power type: AC Input
Dimensions
•
•
•
•
•
•
•
•
•
•
•
Master carton dimensions: 221 x 187 x 372 mm
Gross weight: 1.4 kg
Master carton quantity: 2
Master carton weight: 3 kg
Packaging width: 212 mm
Packaging height: 172 mm
Packaging depth: 181 mm
Weight: 0.9 kg
Main unit depth: 150 mm
Main unit height: 187 mm
Main unit width: 156 mm
Accessories
Designed with modern day lifestyles in mind, this
clock radio has a dual alarm feature, allowing you to
set different alarm times for weekdays and weekends
or even vary the alarm settings for couples. The
alarm settings can be tailored for the same alarm
times for the entire week from Monday to Sunday.
Or you can set the alarm for an early start on
weekdays from Monday to Friday, and lazy lie-ins for
Saturday and Sundays. Whichever you choose, this
convenient features saves you from the hassle of
fiddling with different alarm times every single night.
Pure digital sound
• Cables/Connection: 3.5 mm stereo line in cable,
AC-DC adapter
• Others: Quick start guide, User Manual
• Warranty: Warranty Certificate
•
Advanced pure digital sound processing technology
offers vastly superior sound performance compared
to the conventional analog audio processing
technology that is found in docking players that use
the analog audio output from an iPod/iPhone. By
collecting the iPod's/iPhone's digital audio output and
employing digital processing at each stage of the
circuit, a much higher Signal-to-Noise ratio is
produced. The result is unsurpassed sound clarity
that is in perfect balance.
wOOx™ Technology
Issue date 2014-03-14
© 2014 Koninklijke Philips N.V.
All Rights reserved.
Version: 1.0.2
Specifications are subject to change without notice.
Trademarks are the property of Koninklijke Philips N.V.
or their respective owners.
12 NC: 8670 000 56191
UPC: 6 09585 17611 9
www.philips.com
wOOx technology is a revolutionary loudspeaker
concept that allows you to hear and feel profoundly
deep bass that is richer than any other audio system.
Special speaker drivers work in harmony with the
wOOx bass radiator, and precise tuning between the
main driver and the tweeter ensures smooth
transitions from low-mid to high frequencies. Dual
suspension and a totally symmetrical sandwich
construction deliver low and precise base without
noticeable distortion. wOOx produces exceptionally
deep and dynamic bass by using the speaker box full
volume to truly magnify the impact of the music.

* Your assessment is very important for improving the work of artificial intelligence, which forms the content of this project