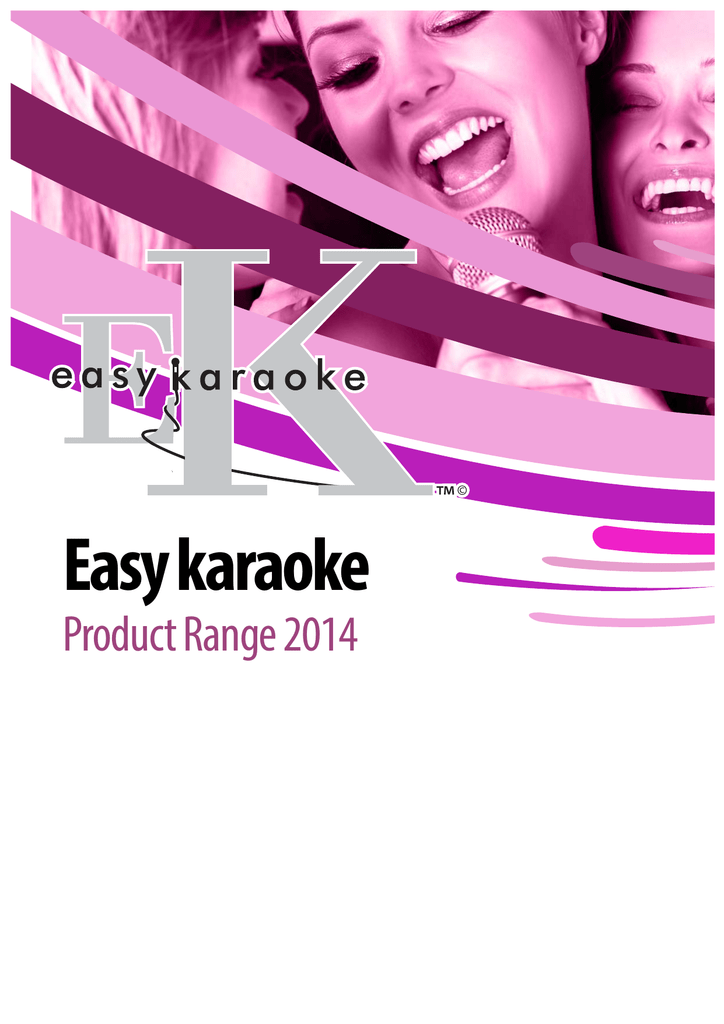 Easy karaoke
Product Range 2014
EKG88BK
Plug & Play CD/CDG Karaoke Machine
Includes
FREE
60 Track Karaoke
Millennium CD
FEATURES
Ŷ 2 x Microphone inputs with Echo
Ŷ Microphone volume control
Ŷ Headphone socket
Ŷ AUX input
Ŷ Connects to any TV or AV system
INCLUDED
Ŷ 1 x CDG Demo karaoke disc
Ŷ 1 x Professional microphone
Ŷ 1 x Set of connecting cables
Ŷ 1 x Instruction manual
EKS301RB
CD+G Karaoke Machine with Camera
Includes
FREE
60 Track Karaoke
Millennium CD
FEATURES
Ŷ Plays CD & CDGs
Ŷ Displays song lyrics on TV
Ŷ Built in Camera: image and song lyrics on screen
Ŷ Auto Voice Control
Ŷ Built-In 2 x 1 watts speakers
EKS808BK
Professional Karaoke system
with Speaker Pedestal
FEATURES
Ŷ Front Load CD+G Mechanism
Ŷ7" (16:9) TFT Colour Screen
ŶBuilt-in Speakers on Main Unit and Pedestal with
Independent Volume Controls
ŶEcho Control
ŶA.V.C (Auto Voice Control)
ŶBalance Control
ŶDigital Key Control
ŶMicrophone Volume Control
ŶUSB Port for Recording and Playback
ŶLine-in Function (MP3/iPhone/iPod input)
ŶBuilt-in Speakers
ŶTwo Microphones Jacks
ŶVideo Output for TV Connection
ŶAudio Output
ŶCompatible to CD/CDG/CDR/CDRW/MP3/MP3G
www.jhs.co.uk
facebook.com/gearmagazine
twitter.com/gearmagazine
EXCLUSIVE UK & EIRE TRADE DISTRIBUTORS:
JOHN HORNBY SKEWES & CO. LTD., SALEM HOUSE, PARKINSON APPROACH, GARFORTH, LEEDS LS25 2HR, UK.
©2014 JHS & Co. Ltd. Specifications and colours are subject to change without prior notice. EK - Easy Karaoke is a trademark.

* Your assessment is very important for improving the work of artificial intelligence, which forms the content of this project