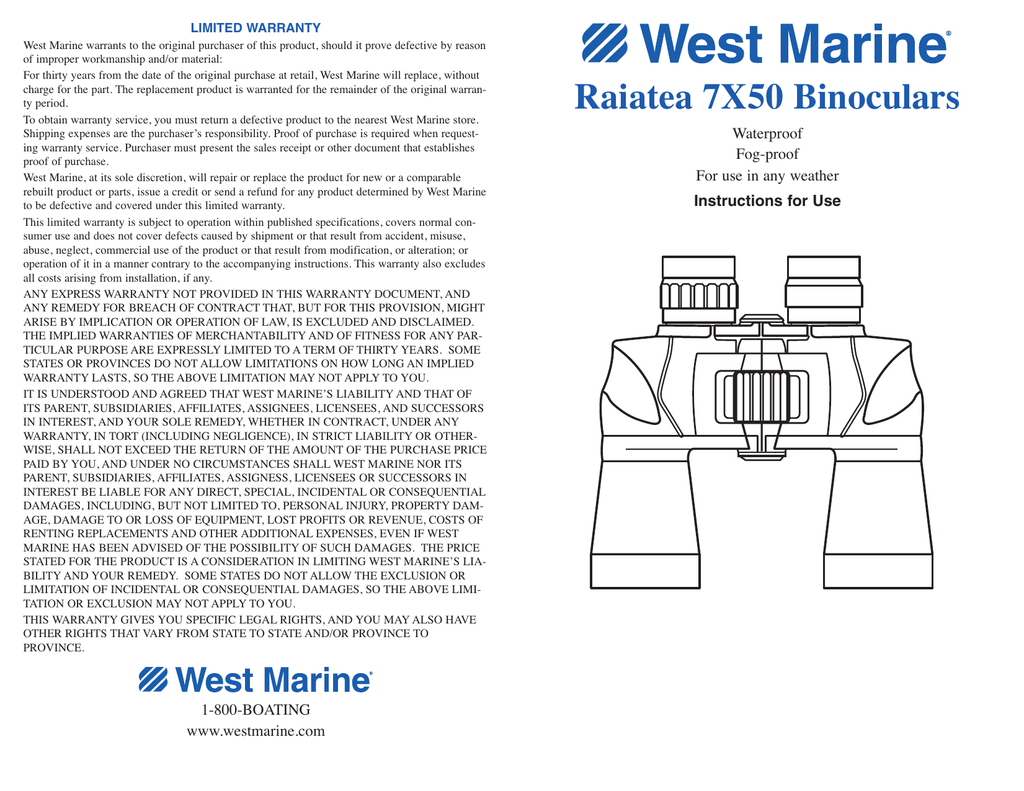 LIMITED WARRANTY
West Marine warrants to the original purchaser of this product, should it prove defective by reason
of improper workmanship and/or material:
For thirty years from the date of the original purchase at retail, West Marine will replace, without
charge for the part. The replacement product is warranted for the remainder of the original warranty period.
To obtain warranty service, you must return a defective product to the nearest West Marine store.
Shipping expenses are the purchaser's responsibility. Proof of purchase is required when requesting warranty service. Purchaser must present the sales receipt or other document that establishes
proof of purchase.
West Marine, at its sole discretion, will repair or replace the product for new or a comparable
rebuilt product or parts, issue a credit or send a refund for any product determined by West Marine
to be defective and covered under this limited warranty.
This limited warranty is subject to operation within published specifications, covers normal consumer use and does not cover defects caused by shipment or that result from accident, misuse,
abuse, neglect, commercial use of the product or that result from modification, or alteration; or
operation of it in a manner contrary to the accompanying instructions. This warranty also excludes
all costs arising from installation, if any.
ANY EXPRESS WARRANTY NOT PROVIDED IN THIS WARRANTY DOCUMENT, AND
ANY REMEDY FOR BREACH OF CONTRACT THAT, BUT FOR THIS PROVISION, MIGHT
ARISE BY IMPLICATION OR OPERATION OF LAW, IS EXCLUDED AND DISCLAIMED.
THE IMPLIED WARRANTIES OF MERCHANTABILITY AND OF FITNESS FOR ANY PARTICULAR PURPOSE ARE EXPRESSLY LIMITED TO A TERM OF THIRTY YEARS. SOME
STATES OR PROVINCES DO NOT ALLOW LIMITATIONS ON HOW LONG AN IMPLIED
WARRANTY LASTS, SO THE ABOVE LIMITATION MAY NOT APPLY TO YOU.
IT IS UNDERSTOOD AND AGREED THAT WEST MARINE'S LIABILITY AND THAT OF
ITS PARENT, SUBSIDIARIES, AFFILIATES, ASSIGNEES, LICENSEES, AND SUCCESSORS
IN INTEREST, AND YOUR SOLE REMEDY, WHETHER IN CONTRACT, UNDER ANY
WARRANTY, IN TORT (INCLUDING NEGLIGENCE), IN STRICT LIABILITY OR OTHERWISE, SHALL NOT EXCEED THE RETURN OF THE AMOUNT OF THE PURCHASE PRICE
PAID BY YOU, AND UNDER NO CIRCUMSTANCES SHALL WEST MARINE NOR ITS
PARENT, SUBSIDIARIES, AFFILIATES, ASSIGNESS, LICENSEES OR SUCCESSORS IN
INTEREST BE LIABLE FOR ANY DIRECT, SPECIAL, INCIDENTAL OR CONSEQUENTIAL
DAMAGES, INCLUDING, BUT NOT LIMITED TO, PERSONAL INJURY, PROPERTY DAMAGE, DAMAGE TO OR LOSS OF EQUIPMENT, LOST PROFITS OR REVENUE, COSTS OF
RENTING REPLACEMENTS AND OTHER ADDITIONAL EXPENSES, EVEN IF WEST
MARINE HAS BEEN ADVISED OF THE POSSIBILITY OF SUCH DAMAGES. THE PRICE
STATED FOR THE PRODUCT IS A CONSIDERATION IN LIMITING WEST MARINE'S LIABILITY AND YOUR REMEDY. SOME STATES DO NOT ALLOW THE EXCLUSION OR
LIMITATION OF INCIDENTAL OR CONSEQUENTIAL DAMAGES, SO THE ABOVE LIMITATION OR EXCLUSION MAY NOT APPLY TO YOU.
THIS WARRANTY GIVES YOU SPECIFIC LEGAL RIGHTS, AND YOU MAY ALSO HAVE
OTHER RIGHTS THAT VARY FROM STATE TO STATE AND/OR PROVINCE TO
PROVINCE.
1-800-BOATING
www.westmarine.com
Raiatea 7X50 Binoculars
Waterproof
Fog-proof
For use in any weather
Instructions for Use
Main Features
• Waterproof, dust-proof, all-weather binoculars are suitable for use in all conditions.
Ideal for rugged activities such as watersports and mountaineering.
• Nitrogen gas inside the binoculars eliminates fogging and mold on the internal lens
surfaces, even during severe weather conditions.
• Hi-index Bak-4 prism creates a bright, sharp image with vivid contrast, providing a
clear view of objects.
• Rubber-coated body provides great shock resistance and a comfortable grip.
Binocular Parts
1. Adjustable eye-piece
2. Center focus knob
1
3. Rubber eyecups
3
2
A. How to Adjust Distance Between Eyepieces
For best viewing, the binoculars should be adjusted for the individual user so that the
eyepieces line up with the user's eyes:
1. Hold the binoculars in a normal viewing position.
2. Grasp each barrel firmly. While looking through the binoculars, move the barrels until
you see a single circular field of view. Reset the binoculars to this position each time
you use them. The eye distance setting is indicated on the scale located on the
binocular hinge.
B. Diopter Setting and Central Focusing
1. Set the right eyepiece (1) to zero and look at a distant object.
2. Keeping both eyes open, cover the right objective (front) lens with your hand, then
adjust the center focus wheel (2) until the image in the left eyepiece appears sharp.
3. Cover the left objective (front) lens with your hand, then rotate the right eyepiece until
the image appears sharp again.
4. Diopter setting is now correct for your eyes, and you need only adjust the center focus
to view objects at different distances. Note this diopter setting for future use.
C. Roll-down Eyecups
To use binoculars while wearing eyeglasses or sunglasses, roll down the eyecups. This
will allow you to bring your eyes close to the binoculars for an improved field of view.
D. Floating Strap
Prior to water activities, make sure the floating strap is securely attached to the binoculars. This strap is designed to keep the binoculars afloat if they are dropped into the
water.
E. Instructions for Care
1. For best results, always store the binoculars in their case.
2. Clean lenses with a soft, lintless cloth when needed.
3. Any remaining dirt or smudges can be removed by adding a drop or two of isopropyl
alcohol to the cloth.
4. After exposure to saltwater, rinse binoculars in fresh water to prevent damage from
corrosion.
5. Store binoculars in a dry area.
Very Important
It is not necessary to clean binoculars internally. Attempting to take binoculars apart or
clean them internally will result in damage.
Caution
Do not use this product to view the sun. Looking directly into the sun, with or without
binoculars, can cause permanent eye damage.