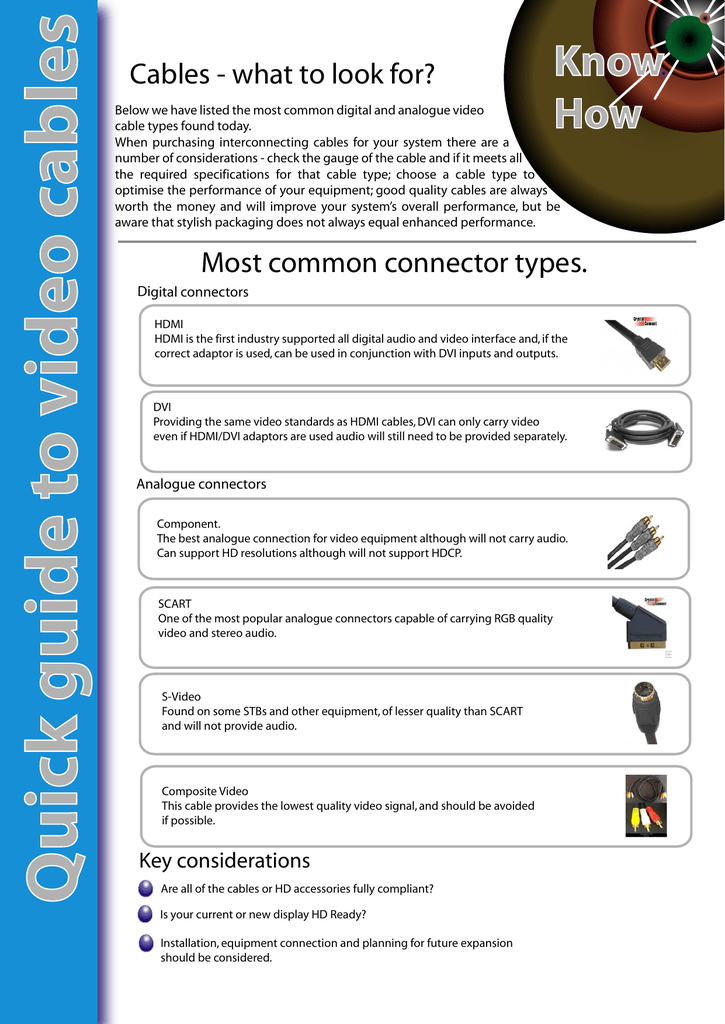 Quick guide to video cables
Cables - what to look for?
Know
How
Below we have listed the most common digital and analogue video
cable types found today.
When purchasing interconnecting cables for your system there are a
number of considerations - check the gauge of the cable and if it meets all
the required specifications for that cable type; choose a cable type to
optimise the performance of your equipment; good quality cables are always
worth the money and will improve your system's overall performance, but be
aware that stylish packaging does not always equal enhanced performance.
Most common connector types.
Digital connectors
HDMI
HDMI is the first industry supported all digital audio and video interface and, if the
correct adaptor is used, can be used in conjunction with DVI inputs and outputs.
DVI
Providing the same video standards as HDMI cables, DVI can only carry video
even if HDMI/DVI adaptors are used audio will still need to be provided separately.
Analogue connectors
Component.
The best analogue connection for video equipment although will not carry audio.
Can support HD resolutions although will not support HDCP.
SCART
One of the most popular analogue connectors capable of carrying RGB quality
video and stereo audio.
S-Video
Found on some STBs and other equipment, of lesser quality than SCART
and will not provide audio.
Composite Video
This cable provides the lowest quality video signal, and should be avoided
if possible.
Key considerations
Are all of the cables or HD accessories fully compliant?
Is your current or new display HD Ready?
Installation, equipment connection and planning for future expansion
should be considered.

* Your assessment is very important for improving the work of artificial intelligence, which forms the content of this project