No category
Key Features - Printerland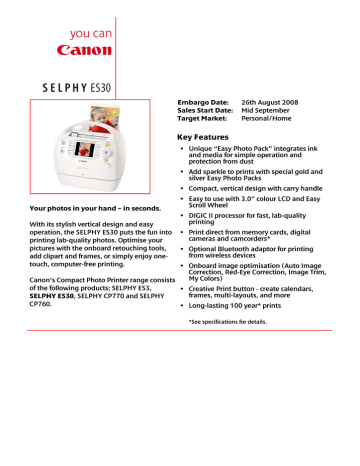 Embargo Date:
Sales Start Date:
Target Market:
26th August 2008
Mid September
Personal/Home
Key Features
y Unique "Easy Photo Pack" integrates ink
and media for simple operation and
protection from dust
y Add sparkle to prints with special gold and
silver Easy Photo Packs
y Compact, vertical design with carry handle
Your photos in your hand – in seconds.
With its stylish vertical design and easy
operation, the SELPHY ES30 puts the fun into
printing lab-quality photos. Optimise your
pictures with the onboard retouching tools,
add clipart and frames, or simply enjoy onetouch, computer-free printing.
y Easy to use with 3.0" colour LCD and Easy
Scroll Wheel
y DIGIC II processor for fast, lab-quality
printing
y Print direct from memory cards, digital
cameras and camcorders*
y Optional Bluetooth adaptor for printing
from wireless devices
y Onboard image optimisation (Auto Image
Correction, Red-Eye Correction, Image Trim,
My Colors)
Canon's Compact Photo Printer range consists
of the following products; SELPHY ES3,
y Creative Print button - create calendars,
frames, multi-layouts, and more
SELPHY ES30, SELPHY CP770 and SELPHY
CP760.
y Long-lasting 100 year* prints
*See specifications for details.
Technical Specifications
PRINTING SYSTEM
Method
Maximum Resolution
Colours
MEDIA & CARTRIDGE
Postcard Size
L Size
Credit Card Size
Credit Card Size Stickers
Ink Cartridge
Image Longevity
MEDIA INPUT
Sheet Feeder
PRINT SPEEDS
Postcard Size
L Size
Credit Card Size
Credit Card Size Stickers
PRINTING
Print Modes
Print Settings
SUPPORTED OPERATING
SYSTEM
PC
Macintosh
Dye-sublimation thermal transfer printing system, with
DIGIC II processor
300 x 600 dpi
3 colour inks with over coating, BW (Black ink with
overcoating), Gold/Silver (3 colour inks with over coating
and gold/silver), up to 256 levels per colour (24 bit colour
depth)1
SOFTWARE
Browsing & Printing
Drivers
148 x 100mm - [Easy Photo Pack E-P50, Easy Photo Pack
E-P100, Easy Photo Pack E-P25BW, Easy Photo Pack EP20G, Easy Photo Pack E-P20S]
119 x 89mm - [Easy Photo Pack E-L50, Easy Photo Pack EL100]
86 x 54mm - [Easy Photo Pack E-C25]
86 x 54mm - [Easy Photo Pack E-C25L]
Included with media (Ink/ Paper Integrated Cartridge)
100 Years Print2
Auto feed from integrated cartridge
approx. 55 sec3
approx. 47 sec3
approx. 33 sec3
approx. 33 sec3
All Image Print, Creative Print (Frame, Clip Art, Calendar,
Multi Layout, Speech Bubble, ID Photo, Movie Print,
Image Effects), DPOF Image Print, Single Image Print,
Trimming Print, 2-up, 4-up, 8-up and Index Layout, Fixed
Size Layout4
Image Optimize, Borderless, Bordered, Date Print, File
Name Print, My Colors <10 modes>, Manual adjustment,
Red-Eye Correction4
POWER SOURCE
AC Power Supply
Power Consumption
ACCESSORIES
Paper Cassette
Power Supply & Battery
Chargers
Other
PHYSICAL SPECIFICATIONS
Operating Environment
Dimensions
Weight
1.
2.
3.
4.
PRINT METHOD
Direct Printing From a Camera
Direct From a Memory Card
Direct From a Camera Phone
Print From a Computer
INTERFACE
Camera
Computer
LCD Monitor
Canon Direct Print compliant, PictBridge compliant
Supported card types: Compact Flash, Microdrive, SD
Memory card, miniSD Card, SDHC Memory card, mini
SDHC card, Multimedia Card, MMCplus Card, HC
MMCplus Card, Memory Stick, Memory Stick PRO,
Memory Stick Duo, Memory Stick PRO Duo, microSD
Card, microSDHC Card, xD-Picture Card5, MMCmobile
Card5, MMCmicro Card5, RS-MMC Card5, Memory Stick
micro5
Optional Bluetooth Unit BU-30 (printing from compatible
mobile camera phones & PDA's)6
Yes, requires standard USB cable
USB type A port on printer, WiFi IEEE 802.11b
(with Digital IXUS WIRELESS and Wireless Print Adapter
WA-1E)
USB type B port on printer
3.0" Colour TFT viewer with multi-language user
interface7
5.
6.
7.
Windows XP SP2 / Vista (Incl. SP1)
Mac OS X v10.4 - v10.5
PC: ZoomBrowser EX, Photo Express LE
Mac: ImageBrowser
PC / Mac
Yes, built-in
Approx. 4W (standby), approx. 70W (printing)
Not required
Built-in AC adapter
BU-30 Bluetooth Unit for printing from compatible
camera phones and PDA's6
5 – 40 °C, 20 – 80% humidity
225.0 x 226.3 x 138.0mm
2075g (Excluding Ink/ Paper Integrated Cartridge)
Gold/Silver printing available via PC or in selected modes only
To test the image permanence of prints that are stored in an album, we use an
accelerated testing method as how the image permanence of silver-halide photo
papers are measured when stored in dark places. Print samples are printed with the
optical density of 1.0 (each Bk, C, M,Y). The samples are kept in a certain environment
of high temperature and 50% humidity. The rate of the decrease in the optical density
and rate of yellow discoloration are recorded. The recorded results are then converted
to the length of time when print image is kept in an environment of 23 °C / 50 %
humidity. <Criteria for estimation of print longevity> 'The point where
monochromatic/reflective optical density shows loss of 30% (starting density of 1.0).
Print speed can vary dependent on data size, print method, memory card and capacity
and is measured from start of printing excluding paper handling
Modes/features available may differ dependent on camera model or use of memory
card to print
Requires adapter (sold separately)
Mobile phones and PDA's must be Bluetooth enabled and support Bluetooth version
1.1 or above Photo printing only - pictures must be in the JPEG format. Bluetooth
operation depends on the device and software version used
Supported languages are: English, German, French, Dutch, Danish, Finnish, Italian,
Norwegian, Swedish, Spanish, Russian, Portuguese, Hungarian, Polish, Czech, Greek,
Turkish, Simplified Chinese, Chinese, Korean, Japanese (Also supported on ES2, ES20,
SELPHY ES3 and SELPHY ES30: Ukrainian, Romanian, Thai)
All data is based on Canon's standard testing methods.
Subject to change without notice.

* Your assessment is very important for improving the work of artificial intelligence, which forms the content of this project