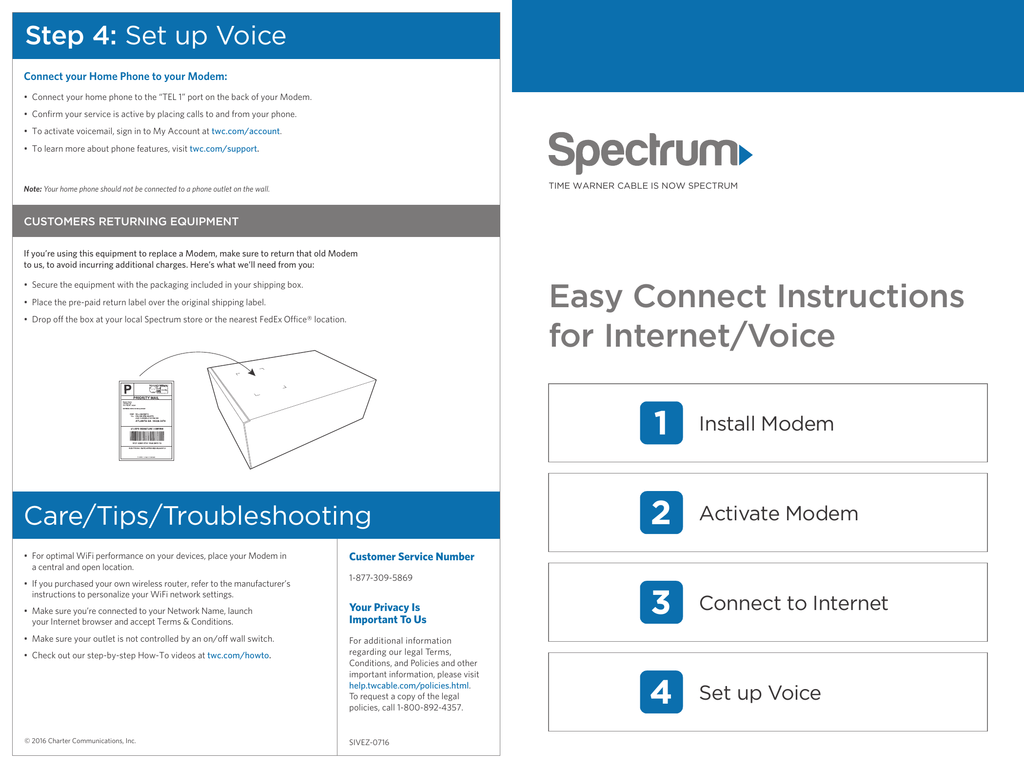 Step 4: Set up Voice
Connect your Home Phone to your Modem:
• Connect your home phone to the "TEL 1" port on the back of your Modem.
• Confirm your service is active by placing calls to and from your phone.
• To activate voicemail, sign in to My Account at twc.com/account.
• To learn more about phone features, visit twc.com/support.
TIME WARNER CABLE IS NOW SPECTRUM
Note: Your home phone should not be connected to a phone outlet on the wall.
CUSTOMERS RETURNING EQUIPMENT
If you're using this equipment to replace a Modem, make sure to return that old Modem
to us, to avoid incurring additional charges. Here's what we'll need from you:
Easy Connect Instructions
for Internet/Voice
• Secure the equipment with the packaging included in your shipping box.
• Place the pre-paid return label over the original shipping label.
• Drop off the box at your local Spectrum store or the nearest FedEx Office® location.
1
Install Modem
2
Activate Modem
Your Privacy Is
Important To Us
3
Connect to Internet
For additional information
regarding our legal Terms,
Conditions, and Policies and other
important information, please visit
help.twcable.com/policies.html.
To request a copy of the legal
policies, call 1-800-892-4357.
4
Set up Voice
Care/Tips/Troubleshooting
• For optimal WiFi performance on your devices, place your Modem in
a central and open location.
• If you purchased your own wireless router, refer to the manufacturer's
instructions to personalize your WiFi network settings.
• Make sure you're connected to your Network Name, launch
your Internet browser and accept Terms & Conditions.
• Make sure your outlet is not controlled by an on/off wall switch.
• Check out our step-by-step How-To videos at twc.com/howto.
© 2016 Charter Communications, Inc.
Customer Service Number
1-877-309-5869
SIVEZ-0716
Installation Diagram
Step 1: Install Modem
Important: Follow steps in order.
A
Select Location
Refer to the insert included with this
kit for optimal Modem placement.
Modem placement can affect
your WiFi signal strength.
B
Connect your Modem
to your cable outlet
C
Connect the
power cord
Connect the power cord provided
in this kit to the "Power" input on
the Modem. Plug the other end
into an electrical outlet.
Connect Coax cable from the cable outlet to the "Cable In"
port on the back of your Modem.
Note: If you're using the same cable for
TV and Internet, use the splitter provided.
Step 2: Activate Modem
A
B
C
SELECT
LOCATION
COAX
CABLE
POWER
CORD
If the "Online" light on the front of the Modem is solid, skip to Step 3.
If the light is blinking, continue with Step 2.
Via our App
Via our automated
phone system
OR
Sign in to the My TWC® app.
Tap on "Troubleshooting", select "Activate
New Equipment" and follow the instructions.
CABLE
If prompted, enter the 10-digit phone
number associated with your account.
Say "ACTIVATE". No hold required.
POWER
Step 3: Connect to Internet
800939
DG1670A/TW
Call 1-877-309-5869.
USB
RESET
TEL 1
Choose a wired or wireless connection and launch browser
Accept Terms & Conditions
Wired
Make sure you're connected
to your Network Name and
open your browser.
Connect the Ethernet cable from your Modem to your Computer.
Wireless/WiFi (If In-home WiFi was ordered with Internet service)
OR
• Locate the default network name (SSID) and password (Preshared Key)
on the Modem label. You can use either the 2.4 GHz or 5 GHz network.
• Look for the same default network name on your wireless device.
• Select the default network and enter the password to connect.
Network Name (SSID)
2.4 GHZ: 1234567890
5 GHZ: 1234567890
Preshared Key:
1234567890
EX
AM
PL
E
ETHERNET
Tip: We strongly recommend
customizing your network name
and password for increased
security. Refer to the enclosed
insert for more information.
A welcome message will appear
with Internet Terms & Conditions.
Please review and accept to use
your Internet service.
Open a browser to confirm
you are online.
Note: The welcome message may take
up to 24 hours to appear. You may go
online in the meantime.

* Your assessment is very important for improving the work of artificial intelligence, which forms the content of this project