MCM760/12 Philips Micro Hi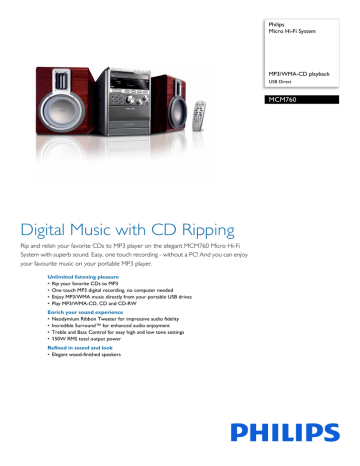 Philips
Micro Hi-Fi System
MP3/WMA-CD playback
USB Direct
MCM760
Digital Music with CD Ripping
Rip and relish your favorite CDs to MP3 player on the elegant MCM760 Micro Hi-Fi
System with superb sound. Easy, one touch recording - without a PC! And you can enjoy
your favourite music on your portable MP3 player.
Unlimited listening pleasure
• Rip your favorite CDs to MP3
• One touch MP3 digital recording, no computer needed
• Enjoy MP3/WMA music directly from your portable USB drives
• Play MP3/WMA-CD, CD and CD-RW
Enrich your sound experience
• Neodymium Ribbon Tweeter for impressive audio fidelity
• Incredible Surround™ for enhanced audio enjoyment
• Treble and Bass Control for easy high and low tone settings
• 150W RMS total output power
Refined in sound and look
• Elegant wood-finished speakers
MCM760/12
Micro Hi-Fi System
MP3/WMA-CD playback USB Direct
Highlights
Rip your favorite CDs to MP3
Simply plug in your USB mass storage device to
the USB port on Philips audio system and start
recording your favorite music from CDs to
your USB device or MP3 player - with one
touch and no computer needed. So you can
create your own MP3 files via direct MP3
digital recording.
USB Direct for MP3/WMA music
Simply plug in your device to the USB port on
your Philips Hi-Fi system. Your digital music
will be played directly from the device. Now
you can share your favorite moments with
family and friends.
Neodymium Ribbon Tweeter
The Neodymium Ribbon Tweeter is a
monopole tweeter that produces dynamic and
crisp sound from the front. It is a feature
commonly used in high-end audio systems to
reproduce sound with excellent fidelity.
Conventional cones and dome tweeters are
based on a directional moving coil principle
whereas the monopole Neodymium Ribbon
Tweeter radiates high frequencies in a full 180degree radiation pattern. This dramatically
increases the width of the sound spectrum in
the higher tones and expands the sweet spot
zone to deliver wide, crystal-clear, and natural
sound even from compact audio systems.
Incredible Surround™
Incredible Surround is an audio technology
from Philips that dramatically magnifies the
sound field to immerse you in the audio. Using
state-of-the-art electronic phase shifting,
Incredible Surround mixes sounds from left
and right in such a way that it expands the
virtual distance between the two speakers.
This wider spread greatly enhances the stereo
effect and creates a more natural sound
dimension. Incredible Surround allows you to
experience total surround with greater depth
and width of sound, without the use of
additional speakers.
Treble and Bass Control
Treble and bass are equalizer features that
control the high and low frequency sound
levels of your audio respectively. Treble
specifically regulates the amplification of the
high tones in the music while bass controls the
amplification level of the low tones. Using the
up and down keys, the listener can
conveniently place more or less emphasis on
the low and high tones, or leave treble and bass
flat to playback music according to its original
recorded setting. Treble and Bass Control lets
you listen to your music the way you like it.
MCM760/12
Micro Hi-Fi System
MP3/WMA-CD playback USB Direct
Specifications
Sound
• Output power (RMS): 2 x 75W RMS
• Output Power: 2x150 watts music power
• Sound Enhancement: Incredible Surround, Treble
and Bass Control
Loudspeakers
RDS Clock Set, News
• Station presets: 40
• Tuner Enhancements: Auto Store, Easy Set (Plug &
Play)
Connectivity
• Main Speaker: 2 way, Bass Reflex Speaker System,
5.25" woofer, Ribbon tweeter, Speaker grilles
detachable
•
•
•
•
Audio Playback
Convenience
• Playback Media: CD, CD-R, CD-RW, MP3-CD,
WMA-CD
• Disc Playback Modes: 99-Track Programmable,
Shuffle Play, Repeat one/album/all
• ID3-tag support
• Loader Type: Motorised, Tray
• Cassette Deck Technology: Full Logical
• Cassette Playback Modes: Autoreverse, Electronic
Speed Control, Full Auto Stop, Tape Counter
Audio Recording
• Recording Media: Tape
• Tape Recording Enhancement: Automatic
Recording Level, CD Synchro Start Recording,
One-Touch Recording
Tuner/Reception/Transmission
• Tuner Bands: FM Stereo, MW
• Auto digital tuning
• RDS: Station Name, Program Type, Radio Text,
Aux in: Line in
Headphone: 3.5 mm
Other connections: FM Antenna, MW Antenna
USB: USB host
• Alarms: CD Alarm, Radio Alarm, Tape alarm,
Snooze, Sleep timer
• Clock: On main display
• Display Type: White FTD
• Indications: DIM mode
• Eco Power Standby: 1 watt
Accessories
• Included accessories: AC Power Cord, FM/MW
Antenna
• Remote control: 32-key with 2xAA Batteries
Dimensions
• Set dimensions (W x H x D): 179 x 252 x 340 mm
• Main speaker dimensions (W x H x D):
175 x 252 x 196 mm
• Packaging dimensions (W x H x D):
524 x 353 x 408 mm
• Weight incl. Packaging: 13.2 kg
•
Issue date 2014-02-06
© 2014 Koninklijke Philips N.V.
All Rights reserved.
Version: 2.0.8
Specifications are subject to change without notice.
Trademarks are the property of Koninklijke Philips N.V.
or their respective owners.
12 NC: 9073 100 13203
EAN: 87 10895 94508 0
www.philips.com
* Music with Digital Right Management not supported.

* Your assessment is very important for improving the work of artificial intelligence, which forms the content of this project