DV11 UK.indd - Projekcja.pl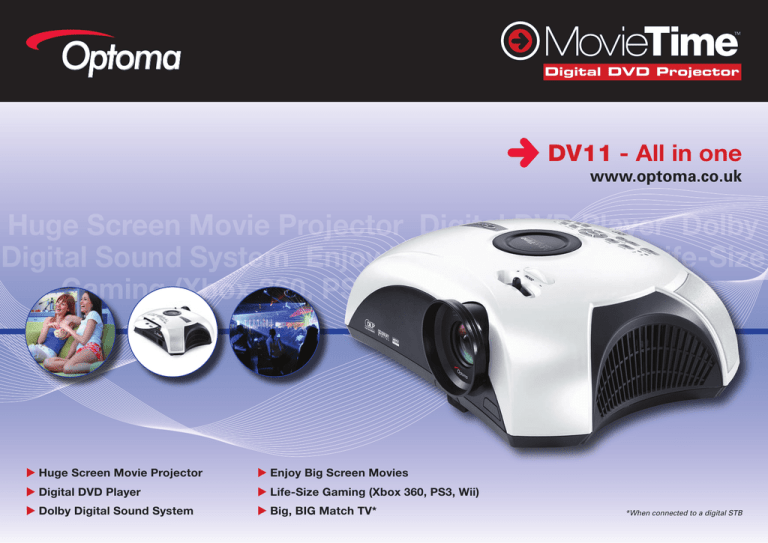 Optoma
Digital DVD Projector
Optoma
Evolutio
DV11 - All inThe
one
Home Enter
www.optoma.co.uk
Huge
Screen Movie Projector Digital DVD Player Dolby
Optoma
Digital Sound System Enjoy Big Screen Movies Life-Size
Gaming (Xbox 360, PS3, Wii) Big, BIG Match TV*
u Huge Screen Movie Projector
u Enjoy Big Screen Movies
u Digital DVD Player
u Life-Size Gaming (Xbox 360, PS3, Wii)
u Dolby Digital Sound System
u Big, BIG Match TV*
*When connected to a digital STB
Instant Home Cinema
No setup required! Just plug in, point at a wall and insert a DVD movie
disc for huge screen, digital quality Home Cinema.
Huge Screen Experience
The largest big screen TV's are dwarfed by the astounding
MovieTime™ DV11
Perfect Image Quality
Ultimate quality digital connection between the integrated digital DVD
player and digital projector ensures crystal clear, high contrast, perfectly
balanced pictures of stunning quality.
Giant Screen TV,
Gaming & Photo viewing
Use with:
Digital TV or Satellite set-top boxes - for giant screen experience
Games Console - for life size characters and totally immersive action
Digital Camera - display your favourite Photo image CD's from
the integrated DVD player
Computer - a computer monitor the size of a wall
Camcorder - transform home movies into a cinema experience
Ultra Portable
Carry a Home Cinema system with a wall sized image, to a friend's
house, in one hand.
Integrated
Digital DVD
Player
Stereo
Speaker
Stereo
Speaker
Ultra Portable
Instant Home Cinema
The MovieTime™ DV11 integrated
Digital Projector, Digital DVD Player and
Sound System provides huge pictures
and audio of exceptional quality in a
sleek, ultra portable design.
Up to 20m
Digital TV Box
RGB SCART Socket
SCART
Adapter
Standard VGA Cable
MovieTime™ DV11
Sports & Special Events
Parties & Get-Togethers
Audio
Integral stereo speakers provide portable convenience. Add an external sub-woofer for even greater
impact. The digital audio output is ideal for connection to ultimate quality digital Home Cinema
surround sound systems.
SCART RGB
The SCART RGB feature makes it easy to get very high quality pictures from digital satellite, digital
TV boxes or games consoles. If you want to watch the highest quality TV, sport or gaming pictures
you need SCART RGB. A unique supplied SCART RGB adaptor enables inexpensive, very high
quality, VGA type cables to be used to connect these devices to the MovieTime™ DV11.
Satellite and TV
Huge Screen Movies
Gaming
Huge pictures with breathtaking quality, large enough to fill a wall
www.optoma.co.uk
Connectors
Specifications
HIGHLIGHTS
Aspect Ratio
Brightness
Contrast
Audible Noise
CONNECTIONS
Video
Audio
Computer Compatibility
Video Compatibility
Format Compatibility
Media Compatibility
DISPLAY
Display Technology
Throw Ratio
Projection Distance
Keystone Correction
GENERAL
Audio
Dimensions
Weight
Power Consumption
Operating Temperature
Menu Languages
Supplied Accessories
Optional Accessories
EAN
Model Name
Lamp Life
Lamp Warranty
Warranty
Widescreen (16:9), 4:3
1600 Video Optimised Lumens
2200:1
28dB
INPUTS
CONNECTOR TYPE
SCART
VGA via supplied adaptor
HD
VGA via adaptor
Component I/P VGA via adaptor
S-Video
Mini DIN
Composite Video RCA
External Audio
2 x RCA
OUTPUTS
Digital Audio
RCA Co-axial
Analogue Audio 3.5mm Stereo jack socket
SXGA, XGA, SVGA, 15 Pin D-Sub (VGA type)
PAL, SECAM (576i/p), NTSC (480i/p), HDTV (1080i, 720p)
DVD (Region Code 2), CD, MP3, WMA, JPEG Image CD's
DVD, DVD-R,DVD+R, DVD-RW, DVD+RW, CD-R, CD-RW
DLP® DarkChip2TM by Texas Instruments. Native resolution 4:3 800 x 600
1.36 - 1.50 (Projection distance/width) Manual Zoom and Focus
1.0m - 10m Image Size 1.2 to 9.11m Diagonal
Vertical ±16 degrees
2x5W Stereo Speakers
380x278x139mm (WxDxH)
3.8kg
245W Max, <10 watts standby
5 - 35°C Max 80% Humidity
English, French, German, Italian, Spanish, Russian, Finnish,
Dutch, Swedish, Polish, Combined Norwegian & Danish,
AC power cord, SCART to VGA adaptor, VGA cable, Remote control,
Remote control batteries, Lens cap, User guide, Carry case
Panoview Graywolf 1.8 Gain Screen, Dolcen Kreiling 50W subwoofer
5060059041688
DV11
2000 Hours*
6 months or 1000 hours – whichever is soonest
Warranty may vary by country. Please see www.optomaeurope.com
or ask your local supplier for details
Notebook/PC
Subwoofer
VCR
Game
Console
Surround Sound
Speakers
HD Player
DVD Player
Cable/Satellite Box
HD Satellite Box
HD input/images are down-scaled to 480p
Supplied Accessories
Carry Case
Optional Accessories
Screen
Dolcen Kreiling
50-Watt Subwoofer
Optoma Europe Ltd. 42 Caxton Way, Watford Business Park, Watford, Hertfordshire, UK, WD18 8QZ
For your local reseller please contact: Tel: +44 (0)1923 691 800 Fax: +44 (0)1923 691 888
*Typical lamp life achieved through testing. Will vary according to operational use and enviromental conditions. Copyright © 2007, Optoma Europe Ltd. All product names and company names used herein are for identifications purposes only
and may be trademarks or registered trademarks of their respective owners. Errors and omissions excepted, all specifications are subject to change without notice. DLP® and the DLP logo are registered trademarks of Texas Instruments.

* Your assessment is very important for improving the work of artificial intelligence, which forms the content of this project