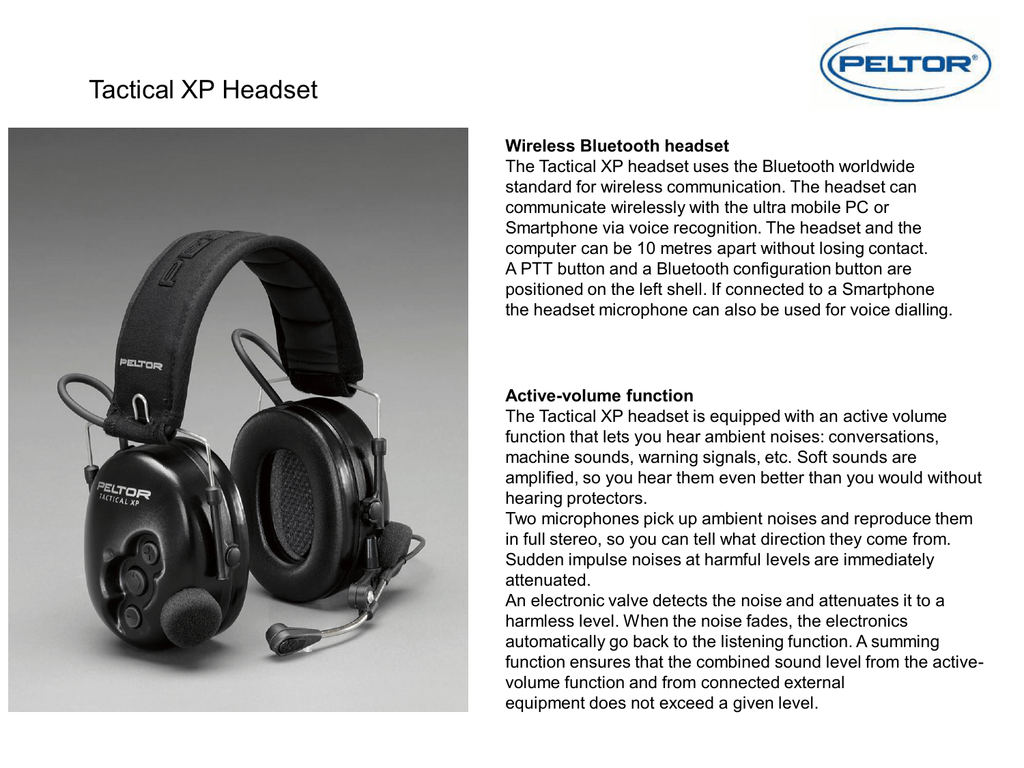 Tactical XP Headset
Wireless Bluetooth headset
The Tactical XP headset uses the Bluetooth worldwide
standard for wireless communication. The headset can
communicate wirelessly with the ultra mobile PC or
Smartphone via voice recognition. The headset and the
computer can be 10 metres apart without losing contact.
A PTT button and a Bluetooth configuration button are
positioned on the left shell. If connected to a Smartphone
the headset microphone can also be used for voice dialling.
Active-volume function
The Tactical XP headset is equipped with an active volume
function that lets you hear ambient noises: conversations,
machine sounds, warning signals, etc. Soft sounds are
amplified, so you hear them even better than you would without
hearing protectors.
Two microphones pick up ambient noises and reproduce them
in full stereo, so you can tell what direction they come from.
Sudden impulse noises at harmful levels are immediately
attenuated.
An electronic valve detects the noise and attenuates it to a
harmless level. When the noise fades, the electronics
automatically go back to the listening function. A summing
function ensures that the combined sound level from the activevolume function and from connected external
equipment does not exceed a given level.

* Your assessment is very important for improving the work of artificial intelligence, which forms the content of this project