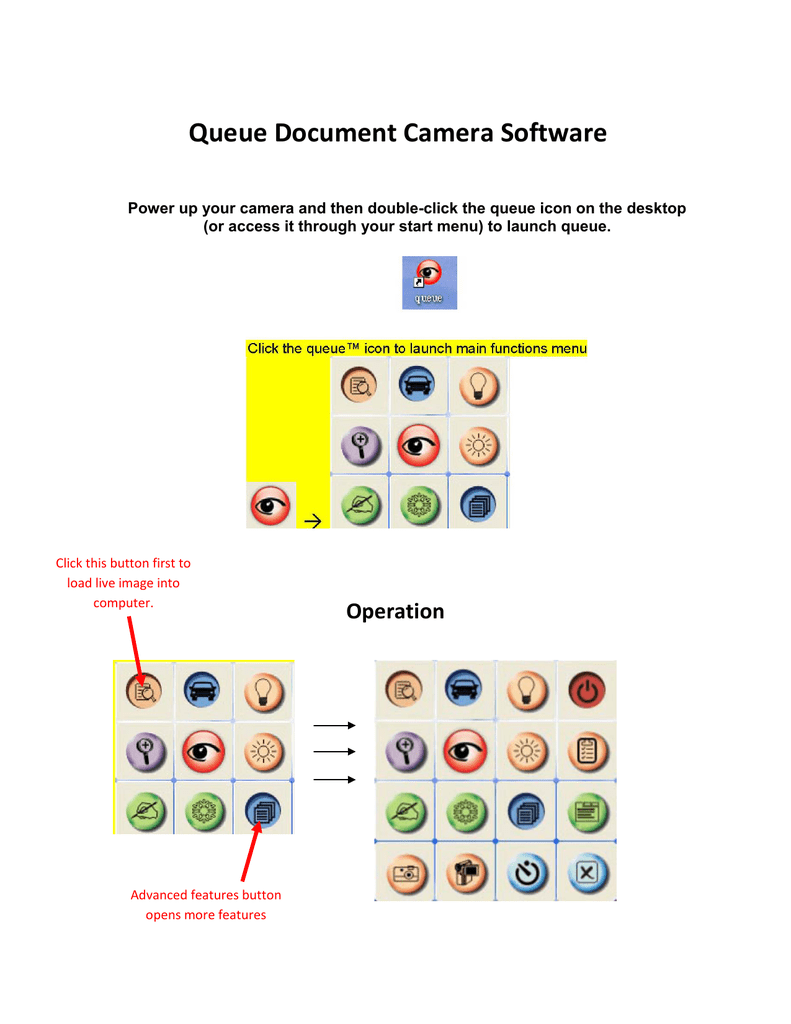 Queue Document Camera Software
Power up your camera and then double-click the queue icon on the desktop
(or access it through your start menu) to launch queue.
Click this button first to
load live image into
computer.
Advanced features button
opens more features
Operation
POWER: Turn the visual presenter on /
off
LAMP: Turn the lamp on / off
AUTO TUNE: Automatically adjust the
image for best possible quality.
PREVIEW: Display live images
OPTIONS: Select video compression
method and the audio source.
BRIGHTNESS: Adjust image brightness
MAIN: Launch the main functions menu
Right click on this icon to show
information about the queue.
ZOOM: Zoom in/out from the image
CAMERA SETTING: Launch the Camera
Setting window to adjust live images
ADVANCED: Launch the advanced
functions menu
FREEZE: Freeze a live image
ANNOTATION: Display annotation tools
CLOSE: Close the advanced functions
menu
TIME LAPSE PHOTOGRAPHY: Capture
images at a pre-set intervals
RECORD: Record videos
CAPTURE: Capture still images
ICON
Description
Pointer tool
Laser tool
Insert text
Draw a line
Draw an ellipse
Draw a rectangle
Free-hand drawing tool
Eraser
Clear all
Select pen color
Select line thickness
Annotation Toolsgreat for
Smart Airliner
tablet.
Time Lapse
Select file directory to
change the default.
Specify a file name.
Set the start time.
Capture images at
pre-set intervals.
Determine maximum
value for captures.
Capture will go on for x
hours or stop at x
frames.
How to record video
1. Press the options button in queue
2. Select the desired video format.
3. Check the [Enable Video Compress] box.
4. Check the [Enable Audio Recorder] box if recording audio. (You need a
microphone for that.)
OPTIONS
5. Press the [video] button to open the video tool.
VIDEO TOOL
.
6. Press the [Record] radio button, the Save As window will appear. Give the video a
name and save it somewhere logical.
7. Type in the desired file name then press [Save] to start recording.
8. When finished, press [Stop] to end recording.
9. Press the Video Tool button to close the recording tool.

* Your assessment is very important for improving the work of artificial intelligence, which forms the content of this project