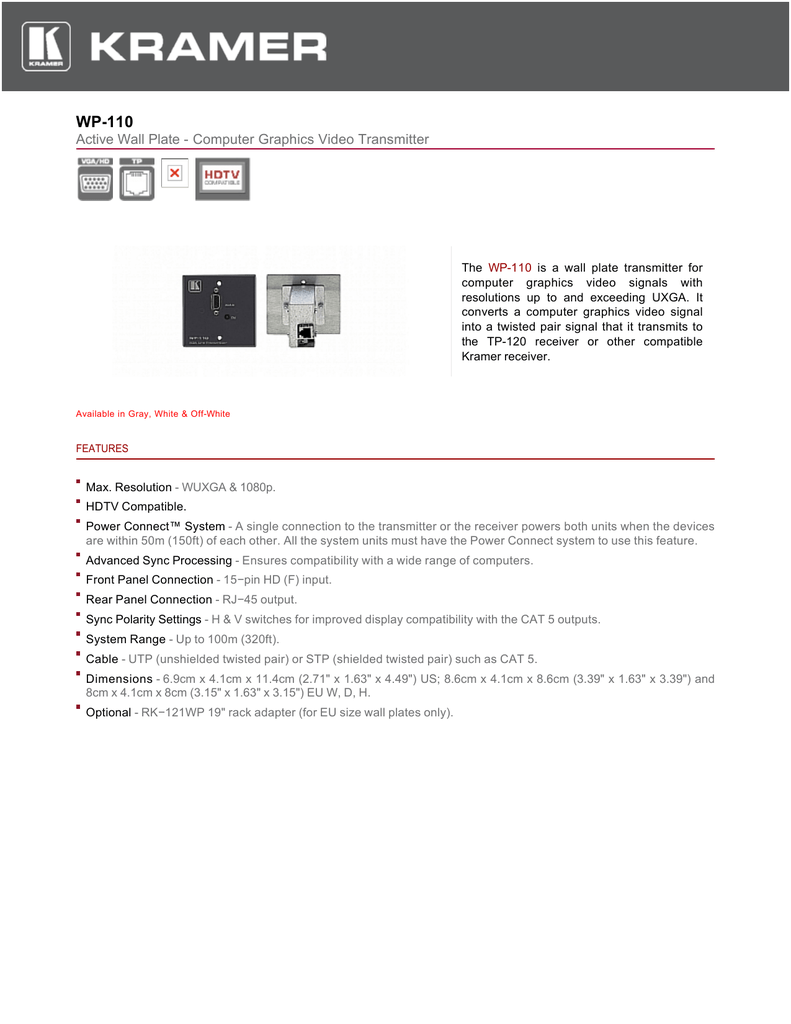 WP-110
Active Wall Plate - Computer Graphics Video Transmitter
The WP-110 is a wall plate transmitter for
computer graphics video signals with
resolutions up to and exceeding UXGA. It
converts a computer graphics video signal
into a twisted pair signal that it transmits to
the TP-120 receiver or other compatible
Kramer receiver.
Available in Gray, White & Off-White
FEATURES
Max. Resolution - WUXGA & 1080p.
HDTV Compatible.
Power Connect™ System - A single connection to the transmitter or the receiver powers both units when the devices
are within 50m (150ft) of each other. All the system units must have the Power Connect system to use this feature.
Advanced Sync Processing - Ensures compatibility with a wide range of computers.
Front Panel Connection - 15−pin HD (F) input.
Rear Panel Connection - RJ−45 output.
Sync Polarity Settings - H & V switches for improved display compatibility with the CAT 5 outputs.
System Range - Up to 100m (320ft).
Cable - UTP (unshielded twisted pair) or STP (shielded twisted pair) such as CAT 5.
Dimensions - 6.9cm x 4.1cm x 11.4cm (2.71" x 1.63" x 4.49") US; 8.6cm x 4.1cm x 8.6cm (3.39" x 1.63" x 3.39") and
8cm x 4.1cm x 8cm (3.15" x 1.63" x 3.15") EU W, D, H.
Optional - RK−121WP 19" rack adapter (for EU size wall plates only).
WP-110
TECHNICAL SPECIFICATIONS
INPUT:
OUTPUTS:
MAX. RESOLUTION:
DIFF. GAIN:
DIFF. PHASE:
K-FACTOR:
S/N RATIO:
COUPLING:
POWER CONSUMPTION:
OPTIONS:
INCLUDED ACCESSORIES:
PRODUCT DIMENSIONS:
PRODUCT WEIGHT:
SHIPPING DIMENSIONS:
SHIPPING WEIGHT:
1 VGA/UXGA on a 15−pin HD connector.
1 RJ−45 LINE OUT connector.
WUXGA & 1080p.
2.9% (worst case).
0.3Deg (worst case).
<0.05%.
70dB (worst case).
AC.
12V DC, 60mA.
RK−121WP 19" rack adapter.
Power supply.
8.00cm x 3.60cm x 8.00cm (3.15" x 1.42" x 3.15" ) W, D, H
0.1kg (0.2lbs) approx.
8.00cm x 10.00cm x 5.80cm (3.15" x 3.94" x 2.28" ) W, D, H
0.4kg (0.8lbs) approx.

* Your assessment is very important for improving the work of artificial intelligence, which forms the content of this project