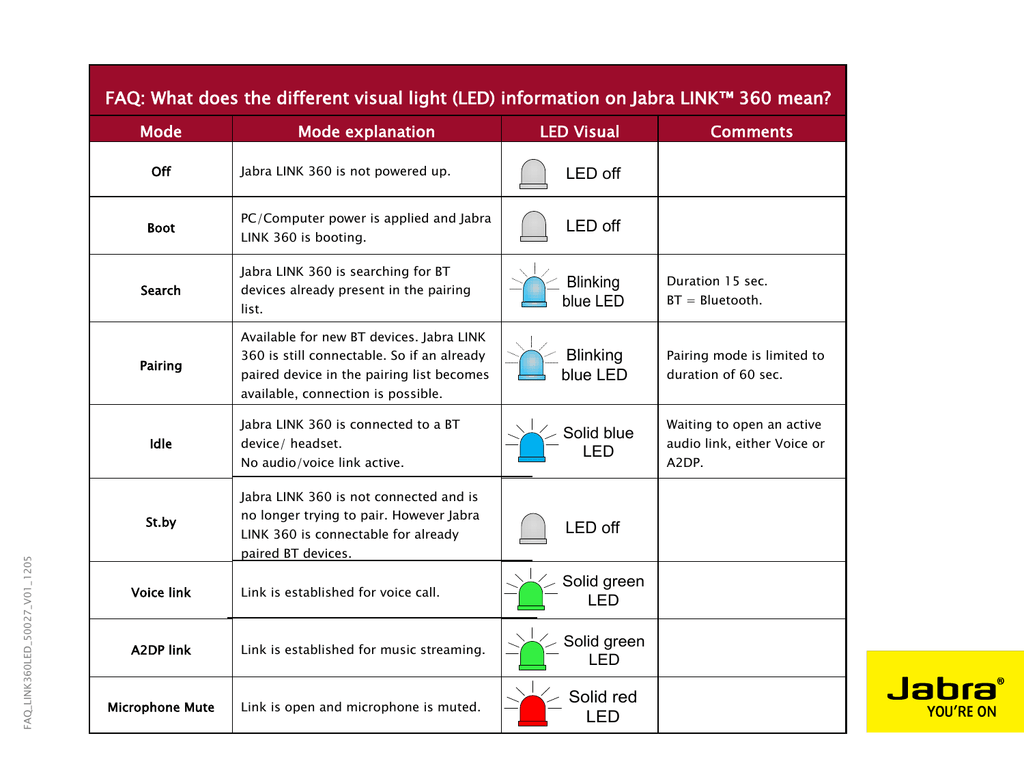 FAQ: What does the different visual light (LED) information on Jabra LINK™ 360 mean?
Mode
Off
Boot
Mode explanation
Jabra LINK 360 is not powered up.
PC/Computer power is applied and Jabra
LINK 360 is booting.
Jabra LINK 360 is searching for BT
Search
devices already present in the pairing
list.
LED Visual
Comments
LED off
LED off
Blinking
blue LED
Duration 15 sec.
Blinking
blue LED
Pairing mode is limited to
BT = Bluetooth.
Available for new BT devices. Jabra LINK
Pairing
360 is still connectable. So if an already
paired device in the pairing list becomes
duration of 60 sec.
available, connection is possible.
Jabra LINK 360 is connected to a BT
Idle
device/ headset.
No audio/voice link active.
Solid blue
LED
Jabra LINK 360 is not connected and is
FAQ_LINK360LED_50027_V01_1205
St.by
no longer trying to pair. However Jabra
LINK 360 is connectable for already
LED off
paired BT devices.
Voice link
Link is established for voice call.
Solid green
LED
A2DP link
Link is established for music streaming.
Solid green
LED
Microphone Mute
Link is open and microphone is muted.
Solid red
LED
Waiting to open an active
audio link, either Voice or
A2DP.

* Your assessment is very important for improving the work of artificial intelligence, which forms the content of this project