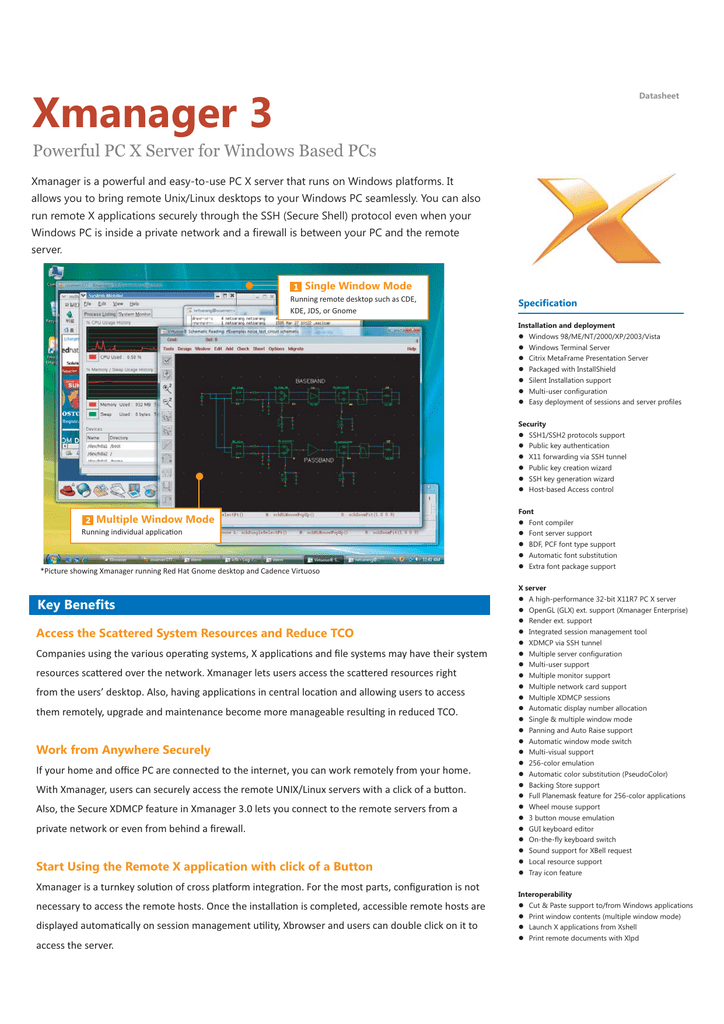 Datasheet
Xmanager 3
Powerful PC X Server for Windows Based PCs
Xmanager is a powerful and easy-to-use PC X server that runs on Windows platforms. It
allows you to bring remote Unix/Linux desktops to your Windows PC seamlessly. You can also
run remote X applications securely through the SSH (Secure Shell) protocol even when your
Windows PC is inside a private network and a firewall is between your PC and the remote
server.
1 Single Window Mode
Running remote desktop such as CDE,
KDE, JDS, or Gnome
Specification
Installation and deployment
Windows 98/ME/NT/2000/XP/2003/Vista
Windows Terminal Server
Citrix MetaFrame Presentation Server
Packaged with InstallShield
Silent Installation support
Multi-user configuration
Easy deployment of sessions and server profiles
Security
SSH1/SSH2 protocols support
Public key authentication
X11 forwarding via SSH tunnel
Public key creation wizard
SSH key generation wizard
Host-based Access control
2 Multiple Window
Running individual applicaon
Mode
*Picture showing Xmanager running Red Hat Gnome desktop and Cadence Virtuoso
Key Benefits
Access the Scattered System Resources and Reduce TCO
Companies using the various operang systems, X applicaons and file systems may have their system
resources scaered over the network. Xmanager lets users access the scaered resources right
from the users' desktop. Also, having applicaons in central locaon and allowing users to access
them remotely, upgrade and maintenance become more manageable resulng in reduced TCO.
Work from Anywhere Securely
If your home and office PC are connected to the internet, you can work remotely from your home.
With Xmanager, users can securely access the remote UNIX/Linux servers with a click of a buon.
Also, the Secure XDMCP feature in Xmanager 3.0 lets you connect to the remote servers from a
private network or even from behind a firewall.
Start Using the Remote X application with click of a Button
Xmanager is a turnkey soluon of cross plaorm integraon. For the most parts, configuraon is not
necessary to access the remote hosts. Once the installaon is completed, accessible remote hosts are
displayed automacally on session management ulity, Xbrowser and users can double click on it to
access the server.
Font
Font compiler
Font server support
BDF, PCF font type support
Automatic font substitution
Extra font package support
X server
A high-performance 32-bit X11R7 PC X server
OpenGL (GLX) ext. support (Xmanager Enterprise)
Render ext. support
Integrated session management tool
XDMCP via SSH tunnel
Multiple server configuration
Multi-user support
Multiple monitor support
Multiple network card support
Multiple XDMCP sessions
Automatic display number allocation
Single & multiple window mode
Panning and Auto Raise support
Automatic window mode switch
Multi-visual support
256-color emulation
Automatic color substitution (PseudoColor)
Backing Store support
Full Planemask feature for 256-color applications
Wheel mouse support
3 button mouse emulation
GUI keyboard editor
On-the-fly keyboard switch
Sound support for XBell request
Local resource support
Tray icon feature
Interoperability
Cut & Paste support to/from Windows applications
Print window contents (multiple window mode)
Launch X applications from Xshell
Print remote documents with Xlpd
Datasheet
Features
Key Features
Instant connection using the Address bar
Secure XDMCP | Safer & Easier way to access remote UNIX/Linux
Xmanager 3.0 supports Secure XDMCP which allows users to access the remote hosts more safely and
easily even though the PC is behind a firewall or gateway. This is a unique feature of Xmanager that is
designed by NetSarang Computer, Inc. based on SSH tunneling technology. It is designed to help users
to access the remote hosts without having to reconfigure exisng firewall or gateway.
Using the Address bar, you can connect to various
hosts with diverse protocols such as XDMCP and
SFTP, FTP, SSH, Telnet and etc. Since the Address
bar shares the similar look-and-feel of the Address
bar in Internet Explorer, getting use to this feature
takes virtually no time
Creating session with New Session Wizard
New Session Wizard is a simple and intuitive pointand-click based session creation wizard for novice
users in X Window system. There are 4 steps in this
wizard and you can move on to the next step simply
by selecting or entering some basic information and
clicking Next. In each step, you will find thorough
explanation about the options you are about to
choose. With New Session Wizard, your X applications will be running on your desktop in no time.
Render Ext. Support | Graphical improvement of user interface
Render extension is supported in Xmanager 3.0. This is a relavely new technology that is used in
many X applicaons to enhance user experience and improve producvity. With Render extension,
you can now work with more readable fonts and more sophiscated work environment.
Xbrowser Dynamically searches for all available
UNIX/Linux hosts
Sending Xmanager/Xstart sessions via email
Creating desktop shortcuts for faster access to
the applications you need
Applying different profiles for each server and
application
Editing a Xconfig profile and applying it to
multiple Xmanager sessions
Securing your communication with the server
using the SSH protocol
Xbrowser | Powerful session management tool
Xbrowser is a powerful session management tool for all NetSarang products. When Xbrowser starts,
it dynamically searches for all accessible hosts in your network, and then creates a list of hosts that
Xmanager can connect to. Because dynamic sessions are created automacally by Xbrowser, there is
no need to setup an individual session for each server.
Generating the user/public key with SSH Key
Generation Wizard
Preventing unauthorized use of Xmanager with
Access Control
Opening multiple Xmanager instances with
different X server settings
Using MS-DOS command line options to connect
to the UNIX/Linux hosts
Find out more about Xmanager
For more detail on Xmanager and other
Get Xmanager Now
applications, please visit our website at
Try Xmanager for Free for 30 Days
When You Are Ready to Buy
You can evaluate Xmanager for free for 30 days.
You can buy Xmanager through our online store or by
Evaluation copy is fully functional and there is no
contacting one of our world wide resellers in the
feature limitation.
following reseller list. Also, you can send us your
http://www.netsarang.com/
purchase order at [email protected]
Download Link
Reseller List
http://www.netsarang.com/download/main.html
http://www.netsarang.com/reseller/main.html
Online Store
http://sales.netsarang.com/e_sales/online_store.html
NetSarang, Inc.
About NetSarang Computer, Inc.
3003 North First Street
NetSarang Computer, Inc. develops, markets and supports secure connecvity soluon in the global market. The
company develops a family of PC X server and SSH client soware for PC-to-Unix and PC-to-Linux, and is expanding
its TCP/IP network technologies to other Internet businesses. The company offers its products and services to
more than 90 countries around the world.
San Jose, CA 95134, U.S.A.
Tel: (408) 432-5087 | Fax: (408) 432-5086
Email: [email protected]
Website: http://www.netsarang.com
© 2008 NetSarang Computer, Inc. All rights reserved.

* Your assessment is very important for improving the work of artificial intelligence, which forms the content of this project