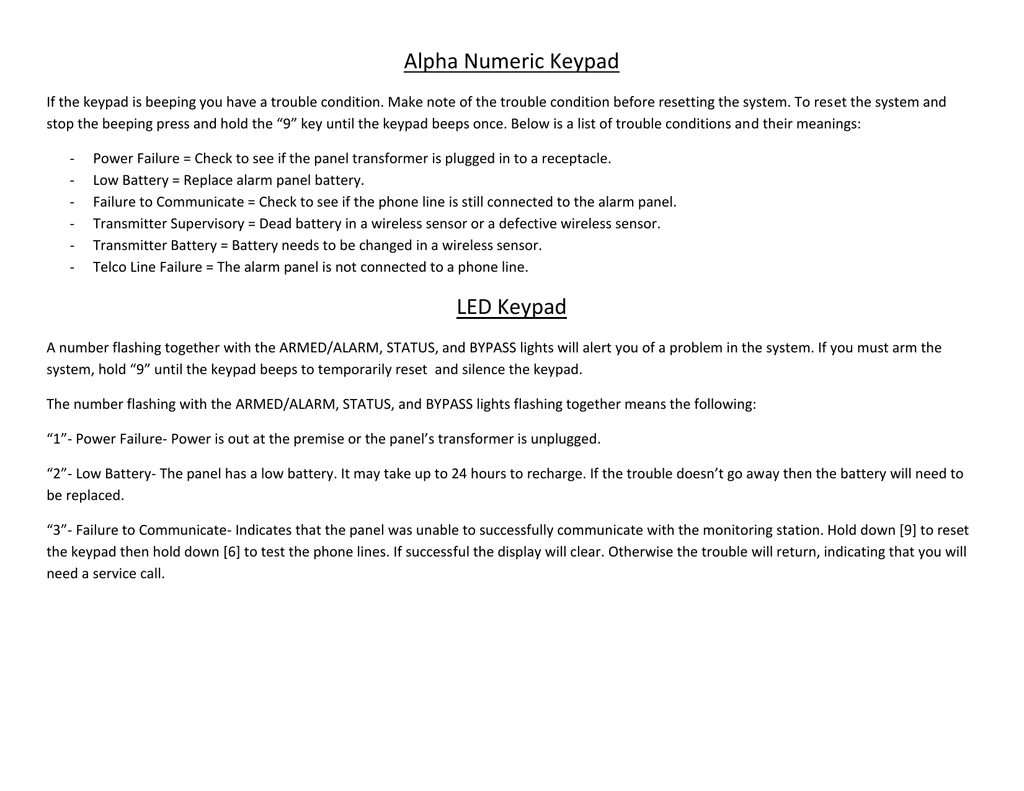 Alpha Numeric Keypad
If the keypad is beeping you have a trouble condition. Make note of the trouble condition before resetting the system. To reset the system and
stop the beeping press and hold the "9" key until the keypad beeps once. Below is a list of trouble conditions and their meanings:
-
Power Failure = Check to see if the panel transformer is plugged in to a receptacle.
Low Battery = Replace alarm panel battery.
Failure to Communicate = Check to see if the phone line is still connected to the alarm panel.
Transmitter Supervisory = Dead battery in a wireless sensor or a defective wireless sensor.
Transmitter Battery = Battery needs to be changed in a wireless sensor.
Telco Line Failure = The alarm panel is not connected to a phone line.
LED Keypad
A number flashing together with the ARMED/ALARM, STATUS, and BYPASS lights will alert you of a problem in the system. If you must arm the
system, hold "9" until the keypad beeps to temporarily reset and silence the keypad.
The number flashing with the ARMED/ALARM, STATUS, and BYPASS lights flashing together means the following:
"1"- Power Failure- Power is out at the premise or the panel's transformer is unplugged.
"2"- Low Battery- The panel has a low battery. It may take up to 24 hours to recharge. If the trouble doesn't go away then the battery will need to
be replaced.
"3"- Failure to Communicate- Indicates that the panel was unable to successfully communicate with the monitoring station. Hold down [9] to reset
the keypad then hold down [6] to test the phone lines. If successful the display will clear. Otherwise the trouble will return, indicating that you will
need a service call.

* Your assessment is very important for improving the work of artificial intelligence, which forms the content of this project