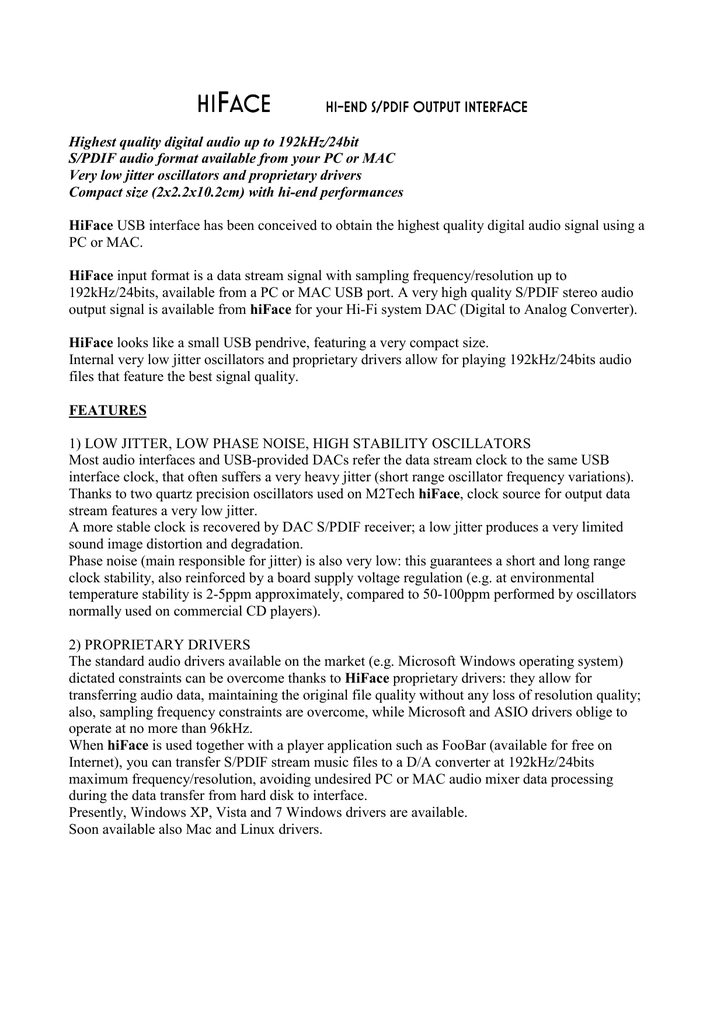 Hiface
HiHi-End S/PDIF Output Interface
Highest quality digital audio up to 192kHz/24bit
S/PDIF audio format available from your PC or MAC
Very low jitter oscillators and proprietary drivers
Compact size (2x2.2x10.2cm) with hi-end performances
HiFace USB interface has been conceived to obtain the highest quality digital audio signal using a
PC or MAC.
HiFace input format is a data stream signal with sampling frequency/resolution up to
192kHz/24bits, available from a PC or MAC USB port. A very high quality S/PDIF stereo audio
output signal is available from hiFace for your Hi-Fi system DAC (Digital to Analog Converter).
HiFace looks like a small USB pendrive, featuring a very compact size.
Internal very low jitter oscillators and proprietary drivers allow for playing 192kHz/24bits audio
files that feature the best signal quality.
FEATURES
1) LOW JITTER, LOW PHASE NOISE, HIGH STABILITY OSCILLATORS
Most audio interfaces and USB-provided DACs refer the data stream clock to the same USB
interface clock, that often suffers a very heavy jitter (short range oscillator frequency variations).
Thanks to two quartz precision oscillators used on M2Tech hiFace, clock source for output data
stream features a very low jitter.
A more stable clock is recovered by DAC S/PDIF receiver; a low jitter produces a very limited
sound image distortion and degradation.
Phase noise (main responsible for jitter) is also very low: this guarantees a short and long range
clock stability, also reinforced by a board supply voltage regulation (e.g. at environmental
temperature stability is 2-5ppm approximately, compared to 50-100ppm performed by oscillators
normally used on commercial CD players).
2) PROPRIETARY DRIVERS
The standard audio drivers available on the market (e.g. Microsoft Windows operating system)
dictated constraints can be overcome thanks to HiFace proprietary drivers: they allow for
transferring audio data, maintaining the original file quality without any loss of resolution quality;
also, sampling frequency constraints are overcome, while Microsoft and ASIO drivers oblige to
operate at no more than 96kHz.
When hiFace is used together with a player application such as FooBar (available for free on
Internet), you can transfer S/PDIF stream music files to a D/A converter at 192kHz/24bits
maximum frequency/resolution, avoiding undesired PC or MAC audio mixer data processing
during the data transfer from hard disk to interface.
Presently, Windows XP, Vista and 7 Windows drivers are available.
Soon available also Mac and Linux drivers.
3)COMPACT SIZE AND EASE OF USE
M2Tech hiFace features a very compact size and can be directly (or using an accessory USB A-A
adapter, not supplied with hiFace) connected to a High Speed USB 2.0 port of any computer. A
very high electric and mechanical performance RCA gold connector provides an output signal,
ready to be connected to a Hi-End system.
No external power supply is required, as hiFace draws its power from USB bus itself and regulates
it with its internal regulators.
HiFace USB interface connected to a last generation mini PC provided with a High Speed USB
port makes for a complete music transport system at very low prices (in the range of few hundreds
Euros). Such system allows for listening any density and resolution music files, playing own CD's
using a CD ROM drive, obtaining access to more than 10,000 web radio, many of which broadcast
their transmissions with CD quality.
SPECIFICATIONS
Connections
Input
Output
I/O Standard
Input
Output
Sampling Frequency
Resolution
Dimensions
Power Supply
Temperature
Peso
1 x USB A type male
1 x RCA female
USB 2.0 Format
S/PDIF Stereo Digital Audio Format
44.1kHz, 48kHz, 88.2kHz, 96kHz,
176.4khZ, 192kHz
16 up to 24 bit
10.2(d) x 2.2(h) x 2(w) cm
5V DC from USB bus
from 0°C to 70°C
50gr approx.

* Your assessment is very important for improving the work of artificial intelligence, which forms the content of this project