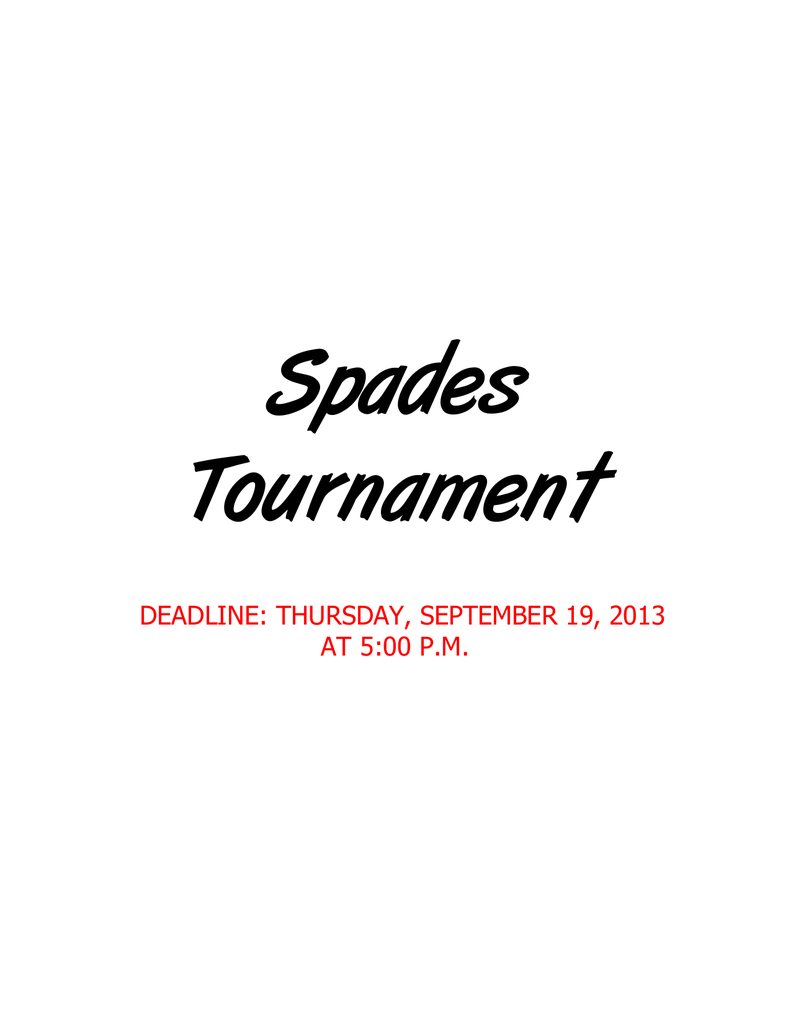 Spades
Tournament
DEADLINE: THURSDAY, 6(37(0%(5, 2013
AT 5:00 P.M.
Entry Deadline: September 19, 2013
Play Begins: September 19, 2013
Activities Center Game Room – 7:00 p.m.
Entry Form
Spades Tournament
Team Manager_____________________________________ Phone Number(s)___________________________
Team Manager Email___________________________________________________________________________
League:
 Independent
 Residence Hall
 Greek
 Organizational
*Please specify your organizational name (if applicable)____________________________
In order for all members to be represented on this entry form, please note the following:
1. Team member's name must be filled out and PRINTED NEATLY.
2. A team member's Student Buff ID number must be provided.
3. All members must have a Participation Consent Form in the Rec Sports office for the current academic year.
Class:
 Men
 Women
 Co-Rec
Team Member
(Last, First)
Team Number
Student
Buff ID
#
Shirt
Size
Consent
Form
(Circle One)
1
Y/N
2
Y/N
Y/N
3
___ ____ ____
4
Activity:
 Flag Football
 Volleyball
 Basketball
 Softball
 League Bowling
Y/N
Y/N
5
6
Y/N
7
Y/N
Y/N
8
9
Office Use Only
Proper:
 Yes
 No
Y/N
Y/N
10
11
Y/N
Y/N
12
____________
____________
____________
____
____
DR
DE
Student (s)
Faculty Staff
(f/s)
13
Y/N
14
Y/N
15
Y/N
By signing below, I acknowledge that I have read and correctly filled out this form. It is my responsibility to obtain all information
and make sure that it is correct. I assume full responsibility in the event the information on this form is incorrect and understand
that penalties may apply for falsification of information on this form.
______________________________________ ________________________________________ _____________________
Signature
Printed Name
Date
Spades Rules
League Play
1.
A single elimination All-University tournament will be scheduled for men, women
and corec play.
Playing Field
1.
There will be two (2) teams per table.
Number of Players
1.
Teams will consist of two (2) players each. Also, called a partnership.
2.
Partners will sit opposite each other.
3.
In the event a team does not satisfy the requirements listed previously above the
team will receive a forfeit and be removed from the tournament.
Player Equipment
1.
Each table will use a standard fifty-two (52) card deck of playing cards.
2.
The cards are ranked as ace-high, king next, on down to the 2 (deuce).
3.
The jokers are not used.
Length of Game
1.
A round will consist of 13 tricks.
2.
The first team to reach 500 points will be declared the winner and will advance in
the bracket.
Start of Game
1.
The dealer is chosen at random. This is determined by cutting the cards. High
card deals first.
2.
All the cards are dealt out, one at a time, around the table beginning with the
player to the dealer's left and ending with the dealer.
General Rules
1.
Beginning with the player to the left of the dealer the bids are declared and
written down.
2.
Once all of the bids are made the bids made by each partner are added together
and this is the number of tricks that partnership must try to win.
3.
A player may bid Nil, which is that they will not win a single trick. If they don't win
any tricks, their team will be awarded 100 points. If they do take a trick or more,
their team is penalized 100 points.
4.
Even if one partner bids Nil, the team is still responsible for winning the amount
of tricks bid by the other partner.
5.
A player may declare "blind nil" before looking at his/her cards. To make a "blind
nil" bid, the player's team must be behind at least 100 points. Making the blind nil
garners 200 points for the bidding team. If the team fails to make a "blind nil" they
will be penalized 200 points.
6.
A spade may not be led until spades have been "broken."
7.
Every player must "follow suit" of the lead, meaning every player must play the
same suit as the led card if possible.
8.
If a player does not have a card of the same suit, he/she may play any other card
in the hand.
9.
A player may play a spade on a non-spade lead only if he/she does not have a
card of the lead suit. In this case he/she "trumps" the trick.
10.
The suit of spades is always trump and any spade beats any card of the other
suits.
11.
The highest card of the suit led takes the trick, unless the trick has been trumped,
in which case the highest spade takes the trick.
12.
Each player collects his/her tricks, stacking them in front of him/her so that they
can be easily counted by all players.
13.
The winner of the trick leads to the next trick. This lead does not have to be of
the same suit.
14.
This is continued until all thirteen (13) tricks have been completed.
Scoring
1.
Games will be played to 500.
2.
After each hand, each team compares the amount of tricks they won against the
amount that they bid before the round.
3.
If they won at least as many tricks as they bid, they are awarded ten (10) points
per trick bid plus one (1) point for each trick they took over the amount that they
bid. Example, if a team bids five (5) tricks and actually takes six (6), they are
awarded 51 points.
4.
If a team does not win their number of bid tricks, they lose ten (1)0 points per
trick they bid, not just ten (10) points per trick they were short. Example, if team
bids five (5) tricks and only takes four (4), they lose 50 points.
5.
When a player bids Nil and they are successful they win an extra 100 points. If
they do take a trick they will lose 100 points. These points are in addition (or
subtraction) to the points the team receives on the other partner's bid.
Sand Bagging Rule
1.
Any time a team wins more tricks than they bid, they will receive one (1) bag for
each trick they underbid. Example, if a team bids five (5) and wins seven (7),
they receive two (2) bags.
2.
Once a team has accumulated ten (10) bags, they are penalized 100 points.
3.
Any bags that push them over ten (10) are carried over to start a new count
towards the next ten (10) bags.
Tie Game
1.
If both teams reach 500 on the same hand, the team with the highest score over
500 is declared the winner.

* Your assessment is very important for improving the work of artificial intelligence, which forms the content of this project