Key Features Design Convenience Camera/Video Entertainment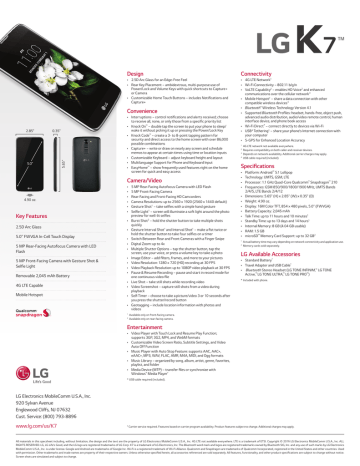 Design
Connectivity
• 2.5D Arc Glass for an Edge-Free Feel
• Rear Key Placement – ambidextrous, multi-purpose use of
Power/Lock and Volume Keys with quick shortcuts to Capture+
or Camera
• Customizable Home Touch Buttons – includes Notifications and
Capture+
• 4G LTE Network1
• Wi-Fi Connectivity – 802.11 b/g/n
• VoLTE Capability2 – enables HD Voice2 and enhanced
communications over the cellular network3
• Mobile Hotspot† – share a data connection with other
compatible wireless devices3
• Bluetooth® Wireless Technology Version 4.1
• Supported Bluetooth Profiles: headset, hands-free, object push,
advanced audio distribution, audio/video remote control, human
interface device, and phone book access
• Wi-Fi Direct® – connect directly to devices via Wi-Fi
• USB4 Tethering† – share your phone's Internet connection with
your computer
• S-GPS for Enhanced Location Accuracy
Convenience
0.35"
5.0"
5.65"
2.85"
• Interruptions – control notifications and alerts received; choose
to receive all, none, or only those from a specific priority list
• Knock On™ – double tap the screen to put your phone to sleep/
wake it without picking it up or pressing the Power/Lock Key
• Knock Code™ – create a 3- to 8-point tapping pattern for
security and direct access to the home screen with over 86,000
possible combinations
• Capture+ – write or draw on nearly any screen and schedule
memos to appear at certain times using time or location inputs
• Customizable Keyboard – adjust keyboard height and layout
• Multilanguage Support for Phone and Keyboard Input
• EasyHome™ – show frequently used features right on the home
screen for quick and easy access
Camera/Video
4.90 oz.
Key Features
2.5D Arc Glass
5.0" FWVGA In-Cell Touch Display
5 MP Rear-Facing Autofocus Camera with LED
Flash
5 MP Front-Facing Camera with Gesture Shot &
Selfie Light
Removable 2,045 mAh Battery
•
•
•
•
•
•
•
•
•
•
•
•
•
•
•
4G LTE Capable
•
•
Mobile Hotspot
•
•
1
2
5 MP Rear-Facing Autofocus Camera with LED Flash
5 MP Front-Facing Camera
Rear-Facing and Front-Facing HD Camcorders
Camera Resolutions: up to 2560 x 1920 (2560 x 1440 default)
Gesture Shot1 – take selfies with a simple hand gesture
Selfie Light1 – screen will illuminate a soft light around the photo
preview for well-lit selfies
Burst Shot2 – hold the shutter button to take multiple shots
quickly
Gesture Interval Shot1 and Interval Shot1 – make a fist twice or
hold the shutter button to take four selfies on a timer
Switch Between Rear and Front Cameras with a Finger Swipe
Digital Zoom: up to 4x
Multiple Shutter Options – tap the shutter button, tap the
screen, use your voice, or press a volume key to take a photo
Image Editor – add filters, frames, and more to your pictures
Video Resolution: 1280 x 720 (HD) recording at 30 FPS
Video Playback Resolution: up to 1080P video playback at 30 FPS
Pause & Resume Recording – pause and start in record mode for
one continuous video file
Live Shot – take still shots while recording video
Video Screenshot – capture still shots from a video during
playback
Self-Timer – choose to take a picture/video 3 or 10 seconds after
you press the shutter/record button
Geotagging – include location information with photos and
videos
1
2
3
4
4G LTE network not available everywhere.
Requires compatibility on both caller and receiver devices.
Depends on network availability. Additional carrier charges may apply.
USB cable required (included).
Specifications
•
•
•
•
•
•
•
•
•
•
•
•
•
1
2
Platform: Android™ 5.1 Lollipop
Technology: UMTS, GSM, LTE
Processor: 1.1 GHz Quad-Core Qualcomm® Snapdragon™ 210
Frequencies: GSM 850/900/1800/1900 MHz, UMTS Bands
2/4/5, LTE Bands 2/4/12
Dimensions: 5.65" (H) x 2.85" (W) x 0.35" (D)
Weight: 4.90 oz.
Display: 16M Color TFT, 854 x 480 pixels, 5.0" (FWVGA)
Battery Capacity: 2,045 mAh
Talk Time: up to 11 hours and 10 minutes1
Standby Time: up to 13 days and 14 hours1
Internal Memory: 8 GB (4.04 GB usable)
RAM: 1.5 GB
microSD™ Memory Card Support: up to 32 GB2
Actual battery time may vary depending on network connectivity and application use.
Memory cards sold separately.
LG Available Accessories
• Standard Battery*
• Travel Adapter and USB Cable*
• Bluetooth Stereo Headset (LG TONE INFINIM,™ LG TONE
Active,™ LG TONE ULTRA,™ LG TONE PRO™)
* Included with phone.
Available only on front-facing camera.
Available only on rear-facing camera.
Entertainment
• Video Player with Touch Lock and Resume Play Function;
supports 3GP, 3G2, MP4, and WebM formats
• Customizable Video Screen Ratio, Subtitle Settings, and Video
Auto Off Function
• Music Player with Auto Stop Feature: supports AAC, AAC+,
eAAC+, MP3, WAV, FLAC, AMR, M4A, MIDI, and Ogg formats
• Music Library – organized by song, album, artist, genre, favorites,
playlist, and folder
• Media Device (MTP) – transfer files or synchronize with
Windows® Media Player*
* USB cable required (included).
LG Electronics MobileComm U.S.A., Inc.
920 Sylvan Avenue
Englewood Cliffs, NJ 07632
Cust. Service: (800) 793-8896
www.lg.com/us/K7
†
Carrier service required. Features based on carrier program availability. Product features subject to change. Additional charges may apply.
All materials in this specsheet including, without limitation, the design and the text are the property of LG Electronics MobileComm U.S.A., Inc. 4G LTE not available everywhere. LTE is a trademark of ETSI. Copyright © 2016 LG Electronics MobileComm U.S.A., Inc. ALL
RIGHTS RESERVED. LG, LG Life's Good, and the LG logo are registered trademarks of LG Corp. K7 is a trademark of LG Electronics, Inc. The Bluetooth word mark and logos are registered trademarks owned by Bluetooth SIG, Inc. and any use of such marks by LG Electronics
MobileComm U.S.A., Inc. is under license. Google and Android are trademarks of Google Inc. Wi-Fi is a registered trademark of Wi-Fi Alliance. Qualcomm and Snapdragon are trademarks of Qualcomm Incorporated, registered in the United States and other countries. Used
with permission. Other trademarks and trade names are property of their respective owners. Unless otherwise specified herein, all accessories referenced are sold separately. All features, functionality, and other product specifications are subject to change without notice.
Screen shots are simulated and subject to change.

* Your assessment is very important for improving the work of artificial intelligence, which forms the content of this project