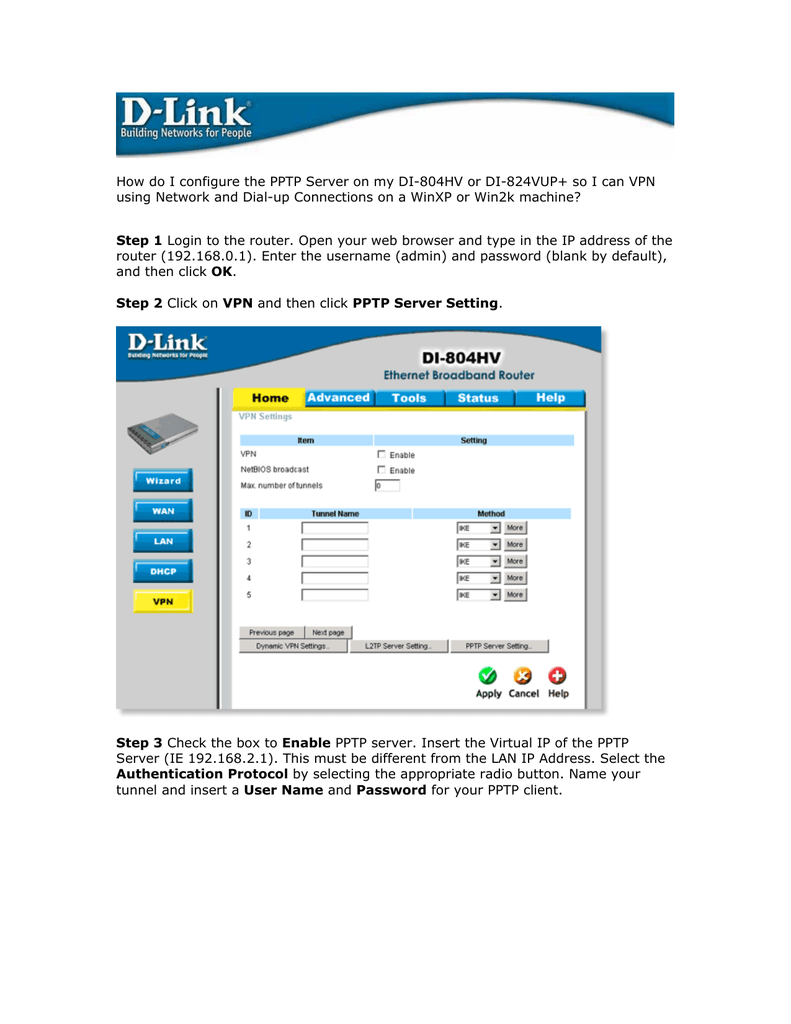 How do I configure the PPTP Server on my DI-804HV or DI-824VUP+ so I can VPN
using Network and Dial-up Connections on a WinXP or Win2k machine?
Step 1 Login to the router. Open your web browser and type in the IP address of the
router (192.168.0.1). Enter the username (admin) and password (blank by default),
and then click OK.
Step 2 Click on VPN and then click PPTP Server Setting.
Step 3 Check the box to Enable PPTP server. Insert the Virtual IP of the PPTP
Server (IE 192.168.2.1). This must be different from the LAN IP Address. Select the
Authentication Protocol by selecting the appropriate radio button. Name your
tunnel and insert a User Name and Password for your PPTP client.
Step 4 Click the Apply button to save your changes.
How to configure the windows client
Note: This is not supported by D-link
Use the Create a new connection wizard, following pictures will illustrate the right
options:
Now that the connection is created you need to right click on the connection and choose
properties.
Once there you choose the security tab and set it on advanced and click on settings where
the following window should appear and the settings shown in the pictures should be
applied:
Once you have clicked ok you choose the tab Networking and double click on Internet
Protocol(TCP/IP).
In that window you choose advanced, uncheck use default gateway… and click ok
Now you are good to go but do remember if you are behind a firewall with the client
machine it needs to allow VPN traffic.

* Your assessment is very important for improving the work of artificial intelligence, which forms the content of this project