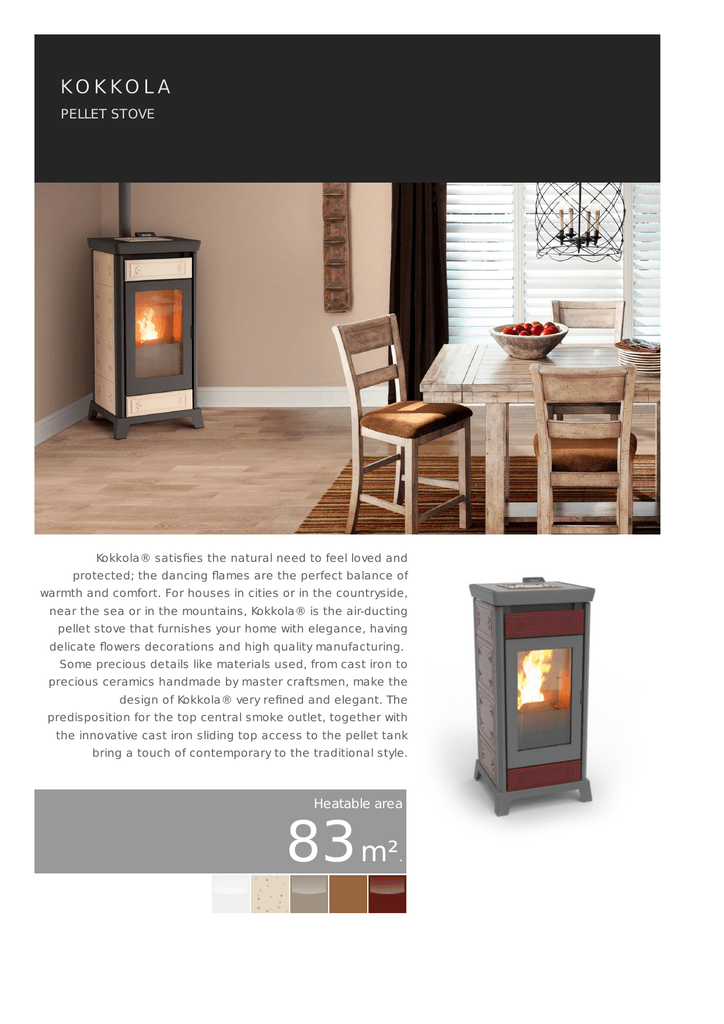 PELLET STOVE
Kokkola® satisfies the natural need to feel loved and
protected; the dancing flames are the perfect balance of
warmth and comfort. For houses in cities or in the countryside,
near the sea or in the mountains, Kokkola® is the air-ducting
pellet stove that furnishes your home with elegance, having
delicate flowers decorations and high quality manufacturing.
Some precious details like materials used, from cast iron to
precious ceramics handmade by master craftsmen, make the
design of Kokkola® very refined and elegant. The
predisposition for the top central smoke outlet, together with
the innovative cast iron sliding top access to the pellet tank
bring a touch of contemporary to the traditional style.
Heatable area
83 m²
.
1- Central flue outlet, on the rear side or
on the top
2- Programming control panel, with
remote control
3- One rear hot air ducting outlet
4- Precious handmade majolica by
master craftsmen
5- Cast iron sliding top access to the
pellet tank
6- Removable door handle Essential
design and added safety
7- Cast iron burner
8- The refined raised base facilities the
cleaning operations
OPTIONAL ACCESSORIES
TECHNICAL DATA
DIMENSIONS (HXWXD)
WEIGHT (KG)
HEATABLE AREA (M²)*A*C
EFFICIENCY UP TO MAX (%)*A
ENERGY CLASS
POWER TO THE HEART (KW)*A
RATED POWER (KW)*A
POWER TO THE WATER (KW)*A
RADIATION (KW)*A
HOURLY PELLET CONSUMPTION (KG/H)*A
WOOD HOURLY CONSUMPTION (KG/H)*A
1133X521X577
126
83
90,2%
3 - 10,2
2,5 - 9,2
3 - 10,2
0,7 - 2,3
-
PELLET HOPPER CAPACITY (KG)*A
16,0
WARM AIR DUCTING
SI
MAXIMUM SINGLE DUCTING OUTLET (M)
15,00
PATENTED BURNER PELLETPOWER®
-
ROOM VENTILATION
SI
PRIMARY AIR FROM OUTSIDE
SI
CO EMISSIONS (MG/M³; 13% OF O2)*A
188
CO EMISSIONS (MG/M³; 10% OF O2)*A
-
DUST EMISSIONS (MG/M³; 13% OF O2)*A
15
DUST EMISSIONS (MG/M³; 10% OF O2)*A
-
SILENCE (DB)
36
REMOTE CONTROL
SI
RADIO CONTROL WITH ROOM TEMPERATURE THERMOSTAT
-
WEEKLY PROGRAMMER (3 DAILY LIGHTING)
SI
«SMART INFO» FUNCTION
SI
SYSTEM CIRCULATING PUMP
-
EXPANSION TANK
-
OVER PRESSURE VALVE
SI
FLUE GASEXHAUST DIAMETER (MM)
80
MIN. FLUE DRAUGHT PRESSURE (PA)
9
ELECTRIC CONSUMPTION (WATT)
66-271
HIGH TEMPERATURE SAFETY THERMOSTAT
SI
*A EMISSIONS AND PERFORMANCE DATA MAY CHANGE ACCORDING TO THE FUEL USED. THE VALUES OF PELLET
PRODUCTS HAVE BEEN OBTAINED BY USING CERTIFIED FUEL ACCORDING TO EN 14961-2 A1-A2 NORM. WOOD LOGS
PRODUCTS VALUES MAY VARY ACCORDING TO THE TYPE AND QUALITY OF THE WOOD LOGS USED.
*B PROVISIONAL DATA UNDER CERTIFICATION
*C IMPORTANT: WHEN CALCULATING THE VOLUME OF THE "HEATED AREA" SOME RELEVANT ASPECTS MUST BE
CONSIDERED: INSULATION OF THE BUILDING (ENERGY CLASS), POSITION OF THE HEATER, CLIMATIC AREA AND MORE
ASPECTS THAT CAN AFFECT THE VALUES OF PERFORMANCE. REPORTED DATA HAVE BEEN CALCULATED ON THE BASE
OF ROOF NOT HIGHER THAN 3 MTS.
THE MANUFACTURER RESERVES THE RIGHT TO MAKE CHANGES WITHOUT PREVIOUS NOTICE.
THERMOROSSI S.p.A.
Via Grumolo, 4 | 36011 Ars iero (VI) | Italy | E-mail: info@thermoros s i.it
Tel: 800.44.88.77 | Fax: 0445 741657 | P.IVA 00168470243 | Is cr. REA99797 Vicenza | Cap. Sociale di 156,000,00 I.v.

* Your assessment is very important for improving the work of artificial intelligence, which forms the content of this project