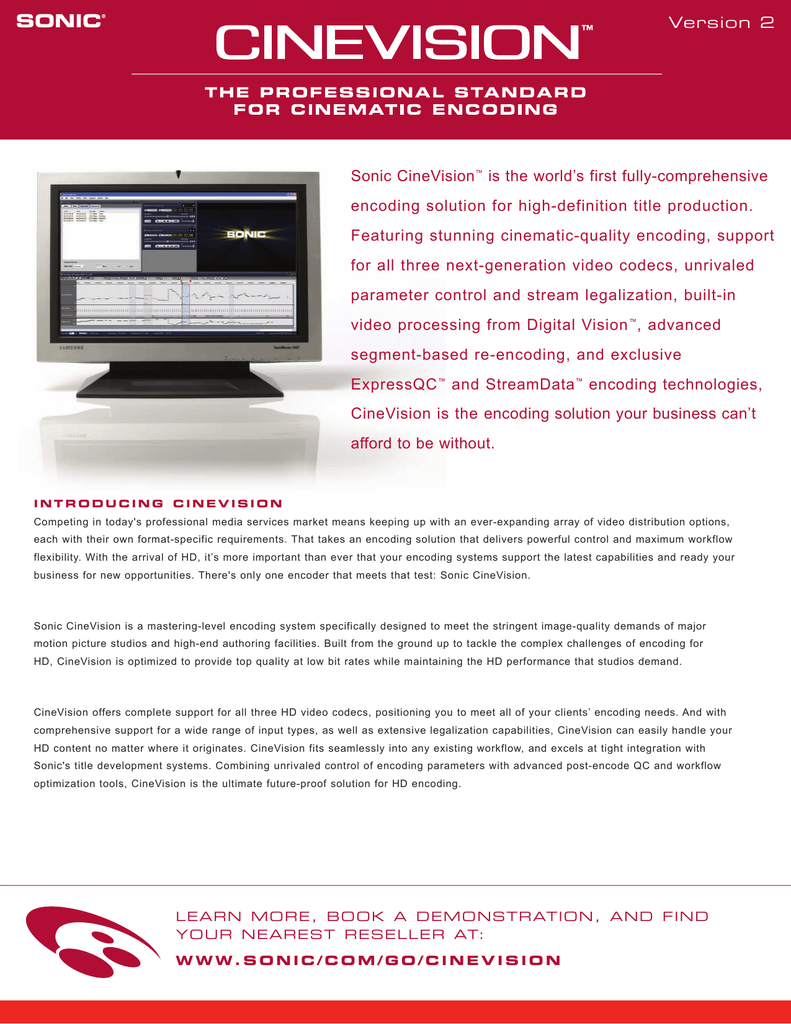 SONIC
®
Version 2
Sonic CineVision™ is the world's first fully-comprehensive
encoding solution for high-definition title production.
Featuring stunning cinematic-quality encoding, support
for all three next-generation video codecs, unrivaled
parameter control and stream legalization, built-in
video processing from Digital Vision ™, advanced
segment-based re-encoding, and exclusive
ExpressQC ™ and StreamData ™ encoding technologies,
CineVision is the encoding solution your business can't
afford to be without.
INTRODUCING CINEVISION
Competing in today's professional media services market means keeping up with an ever-expanding array of video distribution options,
each with their own format-specific requirements. That takes an encoding solution that delivers powerful control and maximum workflow
flexibility. With the arrival of HD, it's more important than ever that your encoding systems support the latest capabilities and ready your
business for new opportunities. There's only one encoder that meets that test: Sonic CineVision.
Sonic CineVision is a mastering-level encoding system specifically designed to meet the stringent image-quality demands of major
motion picture studios and high-end authoring facilities. Built from the ground up to tackle the complex challenges of encoding for
HD, CineVision is optimized to provide top quality at low bit rates while maintaining the HD performance that studios demand.
CineVision offers complete support for all three HD video codecs, positioning you to meet all of your clients' encoding needs. And with
comprehensive support for a wide range of input types, as well as extensive legalization capabilities, CineVision can easily handle your
HD content no matter where it originates. CineVision fits seamlessly into any existing workflow, and excels at tight integration with
Sonic's title development systems. Combining unrivaled control of encoding parameters with advanced post-encode QC and workflow
optimization tools, CineVision is the ultimate future-proof solution for HD encoding.
LEARN MORE, BOOK A DEMONSTRATION, AND FIND
YOUR NEAREST RESELLER AT:
W W W. S O N I C / C O M / G O / C I N E V I S I O N
SONIC
®
2
K E Y F E AT U R E S
Comprehensive Support for HD Encoding
Advanced Segment-based Re-encoding
CineVision delivers outstanding image quality for all three nextgeneration HD video codecs – AVC, VC-1 and MPEG-2 – so you're
fully equipped for all aspects of high-definition encoding.
Fine tune your completed encodes by re-encoding selected
segments with optimized encode parameters without re-encoding
your whole feature. CineVision's exclusive segment management
system even allows the creation and auditioning of multiple
"takes" for each segment.
Built-in Format Legalization
CineVision's unique integrated legalization technology verifies
format compliance after every parameter change, ensuring that
your encodes are a perfect match for your delivery target.
Digital V ision Mastering Toolset
Hollywood pedigree mastering tools
are included as standard.
CineVision incorporates Digital
Vision's Emmy award winning DVO
technology for film grain management, aperture correction and
brick wall filtering for the ultimate optimization toolset.
ExpressQC™ Segment Marking
Make dramatic improvements to your QC efficiency. ExpressQC
is an exclusive, patent-pending QC tool, built right into the
CineVision timeline, which automatically compares encoded
video to the source and identifies sections that are statistically
lower in quality.
StreamData™ Integration
Exchange key encoding metadata – including chapter-point
information and the server location of encoded media – for
unsurpassed integration with your Scenarist ® authoring system.
Input Format Flexibility
CineVision offers comprehensive support for a wide range of
input types, including QuickTime ® , AVI, and DPX image
State-of-the-Art Audio
With the state-of-the-art DTS-HD Master Audio Suite included as
standard - featuring support for 7.1 surround and lossless VBR
compression - CineVision ensures that your audio quality is a
sequences. No matter where your HD content originates,
CineVision handles it with ease, seamlessly integrating into any
existing workflow.
match for your high definition video.
Professional Encoding Features
New Design for a New Era
CineVision features one- and two-pass encoding modes as
standard, in addition to Constant Bit Rate (CBR), Variable Bit
Rate (VBR) and Constant Quality VBR encode styles.
CineVision is a brand new encoder built on all-new algorithms
and technology. Harnessing the latest developments in encoding,
CineVision delivers the quality and power you need to thrive in
the age of HD.
Advanced Parameter Control
CineVision features extensive access to the low-level parameter
set for every video codec. Support for format-compliant High
Profile AVC (H.264) and Advanced Profile Levels 2 and 3 (VC-1)
is included as standard.
Designed with the Industry, for the Industry
CineVision was developed in collaboration with the
Sonic HD Authoring Alliance (HDAA), the first and only
worldwide association of top DVD authoring houses
dedicated to facilitating the rollout of titles for release
in the new HD formats.
SONIC
®
3
C I N E V I S I O N U S E R I N T E R FA C E
CineVision's user interface gives
you detailed control over every
aspect of your encode
CINEVISION TIMELINE
CineVision's timeline provides
detailed information on your
finished encode and provides an
intuitive tool set for re-encoding
selected segments.
S E G M E N T- B A S E D R E - E N C O D I N G
CineVision's segment management
tools enables you to view selected,
pending, and completed encodes
in an instant.
SONIC
®
4
S P E C I F I C AT I O N S
V ideo Support
• Instant toggle between source and encoded movie preview
• AVC (H.264) Main/High Profiles, Levels 3, 3.1, 3.2, 4, and 4.1
• VC-1 Advanced Profile, Levels 2 and 3
• MPEG-2
• Sync mode playback - slave encoded movie transport to source
transport for instant comparison
Audio Support
• DTS ® -HD (standalone application)
Encoding Modes
• One- and two-pass bit rate-controlled VBR
• One-pass CBR
• One-pass Quality VBR (constant frame quantization)
Encoding Tools
• Full preset editors giving complete parameter access for AVC,
VC-1 and MPEG-2
• Informative parameter change logs for preset editors
• Detailed encode progress display, including current speed and
expected completion time
• Batch encoding – queue multiple encoding sessions in a batch
• Multi-input source sessions - encode a single movie from
multiple captured files
• Embedding of source timecode in encoded files
• Import chapter points directly from CSV or Sonic
StreamData files
• Flexible chapter timecode entry based from zero or any given
source timecode reference
Preprocessing and Mastering Tools
• QC Loop mode - Automatic alternating replay of a selected
section of the source and movie
• Varispeed playback for source and movie files
• Transport controls for source and encoded file
Advanced Segment-based Editing and Re-encoding
• Edit in-point, out-point and segment duration fields
• Segment edit tab with re-encoding parameter values
• Absolute and relative bit rate editing via simple click-drag control
• Access to wide number of key encoding parameters on segmentby-segment level
• DVO mastering tools available for segment-by-segment reencodes
• Mark new I-frames during segment editing
• Multiple-take segment management
• ExpressQC ™ – Auto segment marking based on quality metric
(PSNR)
Parameter Legalization Tools
• Dual format legalization: HD DVD Main and Blu-ray Disc Primary.
Encode a single file for both formats
• HD DVD Standard Content and Advanced Content main video
• HD DVD Advanced Content sub video
• Blu-ray Disc primary video
• DVO Grain – Film grain filtering and management
• DVO Aperture – Aperture (sharpness) correction
• DVO Regrain – Add grain to material
• DVO Brickwall – Advanced low-pass filtering
• Full resolution preview
• Instantly recallable preset editors for all parameters
Movie T imeline
• Bit rate track - Windowed and GOP averaging views
• Decoder buffer fill rate graph
• Frame-by-frame picture structure track (I, P and B)
• Decoder buffer fill rate graph
• PSNR track
• Quantization track
• Windowed and GOP averaging views for all tracks
• Custom entry point location track
• Target BitBudget ™ with MB used/remaining display
• Source timecode/movie timecode display modes
• Mean bit rate displays for movie and segments
• PSNR display graph
V ideo Preview
V ideo Resolution
• 1920 x 1080
•
• 1280 x 720
•
• 720 x 480
•
• 544 x 576
•
• 480 x 480
•
• 352 x 288
•
Support
1440 x 1080
960 x 1080
704 x 576
544 x 480
352 x 576
352 x 240
•
•
•
•
•
1280 x 1080
720 x 576
704 x 480
480 x 576
352 x 480
Frame Rate Support
59.94, 50, 29.97, 25, 24, 23.98, 3:2 pull-down insertion
Supported Input Formats
VIDEO - QuickTime ® files (.qt and .mov), AVI files (.avi), DPX
image sequences (RGB 10-bit), Planar YUV files (.yuv), MPEG-2
video files, MPEG-4 video files, Windows Media Video files (.wmv)
AUDIO - WAV Audio Files (standalone DTS Master Audio Suite
Application)
CHAPTER POINT LIST
- CSV, StreamData™
Export Formats
• StreamData
• Uncompressed AVI from encoded movie
• Segments text list
• HD-SDI playback of source and movie (requires NVIDIA Quadro
FX 4500 SDI GPU, not included)
C O N TA C T S O N I C
Sonic Solutions USA
101 Rowland Way, Novato, CA 94945, USA
Tel: 415.893.8000 Fax: 415.893.7834
Sonic Solutions Europe
22 Warwick Street, London, W1B 5NF, UK
Tel: +44.20.7437.1100 Fax: +44.20.7437.1151
Sonic Solutions Burbank
3500 West Olive Avenue, Suite 730, Burbank, CA 91505, USA
Tel: 818.823.4000
Sonic Solutions Japan KK
4F Shirokane Takanawa Station Building,
1-27-6 Shirokane, Minato-Ku, Tokyo 108-0072, Japan
Phone: +81.3.5439.7171 Fax: +81.3.5439.7172
© 2007 Sonic Solutions. All rights reserved. Sonic, Sonic Solutions, the Sonic Solutions logo, the Scenarist logo, the CineVision logo, Scenarist, ExpressQC, and CineVision are trademarks or registered trademarks
owned by Sonic Solutions. All other names and logos are the respective property of their owners. Protected by U.S. Patents 6,065,010 and 5,812,790, and CN 95191159.7. Other patents pending.