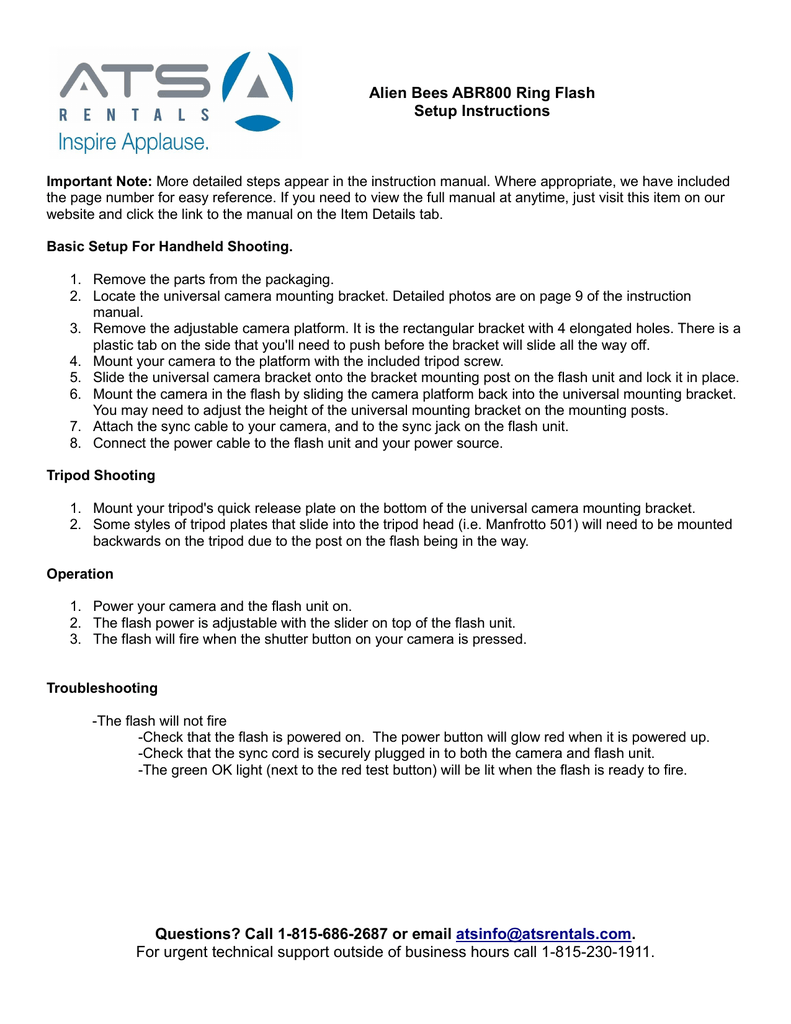 Alien Bees ABR800 Ring Flash
Setup Instructions
Important Note: More detailed steps appear in the instruction manual. Where appropriate, we have included
the page number for easy reference. If you need to view the full manual at anytime, just visit this item on our
website and click the link to the manual on the Item Details tab.
Basic Setup For Handheld Shooting.
1. Remove the parts from the packaging.
2. Locate the universal camera mounting bracket. Detailed photos are on page 9 of the instruction
manual.
3. Remove the adjustable camera platform. It is the rectangular bracket with 4 elongated holes. There is a
plastic tab on the side that you'll need to push before the bracket will slide all the way off.
4. Mount your camera to the platform with the included tripod screw.
5. Slide the universal camera bracket onto the bracket mounting post on the flash unit and lock it in place.
6. Mount the camera in the flash by sliding the camera platform back into the universal mounting bracket.
You may need to adjust the height of the universal mounting bracket on the mounting posts.
7. Attach the sync cable to your camera, and to the sync jack on the flash unit.
8. Connect the power cable to the flash unit and your power source.
Tripod Shooting
1. Mount your tripod's quick release plate on the bottom of the universal camera mounting bracket.
2. Some styles of tripod plates that slide into the tripod head (i.e. Manfrotto 501) will need to be mounted
backwards on the tripod due to the post on the flash being in the way.
Operation
1. Power your camera and the flash unit on.
2. The flash power is adjustable with the slider on top of the flash unit.
3. The flash will fire when the shutter button on your camera is pressed.
Troubleshooting
-The flash will not fire
-Check that the flash is powered on. The power button will glow red when it is powered up.
-Check that the sync cord is securely plugged in to both the camera and flash unit.
-The green OK light (next to the red test button) will be lit when the flash is ready to fire.
Questions? Call 1-815-686-2687 or email atsinfo@atsrentals.com.
For urgent technical support outside of business hours call 1-815-230-1911.

* Your assessment is very important for improving the work of artificial intelligence, which forms the content of this project