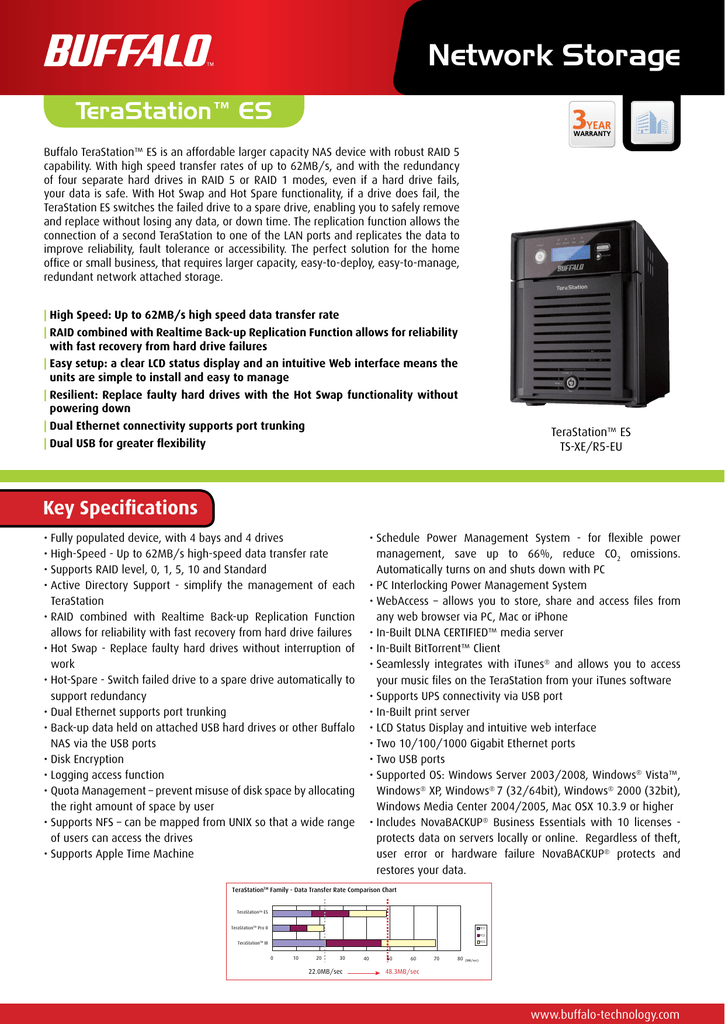 Network Storage
TeraStation™ ES
Buffalo TeraStation™ ES is an affordable larger capacity NAS device with robust RAID 5
capability. With high speed transfer rates of up to 62MB/s, and with the redundancy
of four separate hard drives in RAID 5 or RAID 1 modes, even if a hard drive fails,
your data is safe. With Hot Swap and Hot Spare functionality, if a drive does fail, the
TeraStation ES switches the failed drive to a spare drive, enabling you to safely remove
and replace without losing any data, or down time. The replication function allows the
connection of a second TeraStation to one of the LAN ports and replicates the data to
improve reliability, fault tolerance or accessibility. The perfect solution for the home
office or small business, that requires larger capacity, easy-to-deploy, easy-to-manage,
redundant network attached storage.
| High Speed: Up to 62MB/s high speed data transfer rate
| RAID combined with Realtime Back-up Replication Function allows for reliability
with fast recovery from hard drive failures
| Easy setup: a clear LCD status display and an intuitive Web interface means the
units are simple to install and easy to manage
| Resilient: Replace faulty hard drives with the Hot Swap functionality without
powering down
| Dual Ethernet connectivity supports port trunking
| Dual USB for greater flexibility
TeraStation™ ES
TS-XE/R5-EU
Key Specifications
• Schedule Power Management System - for flexible power
• Fully populated device, with 4 bays and 4 drives
management, save up to 66%, reduce CO2 omissions.
• High-Speed - Up to 62MB/s high-speed data transfer rate
• Supports RAID level, 0, 1, 5, 10 and Standard
Automatically turns on and shuts down with PC
• Active Directory Support - simplify the management of each • PC Interlocking Power Management System
TeraStation
• WebAccess – allows you to store, share and access files from
• RAID combined with Realtime Back-up Replication Function
any web browser via PC, Mac or iPhone
allows for reliability with fast recovery from hard drive failures
• In-Built DLNA CERTIFIED™ media server
• Hot Swap - Replace faulty hard drives without interruption of • In-Built BitTorrent™ Client
work
• Seamlessly integrates with iTunes® and allows you to access
• Hot-Spare - Switch failed drive to a spare drive automatically to
your music files on the TeraStation from your iTunes software
support redundancy
• Supports UPS connectivity via USB port
• Dual Ethernet supports port trunking
• In-Built print server
• Back-up data held on attached USB hard drives or other Buffalo • LCD Status Display and intuitive web interface
NAS via the USB ports
• Two 10/100/1000 Gigabit Ethernet ports
• Disk Encryption
• Two USB ports
• Logging access function
• Supported OS: Windows Server 2003/2008, Windows® Vista™,
• Quota Management – prevent misuse ofSingle
diskaccess
space by allocating
Windows® XP, Windows® 7 (32/64bit), Windows® 2000 (32bit),
the right amount of space by user
TS-XEL
Windows Media
62.3MB/secCenter 2004/2005, Mac OSX 10.3.9 or higher
• Supports NFS – can be mapped from UNIX TS-HTGL
so that a wide range 33.3MB/sec
• Includes NovaBACKUP® Business Essentials with 10 licenses TS-XL
of users can access the drives
protects data on servers locally or online. Regardless of theft,
20
70
10
40
50
60
0
30
• Supports Apple Time Machine
user error or hardware failure NovaBACKUP® protects and
restores your data.
Sea Write
Sea Read
(MB/sec)
TeraStationTM Family - Data Transfer Rate Comparison Chart
TeraStationTM ES
TeraStationTM Pro II
PC1
PC2
PC3
TeraStationTM III
0
10
20
30
22.0MB/sec
40
50
60
70
80
(MB/sec)
48.3MB/sec
www.buffalo-technology.com
Network Storage
SPECIFICATIONS
Internal HDD
HDD Interface
SATA
Supported RAID Levels
0, 1, 5, 10 and Standard
Capacities
500GB, 1.0TB, 1.5TB, 2.0TB
Number of Drives
4
Total Capacities
2.0TB, 4.0TB, 6.0TB, 8.0TB
Interfaces
LAN
Standard Compliance
IEEE802.3ab / IEEE802.3u / IEEE802.3 Standard
LAN Port Connector
RJ-45
Number of LAN Ports
2
Data Transfer Rate
10/100/1000Mbps
USB
Standard Compliance
USB 2.0
Connector Type
USB type A
Number of Ports
2
Data Transfer Rate
Max: 480Mbps (High Speed Mode) Max: 12Mbps (Full Speed Mode)
Protocol Support
Networking
TCP/IP
File Sharing
SMB/CIFS, AFP, FTP/FTPS, HTTP/HTTPS, SFTP, NFS
Active Directory Integration
Kerberos
Management
HTTP/HTTPS
Time Synchronisation
NTP
Other
Set-up Utility OS Support
Windows 8 (32/64 bit), Windows Server 2003/2008, Windows® Vista™, Windows®XP,
Windows® 7 (32/64 bit), Windows® 2000 (32bit), Windows Media Center 2004/2005,
Mac OSX 10.3.9 or higher
Dimensions (WxDxH)
215 x 170 x 230mm
Weight
8Kg
UPS Support
via USB 2.0 Port
Operating Environment
5-35°C, 20-80% (non-condensing)
Power Consumption
Avg 60W, Max 86W
Power Supply
Internal AC 100-240V, 50/60Hz
Part Numbers
TS-XE2.0TL/R5EU 2.0TB
TS-XE4.0TL/R5EU 4.0TB
TS-XE6.0TL/R5EU 6.0TB
TS-XE8.0TL/R5EU 8.0TB
About Buffalo
Buffalo Technology UK Ltd. is a leading global provider of award-winning storage, networking, memory, and multimedia solutions for the home and small business
environments as well as for system builders and integrators. With almost three decades of networking and computer peripheral experience, Buffalo has proven its
commitment to delivering innovative solutions that have put the company at the forefront of infrastructure technology.
© Buffalo Inc. 2010. BUFFALO logo, AirStation, Nfiniti, AOSS, TeraStation, LinkStation, DriveStation, DriveStation 2Share, MiniStation, Dualie and LinkTheater are either
trademarks or registered trademarks of Melco Holdings Inc. or Buffalo Inc. Microsoft Windows and Microsoft logo are either registered trademarks or trademarks of
Microsoft corporation in United States and/or other countries. The names and logos of other companies mentioned herein belong to their respective owners. The
information within this datasheet is subject to change without notice. All rights reserved. E & OE.
June 10
Note: 1TB = 1,000,000,000,000 bytes: total accessible capacity varies depending on operating environment. Data rate, features and performance may vary based on the configuration of
your system and other factors.