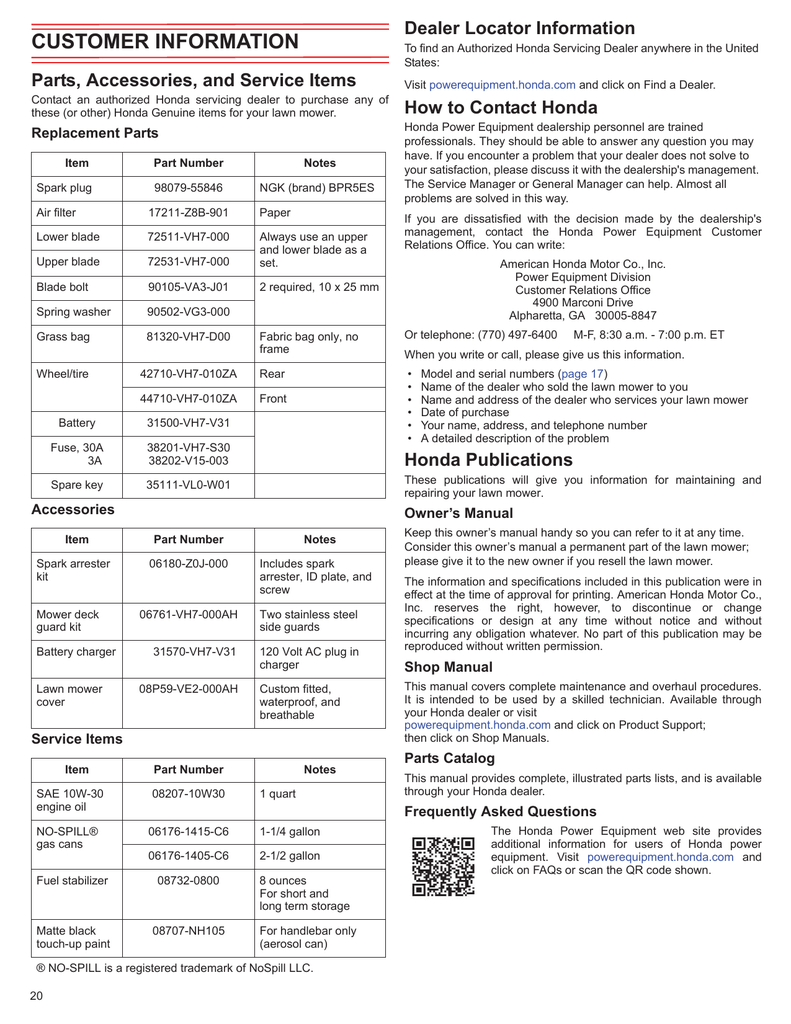 Dealer Locator Information
CUSTOMER INFORMATION
To find an Authorized Honda Servicing Dealer anywhere in the United
States:
Parts, Accessories, and Service Items
Visit powerequipment.honda.com and click on Find a Dealer.
Contact an authorized Honda servicing dealer to purchase any of
these (or other) Honda Genuine items for your lawn mower.
How to Contact Honda
Replacement Parts
Honda Power Equipment dealership personnel are trained
professionals. They should be able to answer any question you may
have. If you encounter a problem that your dealer does not solve to
your satisfaction, please discuss it with the dealership's management.
The Service Manager or General Manager can help. Almost all
problems are solved in this way.
Item
Part Number
Notes
Spark plug
98079-55846
NGK (brand) BPR5ES
Air filter
17211-Z8B-901
Paper
Lower blade
72511-VH7-000
Upper blade
72531-VH7-000
Always use an upper
and lower blade as a
set.
Blade bolt
90105-VA3-J01
2 required, 10 x 25 mm
Spring washer
90502-VG3-000
Grass bag
81320-VH7-D00
Wheel/tire
American Honda Motor Co., Inc.
Power Equipment Division
Customer Relations Office
4900 Marconi Drive
Alpharetta, GA 30005-8847
Fabric bag only, no
frame
Or telephone: (770) 497-6400
42710-VH7-010ZA
Rear
44710-VH7-010ZA
Front
•
•
•
•
•
•
M-F, 8:30 a.m. - 7:00 p.m. ET
When you write or call, please give us this information.
Model and serial numbers (page 17)
Name of the dealer who sold the lawn mower to you
Name and address of the dealer who services your lawn mower
Date of purchase
Your name, address, and telephone number
A detailed description of the problem
Battery
31500-VH7-V31
Fuse, 30A
3A
38201-VH7-S30
38202-V15-003
Honda Publications
Spare key
35111-VL0-W01
These publications will give you information for maintaining and
repairing your lawn mower.
Accessories
Item
Spark arrester
kit
Mower deck
guard kit
Battery charger
Lawn mower
cover
Owner's Manual
Part Number
06180-Z0J-000
Notes
Includes spark
arrester, ID plate, and
screw
06761-VH7-000AH
Two stainless steel
side guards
31570-VH7-V31
120 Volt AC plug in
charger
08P59-VE2-000AH
Custom fitted,
waterproof, and
breathable
Service Items
Item
Part Number
Notes
SAE 10W-30
engine oil
08207-10W30
NO-SPILL®
gas cans
06176-1415-C6
1-1/4 gallon
06176-1405-C6
2-1/2 gallon
1 quart
Keep this owner's manual handy so you can refer to it at any time.
Consider this owner's manual a permanent part of the lawn mower;
please give it to the new owner if you resell the lawn mower.
The information and specifications included in this publication were in
effect at the time of approval for printing. American Honda Motor Co.,
Inc. reserves the right, however, to discontinue or change
specifications or design at any time without notice and without
incurring any obligation whatever. No part of this publication may be
reproduced without written permission.
Shop Manual
This manual covers complete maintenance and overhaul procedures.
It is intended to be used by a skilled technician. Available through
your Honda dealer or visit
powerequipment.honda.com and click on Product Support;
then click on Shop Manuals.
Parts Catalog
This manual provides complete, illustrated parts lists, and is available
through your Honda dealer.
Frequently Asked Questions
Fuel stabilizer
08732-0800
8 ounces
For short and
long term storage
Matte black
touch-up paint
08707-NH105
For handlebar only
(aerosol can)
® NO-SPILL is a registered trademark of NoSpill LLC.
20
If you are dissatisfied with the decision made by the dealership's
management, contact the Honda Power Equipment Customer
Relations Office. You can write:
The Honda Power Equipment web site provides
additional information for users of Honda power
equipment. Visit powerequipment.honda.com and
click on FAQs or scan the QR code shown.

* Your assessment is very important for improving the work of artificial intelligence, which forms the content of this project