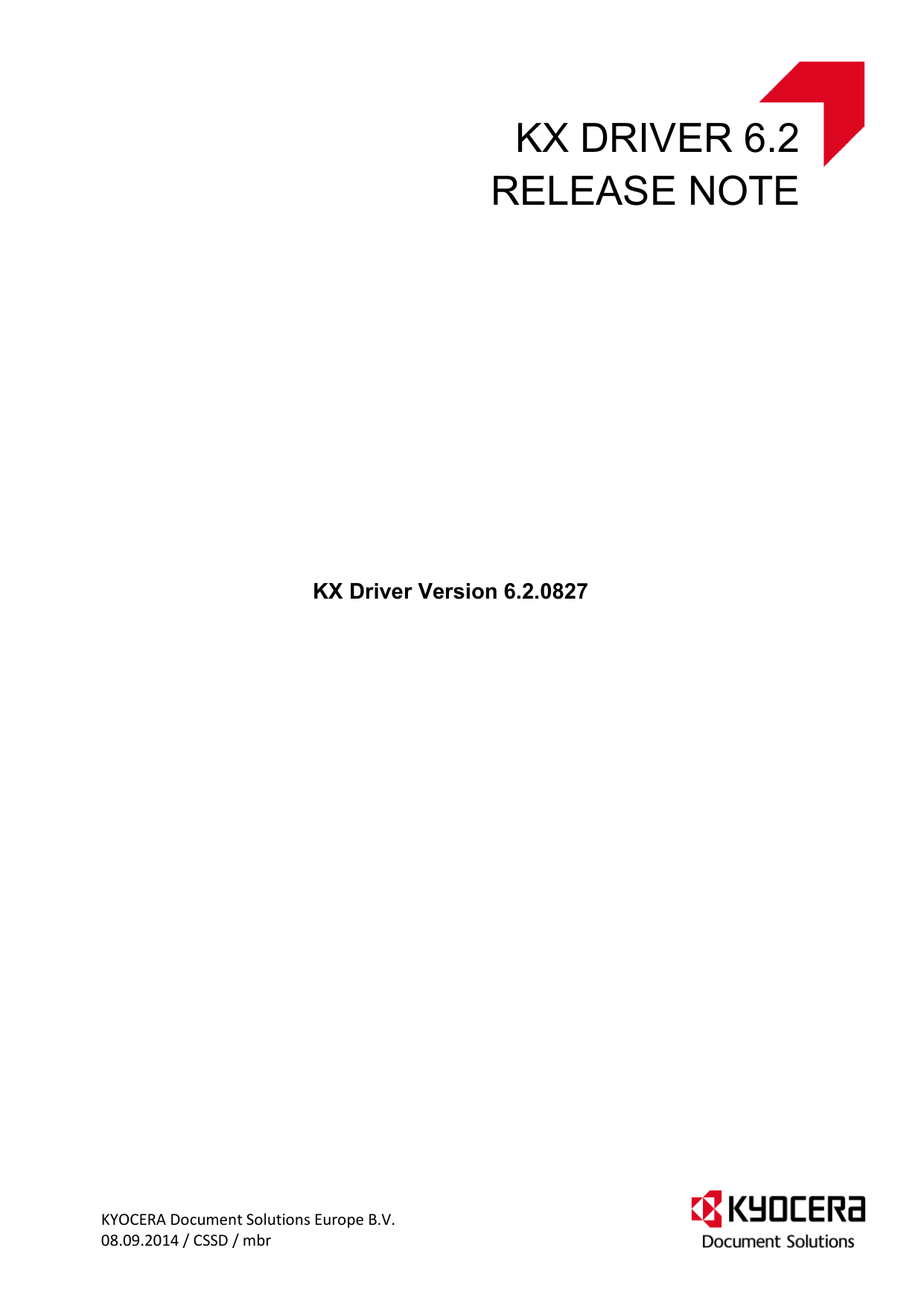 KX DRIVER 6.2
RELEASE NOTE
KX Driver Version 6.2.0827
KYOCERA Document Solutions Europe B.V.
08.09.2014 / CSSD / mbr
Driver Release Date: 05.09.2014
Region: Global
Supported Operating Systems:
OS
Windows XP
Windows Vista
Windows 7
Windows 8 / 8.1
Windows Server 2003
Windows Server 2008
Windows Server 2008R2
Windows Server 2012
Windows Server 2012R2
Supported Languages:
User interface
Arabic
Simplified Chinese
Traditional Chinese
Czech
Danish
Dutch
English
Finnish
French
German
Greek
Hebrew
Hungarian
Italian
Version
32/64 bit
32/64 bit
32/64 bit
32/64 bit
32/64 bit
32/64 bit
64 bit
64 bit
64 bit
Norwegian
Polish
Portuguese (Brazilian)
Portuguese (Portuguese)
Russian
Romanian
Spanish (Spain)
Swedish
Turkish
Catalan
Vietnamese
Thai
Japanese*
Korean
*extra version
Microsoft WHQL Signed ("Certified"):
Yes, for Windows 8/Server 2012R2 and earlier (down to XP)
KYOCERA Document Solutions Europe B.V.
Recommended installation method:
A) Running Setup.exe from the main driver folder, following the instructions.
• Guides step by step through either quick installation or user defined
installation
• Allows installation of multiple printers/MFPs at once
• Will identify previous KX driver versions and offer upgrade path
• Post installer allows to install additional driver components
• Uninstaller allows removing of driver components, tools and fonts from
the system
B) By using Microsoft Add Printer Wizard
• Go to Control Panel\Hardware and Sound\Devices and Printers
• Click on 'Add a printer', follow the instructions provided by Windows
• Point to OEMSETUP.INF file in 32-bit or 64-bit driver folder,
depending on your operating system architecture
• Select model name from list, start driver installation
• Allows installation of one device at a time
• Standard Microsoft installation method, possible to run as a script
Improvements over previous KX 6.1 version:
1. Application based driver settings (application based profiles) now
available for 32-bit and 64-bit operating systems.
Example: Create and save a profile with 'Black, Duplex on, 2 pages
per sheet' and assign it to your favorite email application – these
resource-saving settings will automatically become active when
printing emails.
2. Skip blank page feature now available for KPDL (Postscript
emulation). Feature has already been available for PCL XL before.
Please note that skipping blank pages does not work with pass
through and GDI modes.
KYOCERA Document Solutions Europe B.V.
3. Support for original document sizes A0, A1, A2, B1, B2 and B3 for
A3 models (for reduced size printout on A3 or smaller)
4. Support for KYOCERA Net Manager solution (Print&Follow
application for streamlined and secure document management).
Settings accessible under Device Settings – Administrator – Net
Manager. Requires installation of Net Manager support via
Maintenance – Optional Printer Components from KX driver installer.
5. Add USA time zone support for EPEAT (Electronic Product
Environmental Assessment Tool) regulations
6. Improvement of management mode and private print GUI
7. Support of two punch holes for Letter/Ledger paper
8. Support of Duplex printing from Multi Purpose Tray for
FS-1300D/FS-1120D/FS-1320D/ECOSYS P2035d/ECOSYS P2135d
Implemented bug fixes:
1. Issue: Line spacing is different between KX driver and Mini driver
Status: fixed. 'Disable device font' enabled by default. This forces the
usage of system font metrics
2. Issue: Number-of-copies printing is unavailable with the "Reader" of
Windows8.
Status: fixed. Driver modification, now using number of copies from
CopiesPrintTicket
3. Issue: A reduced image is flipped upside down on the printout.
Status: fixed. Internal computation updated.
4. Issue: Characters may be missing after a certain number of pages in
a mass printing.
KYOCERA Document Solutions Europe B.V.
Status: fixed. Internal component had memory leak.
5. Issue: Print speed issues with some printers and PCL XL.
Status: Fixed. PCL XL strokepath optimization
6. Issue: When KX Driver (KPDL) pass-through is ON, Excel2010 data
cannot be printed properly.
Status: Fixed. Driver modification.
7. Issue: Speed issues when printing multiple small JPEG images.
Status: Fixed. Optimization of PCL XL image compression.
8. Issue: Selecting 'staple top right' staples pages top left for some
devices using DF-790
Status: Fixed. Driver modification.
9. Issue: Default watermark color not set.
Status: Change default watermark color to gray
General Known Issues:
1. Issue: When adding a 32-bit driver to a shared printer on a server
running a 64-bit version of Windows, the model name may appear
multiple times in Share this Printer.
Solution: To avoid displaying multiple model names, choose "Have
Disk" when using the "Additional Drivers..." option and browse to the
x86 driver INF file for the desired model to install it.
2. Issue: Uninstalling a driver installed from a web package.
Solution: The web package installer does not place an uninstall link in
the Windows start menu. Please run KmUninstall.exe manually from
\Program Files\Kyocera.
KYOCERA Document Solutions Europe B.V.
3. Issue: After upgrading previous driver versions to KX DRIVER 6.2
using the web package, and then removing the driver at a later time,
USB plug-and-play will reinstall the previous driver version. This is a
limitation in the way Windows handles device drivers.
Solution: Upgrade the driver to the current version after the plugand-play USB setup finishes.
4. Issue: If the KX DRIVER is uninstalled immediately after installation,
the uninstallation fails.
Solution: Restart the PC and uninstall the KX DRIVER.
5. Issue: Status Monitor is not available from the client side in a serverclient environment on Microsoft Windows Server 2003, 2008/2008 R2
and 2012/2012R2.
6. Issue: USB connected print devices are unable to enter standby and
log 0 page jobs.
Solution: Disable bidirectional support in the Ports tab of the Printer
Properties window
7. Issue: The ICM profile is not installed automatically.
Solution: If your specific color printing needs require the ICM profile,
please install it manually using Properties → Color Management →
Add… .
8. Issue: Pantone® is not available if the device firmware does not
support Pantone.
9. Issue: Japanese font substitution is not available if the device firmware
does not support Japanese.
KYOCERA Document Solutions Europe B.V.
10. Issue: Some Korean characters may not print correctly when the
following conditions exist:
• Newer Korean fonts (GungSuh and GungSuhChe) are installed
on Windows 8 (Korean) and are used for printing.
• The device firmware is not up-to-date.
• "Substitute device font" or "Allow Native Download" is selected
with KPDL
Known Issues for Windows:
KX DRIVER 6.2 running on Windows XP, Vista, Windows 7, Windows 8,
Windows Server 2003, 2008/2008 R2 and 2012/2012R2 has the following
technical limitations and known issues:
1. Issue: The following advanced driver settings will not be displayed on
the Print Preview: outer n-up borders, poster assembly marks, 180degree rotation, color adjustment, gutter, EcoPrint and
Prologue/Epilogue.
2. Issue: In Vista, Windows 7 and Windows 8, Custom Paper Size is
missing from the paper size list of Windows Photo Gallery. This is a
known limitation in Photo Printing Wizard.
3. Issue: KPDL pass through mode fails for some Adobe products. This
is a known limitation in Adobe products on Vista, Windows 7 and
Windows 8.
4. Issue: Although a user has administration privileges on a machine, the
user may not have admin privileges for a printer driver running on the
machine.
Solution: Run the driver in administrator mode by choosing "Run as
Administrator".
5. Issue: An extra blank page prints when a Microsoft Word 2007
document is printed when both mixed paper sizes and duplex is
selected. This is a known limitation in Microsoft Word 2007.
KYOCERA Document Solutions Europe B.V.
6. Issue: Interactive services dialog detection messages pop-up when
printing mixed sized documents in booklet mode on the 64-bit version
of Vista.
Solution: Click through the dialog and choose to continue or cancel
printing in the next screen.
7. Issue: Some objects in Microsoft PowerPoint 2007 are not being
printed in Poster mode for 3x3 pages or more. This is a known
limitation in Microsoft PowerPoint 2007.
8. Issue: EMF (enhanced metafile) spooling is not available for KPDL
printing.
9. Issue: Watermarks are not supported for 64-bit RAW mode. When
printing from Adobe applications such as Acrobat Reader in KPDL
pass through mode, watermarks will not print.
10. Issue: Smart duplex printing is not supported in booklet mode.
11. Issue: Print Preview is not supported for KPDL pass through mode
with applications like Adobe Acrobat.
12. Issue: While Print Preview dialog is active for one document, all other
open documents of the same application cannot be accessed. This is
a known limitation in Windows.
Solution: Close the Print Preview dialog to access the other open
documents.
13. Issue: Grid lines may appear on some images in Print Preview
because of moiré effects. However it will not affect to the output.
14. Issue: Microsoft PowerPoint 2010 does not print the number of
copies that is specified by using Printer Properties. This is a known
limitation in Microsoft PowerPoint 2010.
Solution: Use the Copies box in Microsoft PowerPoint Print dialog to
set the number of copies to print.
15. Issue: In some cases, alternative driver cannot be deleted by
Uninstaller.
KYOCERA Document Solutions Europe B.V.
16. Issue: In some cases, the driver policy is not reflected for Microsoft
Outlook printing. Because Microsoft Outlook 2003 uses Microsoft
Word 2003 module to edit emails, checkbox of "Use Microsoft Word
2003" need to be unchecked in the optional settings.
17. Issue: An error message appears when printing from KX DRIVER
for Universal Printing (UPD) in a Citrix environment. This occurs when
the UPD on the client side cannot communicate with the printer to
acquire device information, because the port name on the client side is
converted to TCP XXX on the Terminal Services side.
Solution: One possible workaround when using Terminal Services
with Windows Server 2008, 2008 R2 and 2012 is to use the Easy Print
feature. With Easy Print, user interface and print job processing is
passed on to the printer driver on the client system without the need to
install drivers on the Terminal Server, and thus port information is
available and UPD printing can proceed. More information on
Terminal Services Easy Print can be found on the Microsoft website at
this link: http://technet.microsoft.com/enus/library/cc753853%28v=ws.10%29.aspx
18. Issue: KPDL Pass-through mode does not work when PDL is
changed from within an application.
Solution: Close the application, change the PDL mode in the Device
Settings tab, then reopen the application
19. Issue: Lower panel will not be displayed when Y screen resolution is
less than 864.
Scale
Minimum
setting
resolution
100%
800 x 600
125%
1024 x 768
150%
1280 x 960
KYOCERA Document Solutions Europe B.V.
20. Issue: Image watermark supports image files up to 256MB. In
addition, image watermark with 1000% scaling does not print if the
image file has large dimensions (4960x7014 or 6365x9500 pixels, for
example).
KYOCERA Document Solutions Europe B.V.
Supported Models:
ECOSYS P2035d
FS-2100D
FS-C8020MFP
TASKalfa 300ci
ECOSYS P2135d
FS-2100DN
FS-C8025MFP
TASKalfa 400ci
ECOSYS P2135dn
FS-3040MFP
FS-C8520MFP
TASKalfa 500ci
ECOSYS P6021cdn
FS-3140MFP
FS-C8525MFP
TASKalfa 552ci
ECOSYS P6026cdn
FS-3040MFP+
FS-C8026N
TASKalfa 300i
ECOSYS P6026cdn Type B
FS-3140MFP+
FS-C8100DN
TASKalfa 420i
ECOSYS P6030cdn
FS-3540MFP
FS-C8100DN+
TASKalfa 520i
ECOSYS P7035cdn
FS-3640MFP
FS-C8500DN
TASKalfa 620
ECOSYS M2030dn
FS-3820N
FS-C8600DN
TASKalfa 820
ECOSYS M2035dn
FS-3830N
FS-C8650DN
TASKalfa 3500i
ECOSYS M2530dn
FS-3900DN
KM-1650
TASKalfa 4500i
ECOSYS M2535dn
FS-3920DN
KM-1815
TASKalfa 5500i
ECOSYS M3040dn
FS-3925DN
KM-1820
TASKalfa 6500i
ECOSYS M3540dn
FS-4000DN
KM-2050
TASKalfa 8000i
ECOSYS M3040idn
FS-4020DN
KM-2540
TASKalfa 2550ci
ECOSYS M3540idn
FS-4025DN
KM-2550
TASKalfa 3050ci
ECOSYS M3550idn
FS-4100DN
KM-2560
TASKalfa 3550ci
ECOSYS M3560idn
FS-4200DN
KM-2810
TASKalfa 4550ci
ECOSYS M6026cdn
FS-4300DN
KM-2820
TASKalfa 5550ci
ECOSYS M6526cdn
FS-6020
KM-3035
TASKalfa 6550ci
ECOSYS M6026cdn Type B
FS-6026
KM-3040
TASKalfa 7550ci
ECOSYS M6526cdn Type B
FS-6025MFP
KM-3050
TASKalfa 3010i
ECOSYS M6026cidn
FS-6030MFP
KM-3060
TASKalfa 3510i
ECOSYS M6526cidn
FS-6525MFP
KM-4035
TASKalfa 3501i
ECOSYS M6026cidn Type B
FS-6530MFP
KM-4050
TASKalfa 4501i
ECOSYS M6526cidn Type B
FS-6950DN
KM-4530
TASKalfa 5501i
FS-1010
FS-6970DN
KM-5035
TASKalfa 6501i
KYOCERA Document Solutions Europe B.V.
FS-1018MFP
FS-6975DN
KM-5050
TASKalfa 8001i
FS-1020D
FS-9120DN
KM-5530
TASKalfa 2551ci
FS-1028MFP
FS-9130DN
KM-6030
TASKalfa 3051ci
FS-1030MFP
FS-920
KM-6330
TASKalfa 3551ci
FS-1130MFP
FS-9520DN
KM-7530
TASKalfa 4551ci
FS-1035MFP
FS-9530DN
KM-8030
TASKalfa 5551ci
FS-1135MFP
FS-C2026MFP
KM-C2520
TASKalfa 6551ci
FS-1030D
FS-C2126MFP
KM-C2525E
TASKalfa 7551ci
FS-1050
FS-C2026MFP+
KM-C2630
FS-820
FS-1100
FS-C2126MFP+
KM-C3225
FS-1800
FS-1110
FS-C2526MFP
KM-C3225E
FS-1800+
FS-1024MFP
FS-C2626MFP
KM-C3232
FS-1900
FS-1124MFP
FS-C5015N
KM-C3232E
FS-3800
FS-1118MFP
FS-C5016N
KM-C4008
FS-C8008N
FS-1128MFP
FS-C5020N
KM-C4035E
FS-9100DN
FS-1120D
FS-C5025N
TASKalfa 181
FS-9500DN
FS-1300D
FS-C5030N
TASKalfa 221
KM-1530
FS-1320D
FS-C5100DN
TASKalfa 255
KM-2030
FS-1350DN
FS-C5200DN
TASKalfa 305
KM-2530
FS-1370DN
FS-C5300DN
TASKalfa 205c
KM-3530
FS-1920
FS-C5350DN
TASKalfa 255c
KM-4030
FS-2000D
FS-C5400DN
TASKalfa 265ci
KM-C830
FS-2020D
FS-C5150DN
TASKalfa 266ci
KM-C850
FS-2025D
FS-C5250DN
TASKalfa 250ci
KYOCERA Document Solutions Europe B.V.
Disclaimer:
All information provided without guarantee and subject to change without
notice.
KYOCERA Document Solutions Europe B.V.