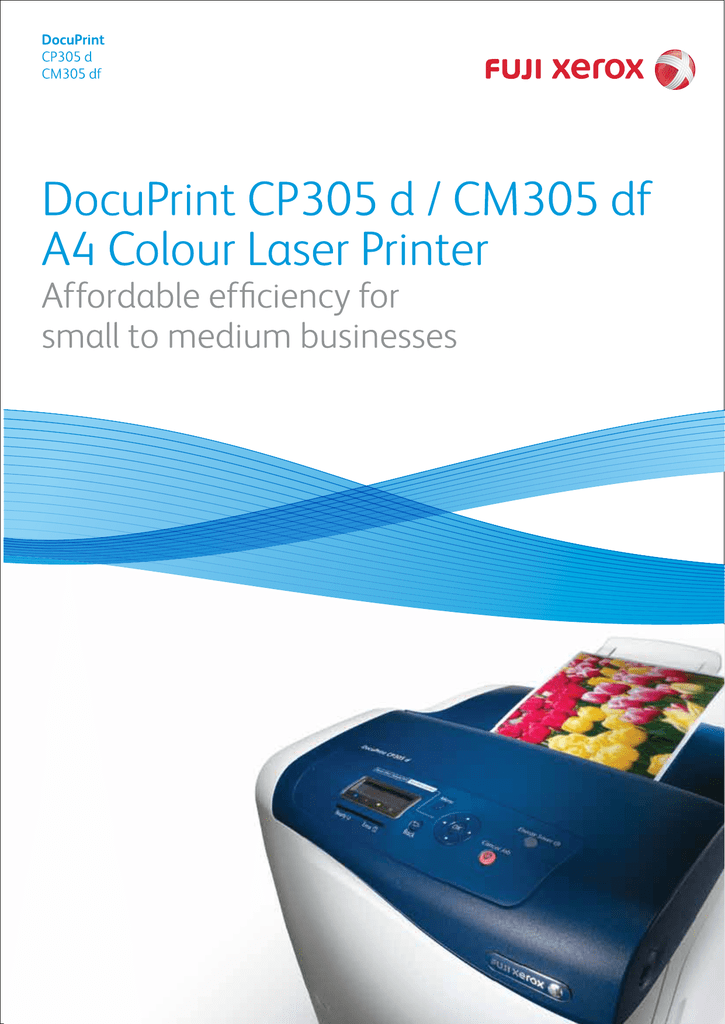 DocuPrint
CM305 el FUJI Xerox €)
DocuPrint CP305 d / CM305 df
A4 Colour Laser Printer
Affordable efficiency for
small to medium businesses
Efficient performers for any office
Convenient efficiency and productivity is easy with the new DocuPrint C305 Series single
and multifunction printers, two reliable, high-quality machines especially designed to meet
the documentation needs of small to medium businesses. Affordably. Remarkably simple
to use, the new DocuPrint C305 Series empowers any office with outstanding multifunction
or print-only performance.
Tne
—
DocuPrint DocuPrint
= CP305 d = | CM305 df
Compact printers that deliver big results
Though compact, the DocuPrint C305 Series nonetheless produces high-quality print results with ease.
23 beautiful prints per minute 3 Dimensional
Take the lead with a high printing speed of 23 ppm, Accurate Colour CIMENSIONAL ACCURATE
whether for black or colour printing. Mapping intelligently
ensures that your
document is printed in
optimum colours.
High 600 x 600 dpi resolution
Capture every detail in laser sharp 600 x 600 dpi
quality that makes every print spectacular.
— Graphics
Crisp and clear colours
Advanced technologies in your DocuPrint C305 Series
printer ensure brilliant colour output for images
Direct Transfer
Technology gives
better registration to
and graphics.
improve colour
Natural Image Enhancement (NIE) corrects the sharpness. A short
contrast and colour balance of images such as paper path also
digital photos before printing for ideal results. provides better paper
feed and handling.
Single or multifunction — do everything easily
Whether it is just printing to copying, scanning or faxing, the DocuPrint C305 Series is one simple-to-use printer
that gives you the necessary performance to efficiently fulfil multiple, day-to-day business operational tasks.
Print with high productivity
Print performance is supported by a 256MB standard
memory for both the single and multifunction
printers, and together with a fast processor speed of
400Mhz for the single function device and powerful
533Mhz processing for the multifunction device,
quick 23 ppm printing of documents in colour or
black-and-white is enabled. To maximise your print
efficiency, an additional 250-sheet tray can be
added to give you a larger paper capacity of up to
501 sheets, reducing the occurrence of reloads.
Copy with convenience
Whatever your copying needs may be, the
DocuPrint CM305 df answers them. Easy enlargements
or reductions from 25% to 400% are available at a
touch of a button. There is also an automated ID Copy
feature that lets you copy two sides of a small
document onto the same side of an A4 page.
Scan with ease
High-quality scanning of up to 9,600 dpi is quick
and fuss-free. Furthermore, added features make
document flow much easier to manage. For
example, you can scan an image directly to your
USB storage device, an FTP server or a network
folder; you could also email scans directly from the
DocuPrint CM305 df.
Front Copy —> Memory —> Back Copy > 2-sides-in-1
Fax with confidence
On the DocuPrint CM305 df, a fax speed of 33.6kps as
well as 200 speed dials means that it is always
convenient and quick to send a fax message. For even
more convenience, DirectFAX allows you to send a fax
directly from your computer. Similarly, sending faxes to
multiple recipients is simple with the group dial function.
1
DocuPrint CP305 d
e 23 pages per minute printing
e Paper capacity — Up to 501 sheets
e Automatic 2-sided printing
e Print resolution of up to 2,400 dpi equivalent
e Memory capacity of 256MB and processor
speed of 400 MHz
e Network ready, USB 2.0
DocuPrint CP305 d / CM305 df Configurations
DocuPrint CM305 df
Same printing features as DocuPrint CP305 d
plus Copy, Scan and Fax
e ID Copy feature
e Faster processor speed of 533MHz
e Scan to FTP / Email / SMB / USB storage device
e Embedded Fax (33.6Kbps) and PC DirectFAX
Efficient Management for better workflow
Efficiency is everything in the world of business. As your office productivity solution, the DocuPrint C305 Series
is packed with features to help ensure your documentation runs smoothly.
e USB 2.0 plug and play installation helps you set * Remote Printer Monitor automatically displays
up your printer in an instant, letting you fast-track printer and print job statuses on your computer,
business operations. saving you the need to walk to the machine.
o CentreWare IS provides administrators with o Run Black function enables the DocuPrint C305
status reports and also sends email alerts on Series to continue printing your documents in
situations that will soon require attention, such as monochrome when colour toners run out.
low toner levels. This creates greater efficiency.
e IPv6 compatibility eliminates the need to
e Fuji Xerox Auditron enables the setting of specific set up IP addresses, the DocuPrint C305
print usage settings for different registered users, TEO Series is ready for your office's use in
making print management easier. moments.
Registered User A Registered User B
o
С.)
©, Tm standard on the DocuPrint C305 Series, it
\ S wi connects with ease to Citrix networks for
a ож ae local and WAN printing.
and white
| Е. e Citrix Presentation Server Support comes
printing is permitted
Da
Cannot print if not
a registered user, or
if the printed pages
exceeds the limit
e WSD (Web Services on Device) creates a
seamless network plug and play experience on
Reference account Windows operating systems.
report for each
registered user
y e LDAP* (Lightweight Directory Access Protocol)
U
y enables easy access to the global address list for
Normal User D System scan-to-email tasks.
Administrator C *Only available on DocuPrint CM305 df
e USB Direct Scanning and Printing** means
you can scan or print directly from a USB storage
device without going through a computer for
added convenience and time-savings.
JE
Ei чи |
* Only available on DocuPrint CM305 df
** Direct USB print support TIFF/JPEG/PDF(except ver 1.7)
More security for greater peace of mind
To protect sensitive information, the DocuPrint C305 Series encrypts data sent over
networks using both SSL and Ipsec data encryption. An added line of digital defence
is provided through IEEE 802.1x authentication.
For more security usage-wise, the control panel lock lets you limit user access via
password protection, you can also use the IP Filter to limit printer access to
registered IP addresses only.
In addition, with Secure Print and Secure Fax Receive, you can set password
protection on prints and faxes". This way, the DocuPrint C305 Series will
only print the protected job when you key in the password, thereby
keeping sensitive data safer.
*Available on DocuPrint CM305 df only
Easy on the budget and our planet
The DocuPrint C305 Series is not only affordable, it is also very environmentally-friendly. Using energy- and
resource-saving innovations, it performs with a reduced carbon footprint, even as it takes your business to a
higher level of efficiency.
Energy Star Qualified
Both the DocuPrint C305 Series
multifunction and single function
MENE printers meet the stringent criteria for
Energy Star Qualification. They efficiently perform
regular tasks and when not in use, automatically go
into low power mode to save energy.
Duplex print setting
Set your printer to print double-sided by default to
save natural resources as well as paper costs.
Speciafication of DocuPrint CP305 d / CM305 df
DocuPrint CP305 d | DocuPrint CM305 df DocuPrint CP305 d | DocuPrint CM305 df
Print Function Scan Function
Print Speed Up to 23ppm for BW and colour (A4) Type - Colour Flatbed CCD
Print Resolution 600 x 600 dpi (multi-level) Original Paper Size — Platen: 215.9mm x 297mm
FPOT As fast as 15.5 sec for BW and colour ADF: 215.9mm x 355.6mm
Warm-up time 20 seconds Scan Optical Resolution — Up to 1,200 x 1,200 dpi
Memory (Std / Max) 256MB / 768MB Scan Features — Scan to Email, Scan to
Processor 400 MHz 533 MHz Application (via USB), Scan to
PDL PCL6, PCL5, Adobe PostScript 3, | PCL6, PCLS, Adobe PostScript 3, Network (FTP/SMB), Scan to
FX-PDF, HBPL (for scanner) FX-PDF USB Memory
Connectivity Ethernet (1000BASE-TX / 10OBASE-TX / 1OBASE-T), USB 2.0 File Format — TIFF. JPEG, PDF, XDW
Duty Cyle (Monthly Max) 40,000 prints Software Included — DocuWorks 7.0 Special Edition;
Supported OS Windows 2000(Limited Support), Windows XP (32bit / 64bit), Express Scan Manager,
Microsoft Windows Server 2003 (32bit / 64bit), Windows Vista Address Book Editor
(32bit / 64bit), Windows 7 (32bit / 64bit), Windows Server 2008 R2
(64bit), Windows Server 2008 (32bit / 64bit), Mac OS X(10.4 -10.6), Fax Function
RedHat Enterprose Linux ES v.4 &v.5, SUSE Linux Enterprise 10 Memory Capacity — 4MB
Input Paper Size Standard Feeder and Manual Feeder:A4 SEF, B5 SEF, Fax Resolution — 400 x 400 dpi
AS SEF, Letter SEF, Executive SEF, Folio SEF, Legal SEF, Tranmission Speed = 33.6kbps
Envelop#10 SEF, Monarch SEF, DL SEF, C5 SEF, One-Touch / Speed dials _ 8/200
Custom size: (W76.2 - 215.9mm x L127 - 355.6mm) Fax Features PC DirectFAX (Sending only),
Optional Feeder: A4 SEF, BS SEF, AS SEF, Letter SEF, Executive SEF, delayed fax, secure fax received,
Follio SEF, Legal SEF, Custom size: (W148 - 215.9mm x L210 - 200 speed dial,6 groups dial,
355.0mm) Two-sided Printing: A4 SEF, Letter SEF, Folio SEF, Legal SEF = fax report, Junk fax barrier,
Input Paper Weight Standard Feeder and Manual Feeder: 60 - 216gsm fax forward to fax,
Optional Feeder and Two-sided Printing: 60 - 105gsm Broadcast(multisend) fax
Media Input Capacity Standard Feeder: 250 sheets Manual Feeder: 1 sheet
Optional Feeder: 250 sheeets .
ADF Capacity 35 sheets Security - —
2 Sided Printing Built-in Duplex Security Features SSL & IPSec data encryption, IEEE 802.1x authentication,
Media Output Capacity 150 sheets face-down control panel lock, IP Filter, Secure Print,
Dimensions (W x D x H) 400 x 460.9 x 436.4 mm | 430 x 544.2 x 584.4 mm Secure Fax Receive (CM305df only)
Weight 19.8kg 30kg
Power Supply 220v -240v, 50-60Hz Consumables
Power Consumption Maximum 1100W; Maximum 1100W; Black Toner (up to 3,000 pages") CT201632
Deep sleep: 8W or less; Deep sleep:18.4W or less; Cyan Toner (up to 3,000 pages") CT201633
Sleep: 15W or less; Standby: 60W |Sleep: 35W or less; Standby: 60W Magenta Toner (up to 3,000 pages") CT201634
Average; Continuous Printing: | Average; Continuous Printing: Yellow Toner (up to 3,000 pages") CT201635
365W Average; 410W Average; Drum (up to 20,000 pages) CT350876
Energy STAR qualified Energy STAR qualified Fuser Unit (up to 50,000 pages) EL300822
Noise Levels During operation: 6.8B; 53.5dB (A)
Warranty 1 year on-site
Copy Function
Copy Speed (A4) — Up to 23cpm for BW and colour
Copy Resolution — 600 x 600dpi
FCOT - 30 seconds colour/21 seconds BW
Reduction / Enlargement
— 25% — 400%
Continuous Copy
— Up to 99 pages
Copy Features
2-in-1 copy, ID card copy,
Collation, Colour Balance, Colour
Saturation Adjustment,
Auto Exposure.
Descriptions in this material, product specifications and/or appearances are subject to change without
prior notice due to improvements. Please note that the product colour appears differently from the
actual colour as a result of properties of papers or printing ink. Windows is a registered trademark of
Microsoft Corporation. Macintosh, Mac OS and Ether Talk are trademarks of Apple Computer, Inc.
Other company names or product names are registered trademarks or trademarks of each company.
For Your Safe Use
Before using the product, read the Instruction Manual carefully for proper use.
Use the product with an appropriate adequate power source and voltage displayed.
Be sure to establish a ground.
In the case of a failure or short circuit, an electric shock may result.
*Declared yield in accordance with ISO / IEC 19798 / 24712. Yield may vary depending on image, area,
coverage and print mode (job length, media size, media type and orientation).
Printer is shipped with one set of starter toner cartridge with average yield of 2,000 pages.
Accessories
250-sheet Feeder
EL300769 EL300821
512 MB Memory
EL300820
Mac
(3 4
Compatible with
e
ЕАО |
Reproduction Prohibitions Please note that reproduction of the following is prohibited by law.
Domestic and overseas bank notes and coins, government-issued securities, national bonds and local
bond certificates. Unused postage stamps and post cards. Certificate stamps stipulated by law. The
reproduction of works for copyright purposes (literary works, musical works, paintings, engravings, maps,
cinematographic works, photographic works, etc.) is prohibited except when they are reproduced
personally, at home or within limited range according to the above. This product is equipped with an
anti-counterfeit feature. This feature is not intended to prevent illegal reproduction. Be extremely careful
about the management of equipment used.
For more information or detailed product specifications,
call or visit us at
Fuji Xerox Asia Pacific Pte.Ltd. (993478-A)
(Fuji Xerox Printers)
Wisma Fuji Xerox,
1st Floor, No. 10, Jalan Bersatu 13/4,
46200 Petaling Jaya,
Selangor, Malaysia.
Tel: 03-7882 2888 Fax: 03-7882 2767
East Malaysia Office:
199A-201, Lot 3049 & 3050,
Eastmoore Centre,
27 Mile, Jalan Rock,
93200 Kuching,
Sarawak, Malaysia.
Service Hotline : 1800 88 1063
www.fujixeroxprinters.com.my
Tel: 082-428 650 Fax: 082-418 733
FUJI Xerox @,)
XEROX, and the sphere of connectivity design are trademarks or registered trademarks of Xerox Corporation in the U.S. and or other countries. Other trademarks are the property of their respective owners.