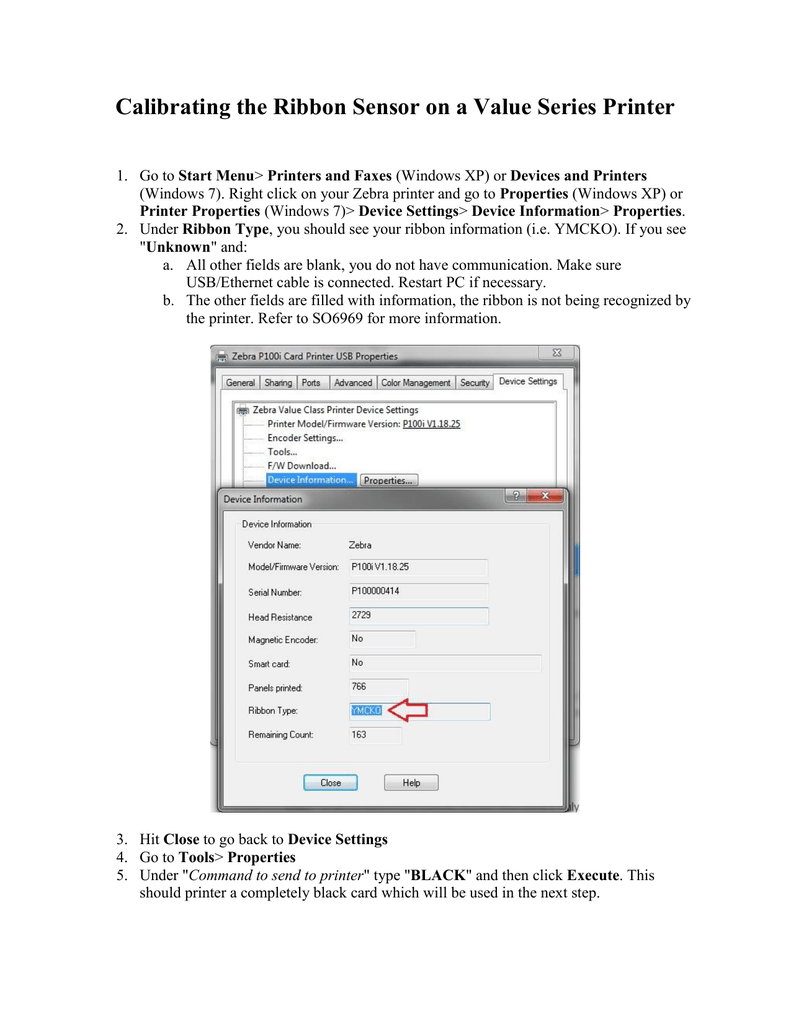 Calibrating the Ribbon Sensor on a Value Series Printer
1. Go to Start Menu> Printers and Faxes (Windows XP) or Devices and Printers
(Windows 7). Right click on your Zebra printer and go to Properties (Windows XP) or
Printer Properties (Windows 7)> Device Settings> Device Information> Properties.
2. Under Ribbon Type, you should see your ribbon information (i.e. YMCKO). If you see
"Unknown" and:
a. All other fields are blank, you do not have communication. Make sure
USB/Ethernet cable is connected. Restart PC if necessary.
b. The other fields are filled with information, the ribbon is not being recognized by
the printer. Refer to SO6969 for more information.
3. Hit Close to go back to Device Settings
4. Go to Tools> Properties
5. Under "Command to send to printer" type "BLACK" and then click Execute. This
should printer a completely black card which will be used in the next step.
6. Clear the command line, type "!SA" and then click Execute. The printer will then display
"CHECK RIB SENSOR"
7. After a few seconds, the printer will then prompt for the black card when it displays
"INSERT BLACK CARD"
8. Feed the black card through the front of the printer (where the card exits through) with
the black side up, until the printer takes the card in automatically. You will get one of two
results:
a. RIB SENSOR PASS. Indicates the ribbon sensor was calibrated successfully.
b. RIB SENSOR FAIL. The ribbon sensor was not able to calibrate. Contact Zebra
Technical Support for assistance.
9. Press the silver button on the front of the printer to eject the card.

* Your assessment is very important for improving the work of artificial intelligence, which forms the content of this project