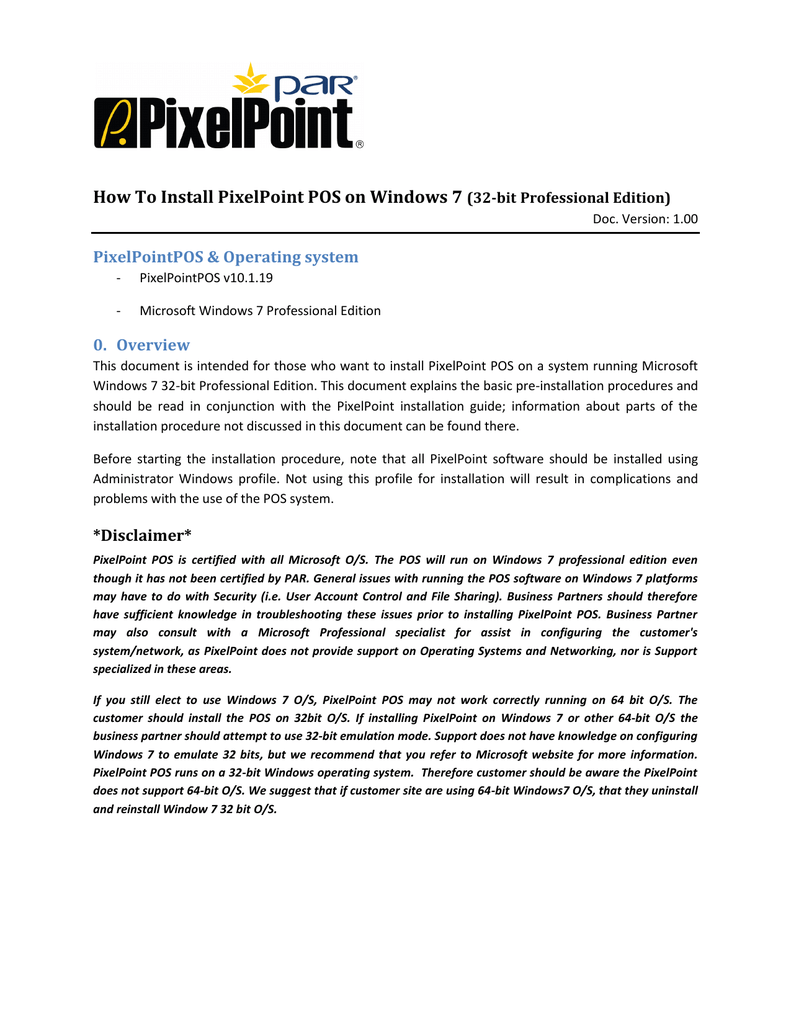 How To Install PixelPoint POS on Windows 7 (32-bit Professional Edition)
Doc. Version: 1.00
PixelPointPOS & Operating system
-
PixelPointPOS v10.1.19
-
Microsoft Windows 7 Professional Edition
0. Overview
This document is intended for those who want to install PixelPoint POS on a system running Microsoft
Windows 7 32-bit Professional Edition. This document explains the basic pre-installation procedures and
should be read in conjunction with the PixelPoint installation guide; information about parts of the
installation procedure not discussed in this document can be found there.
Before starting the installation procedure, note that all PixelPoint software should be installed using
Administrator Windows profile. Not using this profile for installation will result in complications and
problems with the use of the POS system.
*Disclaimer*
PixelPoint POS is certified with all Microsoft O/S. The POS will run on Windows 7 professional edition even
though it has not been certified by PAR. General issues with running the POS software on Windows 7 platforms
may have to do with Security (i.e. User Account Control and File Sharing). Business Partners should therefore
have sufficient knowledge in troubleshooting these issues prior to installing PixelPoint POS. Business Partner
may also consult with a Microsoft Professional specialist for assist in configuring the customer's
system/network, as PixelPoint does not provide support on Operating Systems and Networking, nor is Support
specialized in these areas.
If you still elect to use Windows 7 O/S, PixelPoint POS may not work correctly running on 64 bit O/S. The
customer should install the POS on 32bit O/S. If installing PixelPoint on Windows 7 or other 64-bit O/S the
business partner should attempt to use 32-bit emulation mode. Support does not have knowledge on configuring
Windows 7 to emulate 32 bits, but we recommend that you refer to Microsoft website for more information.
PixelPoint POS runs on a 32-bit Windows operating system. Therefore customer should be aware the PixelPoint
does not support 64-bit O/S. We suggest that if customer site are using 64-bit Windows7 O/S, that they uninstall
and reinstall Window 7 32 bit O/S.
WINDOWS PRE-CONFIGURATION
Before starting this installation procedure, make sure that the computer has a licensed and working
copy of Windows 7 Professional Edition installed. In addition make sure that all Windows updates have
been installed. Once the computer's operating system is fully updated, proceed with the instructions
below.
Comprehensive information about installing PixelPoint POS can be found in the PixelPoint POS
Installation Guide on the MyPixel Partner Center and in the "\PixelPOS" folder on all PixelPoint systems.
1.
2.
3.
4.
5.
6.
7.
8.
9.
Right-click on [Start] and select Explore.
Select Organize > Folder and Search Options.
Switch to the View tab.
Uncheck 'Use Sharing Wizard (Recommended)'.
Select [Apply].
Select [Apply to Folders].
Select [OK].
Reboot the terminal.
Follow normal PixelPoint POS installation guidelines to
create the "PixelPOS" folder when the terminal has
restarted.
10. Right-click on the "PixelPOS" Folder and select Share.
11. Switch to Sharing tab.
12. Click on [Advanced Sharing].
13. Check 'Share this Folder'.
14. Select [Permissions].
15. Make sure that the 'Everyone' group has 'Full Control'
checked.
16. Select [Apply] > [OK].
17. Switch to the Security tab.
18. Click [Edit].
19. Click [Add].
20. Type "Everyone" in the comment box.
21. Click [Check names].
22. Select [OK].
23. Check the checkbox under the 'Allow' column next to
'Full Control', with the 'Everyone' group selected.
24. Click [Apply]
25. Click [OK]
26. Click [Close]
PIXELPOINT INSTALLATION
1. Insert the PixelPoint v10 installation CD, in the PC. (You are required to start PixelPoint
installation manually) by double-clicking on the "My Computer" icon.
2. Right Click on the CD ROM and select [Open].
3. Double Click the" SETUP" folder.
4. Right Click on 'setup.exe' and select 'Run as Administrator'.
Once the Version 10 installation is complete, the latest v10 file must be downloaded. To do this, run
"FixPixelBase.exe" and select *Software Update for v10+. This will update the 'C:\PixelPOS" folder with
the latest PixelPoint v10.0 files. Once this file has been upgraded in the "C:\PixelPOS" folder, run
"UpgradePOSto101.exe" in the same folder. This will upgrade PixelPoint POS with the latest v10.1 files.
Complete PixelPoint procedures for upgrading form v10.0 to v10.1 are available in the document
"PixelPoint POS Upgrading to v10.1", available on the MyPar Partner Center.
1. Optional Windows Features
Windows 7 has multiple security and configuration features users may be tempted to have disabled
when using the PixelPoint POS. Disabling any feature provided on Windows 7 O/S is done at your own
risk. PAR PixelPoint does not recommend you disable the default features Microsoft has enable in
Windows 7.
If you or site management decides that they do want to change the configuration of Windows7,
however, this section discusses some of the things you want to do. See the PixelPoint Knowledge base
features on the MyPar Partner Center for additional information about changing some of Windows 7
features.
2. Running Shortcuts as Administrator
Application shortcuts need to be run with "Run as Administrator". Below is something you can do so
users will not have to right click on the PixelPoint application shortcut and select Run As Administrator
every time they want to run a PixelPoint application.
Example
Select a PixelPoint module shortcut. In this example will we
be using the applying the option to PixelSqlEngine.
1. Click on Start > All Programs > Startup .
2. Right Click on PixelSql Engine 10 shortcut and select
Properties
3. Select *Advanced…+
4. Check 'Run as Administrator'.
5. Repeat these steps for all other shortcuts the site will be using (such as the shortcut to "License
Manager.exe", "PixelAuthorizeManager.exe", etc.).
3. User Account Control
Windows 7 has increased security features compared to earlier operating systems. Any time a user
attempts to run an application, Win7 will prompt the user to 'Allow' or 'Deny' the application form
running. If the user chooses [Allow], the application will run with no issues. If you feel it is
necessary, you can stop this prompt from occurring by turning off Windows 7 User Account Control.
Neither PAR PixelPoint nor Microsoft recommends you do this, however. See the PixelPoint
Knowledge base website for further information about User Account Control.

* Your assessment is very important for improving the work of artificial intelligence, which forms the content of this project