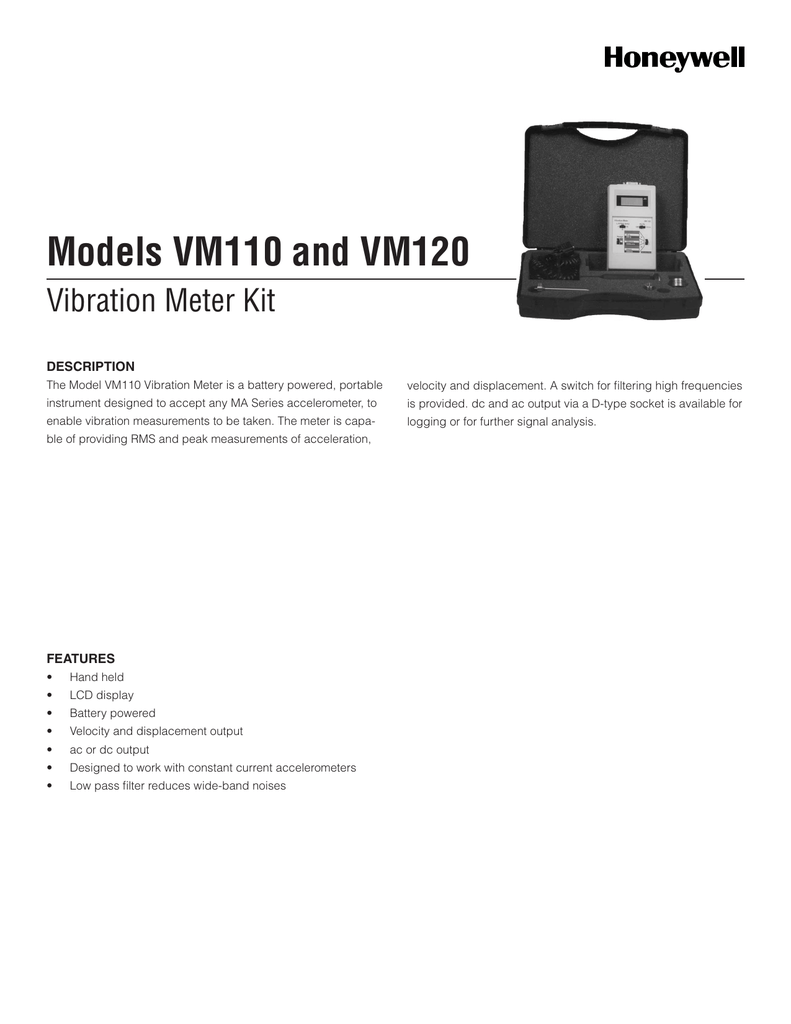 Models VM110 and VM120
Vibration Meter Kit
DESCRIPTION
The Model VM110 Vibration Meter is a battery powered, portable
velocity and displacement. A switch for filtering high frequencies
instrument designed to accept any MA Series accelerometer, to
is provided. dc and ac output via a D-type socket is available for
enable vibration measurements to be taken. The meter is capa-
logging or for further signal analysis.
ble of providing RMS and peak measurements of acceleration,
FEATURES
• Hand held
• LCD display
• Battery powered
•
Velocity and displacement output
•
ac or dc output
•
Designed to work with constant current accelerometers
•
Low pass filter reduces wide-band noises
Models VM110 and VM120
PERFORMANCE SPECIFICATIONS
ACCESSORIES
Characteristic
Measure
Part No.
Acceleration
2 G, 20 G, 200 G
AG902
Velocity range
2 in/s, 20 in/s, 200 in/s
Model MA11, 100 mV/G accelerometer, 5 m
integral PTFE cable
Displacement
2 thou, 20 thou, 200 thou
AG901
Model MA11, 100 mV/G, two-pin MS connector
Upper frequency
Selectable low pass filters of 5 kHz, 10
kHz and 20 kHz
CA42
Coiled cable assembly two- pin MS to IA110 for
use with AG901
Lower frequency
Fixed, acceleration: 5 Hz,
CA43
Coiled cable assembly TNC to IA110 for use
with MTN/1020
2100
Hand held probe
CA61
IA110 adapter for use with AG902
MM1
Magnet, 1/4 in UNF mounting, 35 mm, strength
20 kg
PS1
Hand held spike, 25 mm, 1/4 in UNF mounting
PS2
Hand held spike, 100 mm, 1/4 in UNF mounting
PS3
Hand held spike, 150 mm, 1/4 in UNF mounting
PS4
Hand held spike, 300 mm, 1/4 in UNF mounting
HE1
Carrying case with foam cut outs
velocity: 10 Hz, displacement: 15 Hz
Detector
RMS or peak switch selectable
Display
0.5 in, 3.5 digit LCD (3 readings/s)
ELECTRICAL SPECIFICATIONS
Characteristic
Measure
Accuracy acceleration
1.5 % RMS, 3 % peak
Velocity
2.5 % RMS, 4 % peak
Displacement
3.5 % RMS, 5 % peak
Noise acceleration
2 mG RMS; 6 mG peak
Velocity
0.01 in/s RMS; 0.03 in/s peak
Displacement
0.02 in RMS; 0.06 in peak
Input
10 mV/G from hand held accelerometer
or other MA Series via cal hood
Output
ac 200 mV, full range as selected;
dc 200 mV, full range as selected
Power
Two PP3 9 V battery, low battery indicator on display. Battery life 15 hours
approximately
Kit contents
One vibration meter; one hand held
probe; one magnet; one 4 in spike; one
carrying case
2 Honeywell • Sensing and Control
TYPICAL SYSTEM DIAGRAM
Models VM110 and VM120
Vibration Meter Kit
Warranty. Honeywell warrants goods of its manufacture as
being free of defective materials and faulty workmanship.
Honeywell's standard product warranty applies unless agreed
to otherwise by Honeywell in writing; please refer to your
order acknowledgement or consult your local sales office for
specific warranty details. If warranted goods are returned to
Honeywell during the period of coverage, Honeywell will repair
or replace, at its option, without charge those items it finds
defective. The foregoing is buyer's sole remedy and is in lieu
of all warranties, expressed or implied, including those of
merchantability and fitness for a particular purpose. In no
event shall Honeywell be liable for consequential, special, or
indirect damages.
While we provide application assistance personally, through our
literature and the Honeywell web site, it is up to the customer to
determine the suitability of the product in the application.
Specifications may change without notice. The information we
supply is believed to be accurate and reliable as of this printing.
However, we assume no responsibility for its use.
For more information about Sensing and Control products, visit
www.honeywell.com/sensing or call +1-815-235-6847
Email inquiries to info.sc@honeywell.com
WARNING
PERSONAL INJURY
•DO NOT USE these products as safety or emergency
stop devices or in any other application where failure of
the product could result in personal injury.
Failure to comply with these instructions could result in
death or serious injury.
WARNING
MISUSE OF DOCUMENTATION
•The information presented in this catalogue is for
reference only. DO NOT USE this document as product
installation information.
•Complete installation, operation and maintenance
information is provided in the instructions supplied with
each product.
Failure to comply with these instructions could result in
death or serious injury.
Sensing and Control
Automation and Control Solutions
Honeywell
1985 Douglas Drive North
Golden Valley, MN 55422 USA
+1-815-235-6847
www.honeywell.com/sensing
008732-1-EN IL50 GLO May 2008
Copyright © 2008 Honeywell International Inc. All rights reserved.