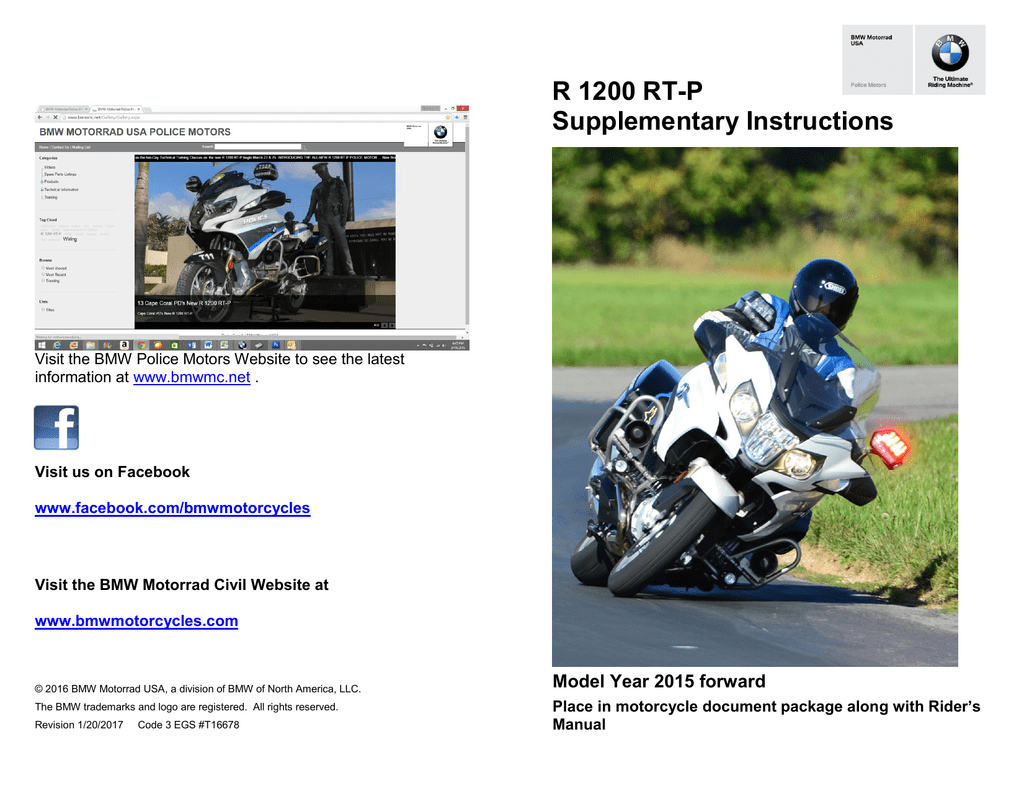 R 1200 RT-P
Supplementary Instructions
Visit the BMW Police Motors Website to see the latest
information at www.bmwmc.net .
Visit us on Facebook
www.facebook.com/bmwmotorcycles
Visit the BMW Motorrad Civil Website at
www.bmwmotorcycles.com
© 2016 BMW Motorrad USA, a division of BMW of North America, LLC.
The BMW trademarks and logo are registered. All rights reserved.
Revision 1/20/2017
Code 3 EGS #T16678
Model Year 2015 forward
Place in motorcycle document package along with Rider's
Manual
Introduction
Congratulations on your agency's decision to purchase BMW police motors.
BMW is dedicated to providing you the most advanced police motor
available, combining comfort, safety, the best warranty, low maintenance
costs, function and form that meet the needs of your agency.
Warning Labels:
Each BMW Police Motor must be equipped with a warning label attached to the
center strip of the fuel tank cover near the seat or inside of the radio box lid in a
highly visible area when the lid is opened that states:
Warning:
Part of our dedication is providing information to all agencies on an ongoing
basis, to help keep you aware of the latest changes, improvements, service
measures, etc. BMW has created a Police Motors Website at
www.bmwmc.net for use by BMW motor riders and technicians, which
contains repair information, installation instructions, wiring diagrams, service
bulletins, parts listings, warranty and training information, as well as press
releases, information on the latest options, new production announcements,
etc. We encourage all agencies to register your email address with us so
that we can provide you timely notification regarding new bulletins and other
announcements.
Do not use this motorcycle for high
performance pursuit unless daily and
periodic maintenance / inspection
procedures for the complete motorcycle are
strictly observed and recommended load
limits and configurations are followed. The
operator must be experienced and
professionally trained in the skills of safely
controlling powerful, high performance
motorcycles under all circumstances. BMW
NA provides servicing, maintenance, and
configuration information which may be
obtained by contacting an authorized BMW
Motorcycle Retail Center.
We are also interested in your feedback. Please don't hesitate to contact us
regarding any suggestions for new options, changes or improvements you
feel would make your BMW police motor even better. We welcome your
correspondence sent to frstevens59@gmail.com .
Do not operate a BMW police motor without having first been instructed by your
retailer or training officer on its operation.
Thank you for choosing BMW police motors!
Very truly yours,
BMW Motorrad USA
MCS-PL01
Saddlebag Load Limits:
BMW police saddlebags are designed with no
electronic equipment stored in either saddlebag
to enables riders to utilize the full capacity of the
saddlebag. A soft luggage brief-case is available
from BMW under PN 71 60 7 704 109 to
organize the items you carry in the saddlebag.
Warning:
Maximum load in each saddlebag is 15 lb. Do
not exceed 80 mph with loads exceeding 15 lb. per saddlebag.
Frank Stevens
Authority Program Manager
MCS-PL05
Engine Oil:
Selecting the proper motor oil for strenuous fleet operations is
essential to maintain the long-life and low oil consumption
expected from a BMW engine. BMW Motorrad ADVANTEC
ULTIMATE 5w40 engine oil is premium quality synthetic four
stroke motorcycle oil formulated with Pure Plus technology
designed to ensure maximum power and performance, even
under the most demanding fleet riding conditions. Always use
BMW Motorrad ADVANTEC ULTIMATE synthetic engine oil
from the 600 mile inspection forward, to fully protect the
engine between 6,000 mile service intervals.
Police Radio:
Connections for the police radio are provided inside the radio box. A special
connection plug is required – BMW PN 82 00 0 419 534, which comes complete with
crimp terminals for large and medium gauge wire. Connections for battery power
and ground are provided. The GMSF keeps connection powered up to 30 minutes
after ignition-off.
1
Radio Power + (from relay controlled by BC Pin 9, 0.3A, 30 min. after ign. off) RT SW
2
Radio Ground BR
Index:
Left Handlebar Controls
Right Handlebar Controls
Break-In Recommendations
Power Management:
The General Module Special Function (GMSF) manages all authority circuits,
eliminating the need for fuses, controlling the shut-off time of each circuit as well as
protecting the auxiliary battery from being severely discharged. All circuits will be
opened 30 minutes after ignition is turned-off (some sooner) to completely eliminate
any parasitic loads on the batteries during periods of non-use.
Never directly connect any accessories to the main or auxiliary battery!
30 Seconds: ACCI, Radio Box Release, Gun Lock Release
30 Minutes: ACCII, ACCIII, Map Light, TDL, Radar, Radio Speaker Mute
30 Minutes: Radio Power, PTT1(F1),PTPA(F2), PTT2, Helmet Headset Interface
Voltage Monitoring
Side Stand
Fuel Requirements
Video System Connections:
Power Sockets / Battery Charging
BMW has provided output connections for video system trigger signals to eliminate
the temptation to cut into the wiring harness. The connections are on a 4-socket
plug harness from the flasher unit as well as the radar plug.
Authority Circuits / Fuses
Video Plug: P1 LH Turn Signal
P2 RH Turn Signal
P4 Rear Emergency Lights
P3 Brake Light
Mating video plug w/socket is available under BMW PN 71 60 2 407 780
Radar Plug: Siren trigger signal, P4.
Mating radar plug w/socket is available under BMW PN 71 60 2 407 786
LED Emergency Light System Flasher
Tires & Pressures
Off-Season Storage
Optional Saddlebag Lights:
Saddlebag lights are activated via a
proximity sensor located inside the
clear window. Moving your hand or
an object near the window will
activate the light for approximately
15 seconds, after which the light will
automatically turn OFF. Dirt or
debris on the clear window may
falsely trigger the light, so keep the
window clean.
Accessory Connections
Warning Labels
Saddlebag Load Limits
Engine Oil
Left Handlebar Controls:
Switch Layout:
The left handlebar switch contains the standard operating controls for the police
motor. The horn switch also operates the siren air horn when the ignition is turned
"ON". A combination authority switch contains four rocker switches. These rocker
switches control your PTT & PTPA, PTT2, Optional LED Driving Lights, Alley Lights
and Take-Down Lights.
Map Light:
Connections for the BMW map light option are pre-wired on the right handlebar
switch cable bundle. The map light circuit is powered by the GMSF, providing power
for 30 minutes after ignition is turned "off".
1
Map Light + GE
2
Ground - BR
Radio Speaker Connection:
Two stereo radio speakers are standard equipment on the R 1200 RT-P. A
connection point to these 4Ω speakers is provided. Typical connections are for
police radio and radar Doppler audio.
1
LH Fairing Speaker + GE RT
2
LH Fairing Speaker - GE BR
4
RH Fairing Speaker + BL GE
Fairing Speaker Cut-Out BL VI
(BC Pin 7 – 2A,15 minutes after ign. off)
5
RH Fairing Speaker - BL BR
3
Auxiliary Wires BR GE
6
Auxiliary Wires SW GE
Fairing Speaker Relay
Normally Closed
4
5
2
1
3
(Exit X1717 near FT fairing pocket)
The RH speaker can be turned-off via the RH handlebar switch to enable the rider to
temporarily mute the speaker when circumstances dictate.
Push-to-Talk (F1):
The push-to-talk switch provides a +12v signal to the helmet headset interface plug,
which can be utilized by helmet headset interface units to trigger the push-to-talk
function in PVP and Setcom units. Alternatively, this switch can be programmed to
latch-on and then off with the next press (via ISTA).
Mating plug w/sockets is available under BMW PN 71 60 2 407 781
Accessory I, II, III Connections:
Three accessory connections located inside the radio box provide 12v and ground
connections for the installation of video system, thermal printers, flashlight chargers,
etc. Power is automatically controlled by the GMSF to each output and will
automatically terminate power after ignition-off as follows:
ACC I = 30 seconds
Push-to-PA (F2):
The push-to-public address switch provides a +12v signal to the helmet headset
interface plug, which can be utilized by the helmet headset interface units to trigger
the push-to-public address function in PVP and Setcom units. Alternatively, this
switch can be programmed to latch-on and then off with the next press (via ISTA-P).
Note: The new generation handlebar switches utilized on the K52 models
incorporate LIN-bus control units, meaning that there are no conventional analog
signals created by the switches as in the past. Consequently, functions cannot be
swapped between buttons.
1
Auxiliary I (GMSF Pin 33 – 2A, 30 seconds after ign. off) GN RT
2
Ground BR
ACC II = 25 minutes ACC III = 30 minutes
1
Auxiliary II (GMSF Pin 35 – 2A, 25 minutes after ign. off) GN WS
2
Ground BR
1
Auxiliary II (GMSF Pin 36 – 2A, 30 minutes after ign. off) GN BL
2
Ground BR
Mating plug w/sockets (3) are available under BMW PN 71 60 2 407 783
Accessory Connections:
Gun Lock Release:
The gun lock connection under the floor of the radio
box (RH rear) is pre-wired with a two-pin plug to
connect directly to the gun lock – no timer is needed
as the GMSF provides a 30 second hold of the gun
lock signal from the handlebar switch. Gun lock cable
enters the compartment through the RH turn signal
housing to protect cable from tampering.
PTT2 (unmarked)
Pressing the button up will momentarily activate a +12v signal to PIN 8
on the helmet headset interface plug, which can be used to trigger
license plate readers, start video, etc. Alternatively, this switch can be
programmed to latch-on and then off with the next press to activate
traffic emitter systems, etc. (via ISTA-P). No LED indicator.
Optional LED Driving Lights:
The optional driving lights are activated by pressing down in the button shown at left.
Driving lights will wig-wag in bright daylight when emergency lights are activated
based on the amount of ambient light recognized by the dashboard light sensor .
Radar Connections:
The R 1200 RT-P is pre-wired for installation of moving radar. A four-conductor plug
resides under the radio box with connections for:

Radar Power (6A active >30 minutes after ignition off)

Ground

Vehicle Speed Signal (step-up resistor integrated in harness)

Siren Video Trigger Signal
1
Radar Power+ RT VI
2
Ground - BR
3
Vehicle Speed Signal GR GE
4
Siren Video Trigger Signal + GR RT
Mating plug w/sockets is available under BMW PN 71 60 2 407 786
Lighter Socket:
A lighter socket located in the radio box provides +12v for use by phone chargers,
etc. This circuit shares the 6A radar circuit and remains powered for 30 minutes
after ignition-off.
1
Accessory Power (GMSF Pin 3 – 6A, 30 minutes after ign. off / shared with Radar Plug) RT VI
2
Ground BR
Alley Lights:
BMW prewires the Alley Light feature including alley light switch, which
allows the rider to illuminate the left or right front side-facing alley LED
light in steady-burn mode, providing illumination similar to the alley light
on marked cruiser. A blue indicator LED will illuminate when either left
or right alley light is selected. Rock the switch up for left light, middle position is
"OFF", down for right light.
The alley lights can also be programmed to alternatively flash (along with the
take-down lights) when the front emergency lights are activated. Set dip switch #2 to
the "on" position to enable alternate alley light flashing.
Take-Down Lights:
BMW pre-wires the Take-Down Light (TDL) feature including TDL switch
as standard equipment. Press the TDL switch up to activate left and
right TDL's in steady-burn mode, for use during violator stops or for
additional day-time illumination. A green indicator LED will illuminate in
take-down mode. The middle position is "OFF". Rock the TDL switch down to
activate wig-way mode. In this mode, the TDL's will wig-wag opposite the flashing of
the front emergency LED lights whenever the emergency LED lights are activated.
A red indicator will illuminate when in wig-wag mode.
Caution: The purpose of Take-Down lights is to provide a high level of
Helmet Headset Interface:
An interface for PVP or Setcom helmet headset connections is provided to enable all
needed connections in one plug.
1
F1 PTT Switch Signal (GMSF Pin 23 – 0.65A, momentary, 30 minutes after ign. off) SW GR
2
F2 PTPA Switch Signal (GMSF Pin 34 – 2A, momentary, 30minutes after ign. off) SW RT
3
Headset Interface Power (GMSF Pin 20 – 2A, 30 minutes after ign. off) SW VI
4
Ground - BR
5
Side Stand Extended Signal (direct connection to MC side stand switch in harness ) GR GN
6
Microphone NF to Siren PA
7
PTT + to siren PA (do not activate directly from pin 2 or background noise will increase)
8
PTT 2 (license reading, video start, emitter, etc.) SW GN
elevated light to illuminate the inside of a violator's car or to illuminate the
violator stop area at night. It is not recommended to operate the take-down
light features (wig-wag or steady-burn) AT NIGHT WHILE RIDING as the
intensity of these lights could be distracting to on-coming drivers. This
feature is designed to operate while riding in daylight or when the rider deems
the surroundings safe and appropriate for their use.
Alternating Headlight:
The alternating headlight feature (when activated by the dealer via the ISTA-P
system) will wig-wag the high and low beam headlight (as well as optional LED
Driving Lights) during high ambient light when the front emergency lights are
activated. A light sensor in the dashboard will automatically disable this feature
when ambient light levels become low. The wig-wag speed can be set at: Off, 60
fpm, 90 fpm or 120 fpm. This feature is not synchronized with the emergency light
flash patterns.
Right Handlebar Controls:
LED Emergency Light System Flasher:
The emergency light system controller is located in the rear emergency light
housing. The LIN-bus managed processor contains configurable features.
Switch Layout:
The right handlebar switch contains the standard operating controls for the police
motor including starter button, engine emergency STOP switch, as well as optional
heated handlebar grips and optional heated seat.
InterClear® alternate flash pattern selection button
Primary flash pattern selection button
Siren Activation:
The BMW siren is operated by the
momentary rocker switch with the trumpet
emblem, but only when the ignition is "ON".
Pressing the button engages the siren into
wail tone. Each subsequent press of the
button advances to yelp, then hyper-yelp,
then back to wail (California models should
not have hyper-yelp activated). Press and
hold to turn-off siren at any time. For a
quick, momentary activation, simply press
the button and then press and hold again
(double-tap).
Dip 4 – reprogramming (leave off)
Dip 3 – LH front steady burn (CA Title 13 on)
Dip 2 – Alley light flash w/emergency lights (on)
Dip 1 – Flash pattern group
Flash Patterns - all patterns are alternating (side to side)
1.
2.
3.
4.
5.
6.
Single Flash 60*
7. Double Flash 90*
Single Flash 90*
8. Double Flash 120*
Single Flash 120*
9. Double Flash 150
Single Flash 150
10. Double Flash 180
Single Flash 180
11. Variable Flash 120*
Double Flash 60*
12. Variable Flash 240 (default pattern)
* - Denotes California Title 13 compliant pattern
Emergency LED Lights:
Tires and Pressures:
This momentary rocker
switch with the beacon
emblem controls the
switching of the emergency lights. Pressing
the switch button engages the front and rear
emergency lights. Each subsequent press of
the button advances to rear only emergency
lights, then front only emergency lights. The
pattern repeats with each subsequent press
of the rocker switch. An alternate activation
pattern can be selected (via flasher dip switch #1) of rear only, front & rear, rear
only, front only. Pattern repeats with each subsequent press of the button.
The R 1200 RT-P is fitted with tires that meet the California Highway Patrol and Los
Angeles Police Department run-flat protocol. Additionally, the accurate police
speedometer is calibrated for use with these specific tires. Fitting other BMW
approved tires that are of a different specification may alter the accuracy of police
speedometer. Never mount tires that are not approved for use on this model by
BMW.
Front: 120/70 ZR 17 Michelin Pilot Road 4
Rear:
180/55 ZR 17 Michelin Pilot Road 4
To turn-off the emergency lights, press and hold. An LED indicator display can
be seen through the back of the right front LED emergency light housing, showing
whether the front and/or rear emergency lights are activated.
Caution: Check tire condition daily. With the motorcycle on the center stand,
examine the rear tire for nails / debris by spinning wheel with your foot.
California Title 13 Vehicles:
California agency motors should set the flasher dip switch #3 to "on" to activate
steady-burn left front emergency warning lights as required by CA Title 13 vehicle
code. Additionally, dealers must program the siren system (via ISPI) to eliminate
hyper-yelp mode which is not allowed by CA Title 13 vehicle code.
Tire Pressures:
Front Tire:
Rear Tire:
37 PSI
42 PSI
Off-Season Storage:
The Rider's Manual contains recommendations for storage. The motorcycle
electrical system is protected via the General Module Special Function (GMSF),
which eliminates all power to the authority equipment to eliminate all parasitic loads
30 minutes after the ignition is turned-off. Periodic maintenance of the two batteries
is essential. Connecting the BMW battery charger to either accessory power socket
will maintain the health of both AGM sealed batteries.
Fuses and Circuits:
The R 1200 RT-P main motorcycle
charging circuit is protected by a 50A
fuse link. Two other fuses blocks
under the solo seat address main subcircuits:
Block A
15A (slot 1) Instrument, ignition lock,
diagnostic socket, radio box release.
7.5A (slot 2) Multifunction switch left,
TPM, audio system.
Block B
15A (slot 1) Police radio circuit
---- (slot 2) Insert and remove fuse when ignition is ON
(prior to starting) once symbol changes from flashing to
steady to interrupt the ABS system for rodeo riding.
System resets after ignition cycle. See bulletin.
All remaining motorcycle systems are managed by the motorcycle General Module
(GM), which contains electronic switches to protect the motorcycle circuits from an
overload / dead short. No fuses are utilized in the branch motorcycle circuits – the
GM acts like a "self-resetting circuit breaker" to protect each circuit from overload /
short circuit.
Auxiliary Battery Circuits:
The auxiliary battery provides power to all authority equipment via General Module
Special Function (GMSF). The GMSF controls auxiliary battery charge rate,
monitors current consumption as well as controlling all circuit outputs. The GMSF
will shut-down power to authority equipment if the auxiliary battery drops below 8.5
volts, protecting the battery from total discharge damage. The overall system
voltage can be seen on the dashboard by selecting "Voltage" from the information
display menu. Never connect accessories directly to the auxiliary battery!
Connection circuits are
provided for radio, auxiliary
rear LED warning lights,
helmet headset interface,
radar connection, fairing
speakers, lighter socket,
and three accessory
connection plugs for
computers, thermal printers,
video systems, etc. All
connections must be
made using the plugs
provided – never connect
directly to the auxiliary
battery or the GMSF power control / monitoring capability will be defeated.
Cruise Lights:
BMW provides Cruise Lights as standard equipment. The Cruise Light feature
illuminates the forward facing and rear facing LED emergency lights at 10% power,
providing less distracting illumination for marking / parking lights. The Cruise Light
feature operates with ignition "ON". Press the button up to turn the
Cruise Lights "ON". Press the button up again to turn them "OFF".
When Cruise Lights are "ON", an amber LED indicator light will be
illuminated. If the ignition is turned-off with cruise lights on, ignition will
need to be "ON" to deactivate the cruise lights. After 30 minutes with
ignition "OFF", the cruise lights will automatically turn off.
Lights "OFF" Switch:
Press the button down to turn all lights "OFF" or activate all lights again during
operation. This switch controls headlight and taillight, but not brake light (dashboard
lights dim when activated). A green LED indicator notifies the rider that the lights are
"OFF". Note that the lights will momentarily turn-off when the starter is engaged
(load shedding). This function will reset to "ON" after the ignition is cycled off.
Note: When brake is applied, all brake lights and ID lights are illuminated.
Pace Lock
Pressing the button up locks the digital electronic police speedometer and displays
the locked value on the LCD display. This locked speed value will be held through
each ignition session. The digital electronic police speedometer is accurate within
±2 mph throughout the speed range of the motorcycle. This accuracy
is ensured provided that the motor is fitted with the approved Michelin
tires and inflated to the recommended pressure as there are no wear
parts in the speed reading system (fully digital). Speed variation
between worn and new tires is approximately .5 miles per hour.
Radio Speaker Mute
Pressing the button down will activate a relay that will mute the dashboard right hand
radio speaker. The blue LED indicator light will indicate the speaker is muted.
Pressing the button down again or turning-off the motorcycle will disengage this
function and return the speaker to "ON".
Rear Emergency Flasher Switch:
Pressing switch up will activate the rear emergency flashers (rear turn signals flash
simultaneously along with optional rear side LED turn signals). This function
operates with ignition "ON". When operated, the front turn signals will
still function normally to signal your intentions. Ignition must be "ON" to
turn function off. Note LED indicator will not light when running with
ignition off.
Gun Lock Release: (unmarked)
The momentary down side of the rear flasher switch is the gun lock
release. Pressing the button down (with ignition "ON") will energize the pre-wired
lead connected to the gun lock. The GMSF provides a 30 second hold (no gun lock
timer required) on this circuit after pressing the button to enable the officer to
dismount the motor and remove the weapon from the rear prior to the lock reengaging.
Break-In Recommendations:
Accessory Power Sockets:
Read and follow the Rider's Manual recommendations, but for police agencies, we
recommend that you ride the motor "briskly" for the first 600 miles, to ensure that the
rings are well seated, since synthetic oil is used from the 600 mile service forward.
The ideal situation would be riding on twisty roads where there is constant change in
road speed, working the gearbox and throttle. This includes higher-speeds with
frequent on-off movements of the throttle. Avoid full-throttle acceleration / load, but
don't be afraid to run the speed up to ensure good ring seating.
Note: Use BMW Super Synthetic Motor Oil in police motors starting with the 600
mile inspection.
Two accessory power sockets are provided as standard equipment on each
R 1200 RT-P model. The two sockets are fed from the same circuit. Both sockets
will automatically shut-down 50 seconds after ignition off. Low wattage accessories
may not be initially recognized – shutting down after a maximum of 15 min.
Voltage Monitoring:
The alternator output / system voltage can be viewed while
riding in the dashboard information display. This information
is particularly useful after long violator stops, periods of
frequent start & stop riding, etc. where the system voltage
could be lowered. Reduce unnecessary power consumption
whenever possible to provide more battery recharging
capacity. Remember that the batteries cannot be fully
recharged instantly. Recharging is a factor of time and
amperage, so reducing electrical load and riding some miles after heavy discharges
to ensure optimal battery life and service. Additionally, the auxiliary battery will not
recharge if the main battery voltage is low. The motorcycle always preserves the
main battery first, so reducing unnecessary load on the main battery (lights, driving
lights, heated grips & seat) provides more power to recharge the auxiliary battery.
Side Stand:
Front Socket:
The front power socket is connected to the main
motorcycle battery through the main general module
(GM), which limits the load on both sockets to 10A. The
rear socket is on the same circuit and is also connected
to the main battery via the main GM.
Rear Socket:
You may charge the batteries on the
motorcycle from either socket. When
the BMW 2.5A battery charger (BMW
PN 77 02 8 551 897) is connected to
either socket, the GMSF senses the
connection and closes the auxiliary
battery charging relay, thereby
bridging the main and auxiliary
batteries, charging them
simultaneously. The 2.5A charger
should be able to fully charge both
batteries overnight.
The side stand is designed to hold the motorcycle on grades up to 9 percent without
rolling off the stand, though you should always stop the engine when parked. The
auxiliary battery system is designed to allow police accessories including emergency
lights to operate during violator stops with the engine "off", ensuring that the engine
will restart after the violator stop.
Note: When charging through the accessory power sockets, the charger will not
reach 100% charge due to the loads from the GMSF monitoring + closed charging
relay, but complete charging will be achieved when in the upper 80% range.
Note: If a fused front accessory harness has been installed, connect the charger to
the rear socket only or only the main battery will be charged.
When circumstances require, it is advised that the rider utilize the "parking brake",
which is stopping the engine while in gear, which will enable the motor to remain on
the stand with engine "off" on much steeper grades without rolling off the stand.
Power Socket:
Caution: The stand is designed to support the weight of the motorcycle while
parked, not to support the additional weight of the officer mounting the motorcycle,
particularly from the "low" side. Placing additional stress on the stand by mounting
on the low side may cause damage to the side stand or the frame which would not
be covered by the new motorcycle limited warranty.
Fuel Requirements:
The new overhead cam engine can operate on 89 AKI middle-grade fuel, though it
should be noted that best performance will be obtained using 91 AKI premium fuel.
A DIN standard power socket is available
from your BMW dealer under part number
61 13 8 060 106 for connection of non-BMW
accessories to the front or rear BMW power
sockets.
Accessory Connector Tools:
A pin & socket releasing tool with 25 spare socket terminals is available from the
BMW parts system under PN 71 60 2 407 784 to release pin and sockets from the
TE DUAC accessory connectors … a must for every dealer, agency or installer of
accessories.