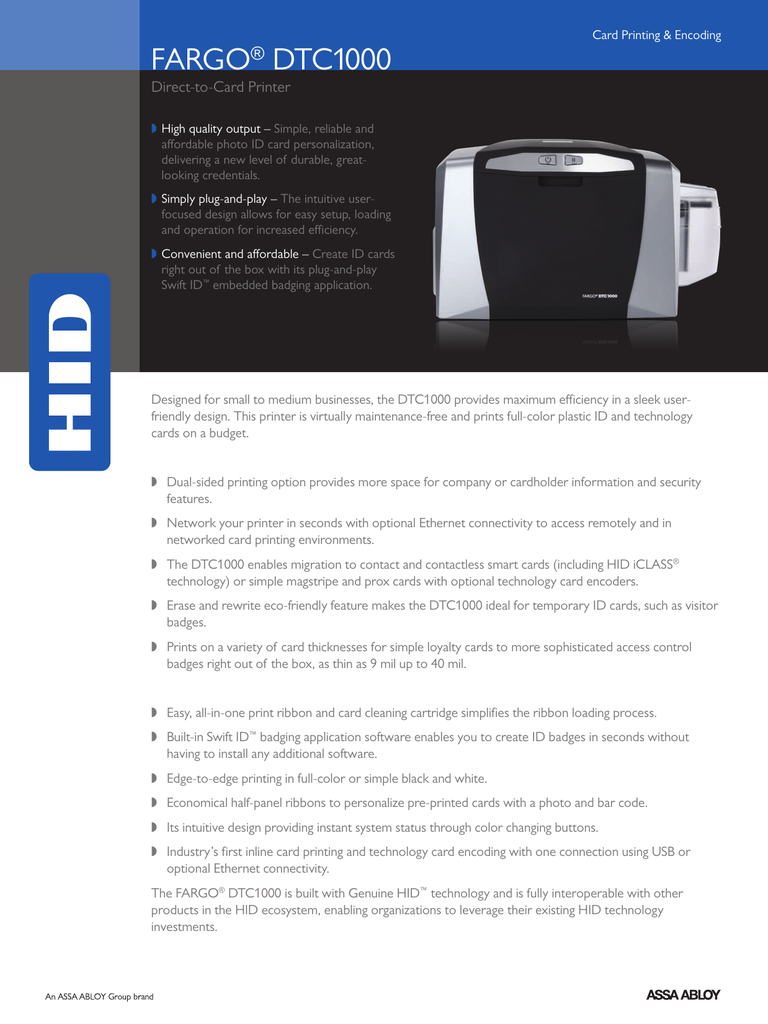 FARGO® DTC1000
Card Printing & Encoding
Direct-to-Card Printer
w High quality output – Simple, reliable and
affordable photo ID card personalization,
delivering a new level of durable, greatlooking credentials.
w Simply plug-and-play – The intuitive userfocused design allows for easy setup, loading
and operation for increased efficiency.
w Convenient and affordable – Create ID cards
right out of the box with its plug-and-play
Swift ID™ embedded badging application.
ACCESS versatility.
Designed for small to medium businesses, the DTC1000 provides maximum efficiency in a sleek userfriendly design. This printer is virtually maintenance-free and prints full-color plastic ID and technology
cards on a budget.
Take advantage of the built-in and optional features that suit your business:
w Dual-sided printing option provides more space for company or cardholder information and security
features.
w Network your printer in seconds with optional Ethernet connectivity to access remotely and in
networked card printing environments.
w The DTC1000 enables migration to contact and contactless smart cards (including HID iCLASS®
technology) or simple magstripe and prox cards with optional technology card encoders.
w Erase and rewrite eco-friendly feature makes the DTC1000 ideal for temporary ID cards, such as visitor
badges.
w Prints on a variety of card thicknesses for simple loyalty cards to more sophisticated access control
badges right out of the box, as thin as 9 mil up to 40 mil.
The DTC1000 adds a level of convenience to easily print what you need, including:
w Easy, all-in-one print ribbon and card cleaning cartridge simplifies the ribbon loading process.
w Built-in Swift ID™ badging application software enables you to create ID badges in seconds without
having to install any additional software.
w Edge-to-edge printing in full-color or simple black and white.
w Economical half-panel ribbons to personalize pre-printed cards with a photo and bar code.
w Its intuitive design providing instant system status through color changing buttons.
w Industry's first inline card printing and technology card encoding with one connection using USB or
optional Ethernet connectivity.
The FARGO® DTC1000 is built with Genuine HID™ technology and is fully interoperable with other
products in the HID ecosystem, enabling organizations to leverage their existing HID technology
investments.

* Your assessment is very important for improving the work of artificial intelligence, which forms the content of this project