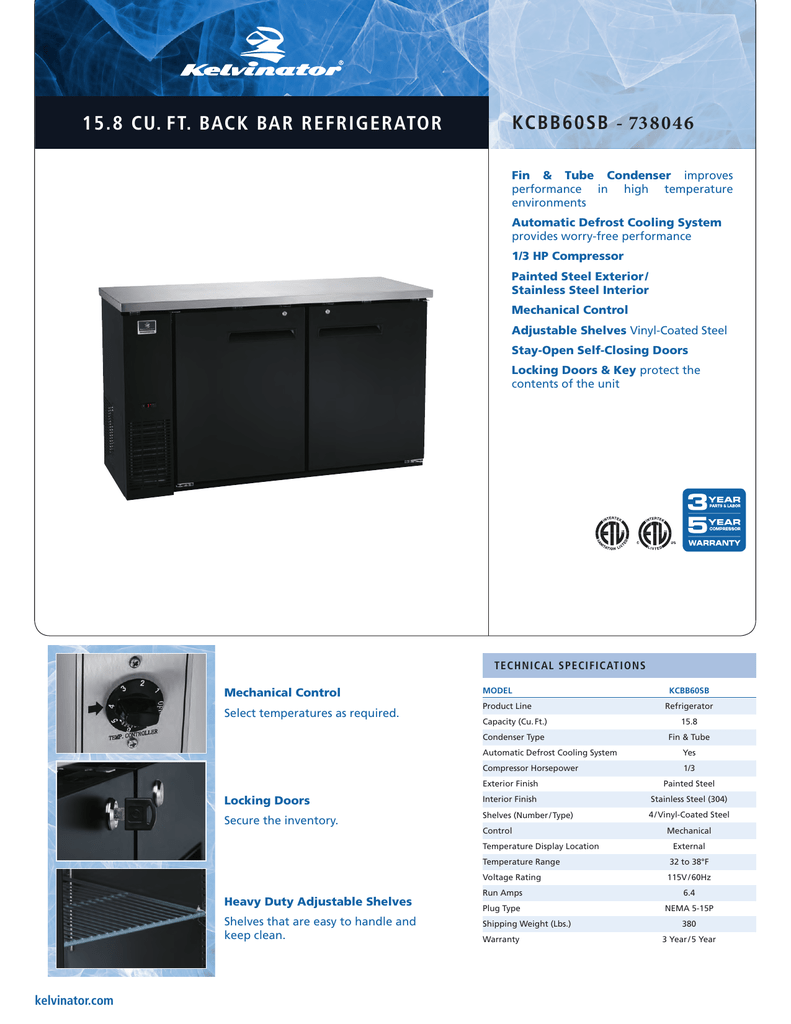 15.8 CU. FT. BACK BAR REFRIGERATOR
kelvinator.com
KCBB60SB - 738046
Fin & Tube Condenser improves
performance in high temperature
environments
Automatic Defrost Cooling System
provides worry-free performance
1/3 HP Compressor
Painted Steel Exterior / Stainless Steel Interior
Mechanical Control
Adjustable Shelves Vinyl-Coated Steel
Stay-Open Self-Closing Doors
Locking Doors & Key protect the
contents of the unit
TECHNICAL SPECIFICATIONS
Mechanical Control
Select temperatures as required.
MODEL
Product Line
KCBB60SB
Refrigerator
Capacity (Cu. Ft.)
15.8
Condenser Type
Fin & Tube
Automatic Defrost Cooling System
Compressor Horsepower
Exterior Finish
Yes
1/3
Painted Steel
Locking Doors
Interior Finish
Stainless Steel (304)
Secure the inventory.
Shelves (Number / Type)
4 / Vinyl-Coated Steel
Control
Temperature Display Location
Heavy Duty Adjustable Shelves
Shelves that are easy to handle and
keep clean.
Mechanical
External
Temperature Range
32 to 38°F
Voltage Rating
115V / 60Hz
Run Amps
6.4
Plug Type
NEMA 5-15P
Shipping Weight (Lbs.)
Warranty
380
3 Year / 5 Year
Kelvinator Commercial
KCBB60SB
15.8 CU. FT. BACK BAR REFRIGERATOR
B
D
E
Top View
A
B
C
Front View
Side View
Plug Type (NEMA)
5-15P
EXTERIOR DIMENSIONS
POPULAR PARTS
Height A
36"
Width B
60-7/8"
Overall Depth (Including Door & Handle) C
24-1/2"
Cabinet Depth D
24-1/2"
Depth (with Door 90° Open) E
47-1/2"
Shelf
5304497342
Shelf Clip
297121900
CERTIFICATIONS AND APPROVALS
Safety Certification
ETL
Sanitation Certification
ETL
USA • 10200 David Taylor Drive • Charlotte, NC 28262 • 1-866-738-1640 • kelvinator.com
CANADA • 5855 Terry Fox Way • Mississauga, ON L5V 3E4
KCBB60S 11/15
© 2015 Electrolux Home Products, Inc.
High standards of quality at Electrolux Home Products, Inc. mean we are
constantly working to improve our products. We reserve the right to change
specifications or discontinue models without notice.

* Your assessment is very important for improving the work of artificial intelligence, which forms the content of this project