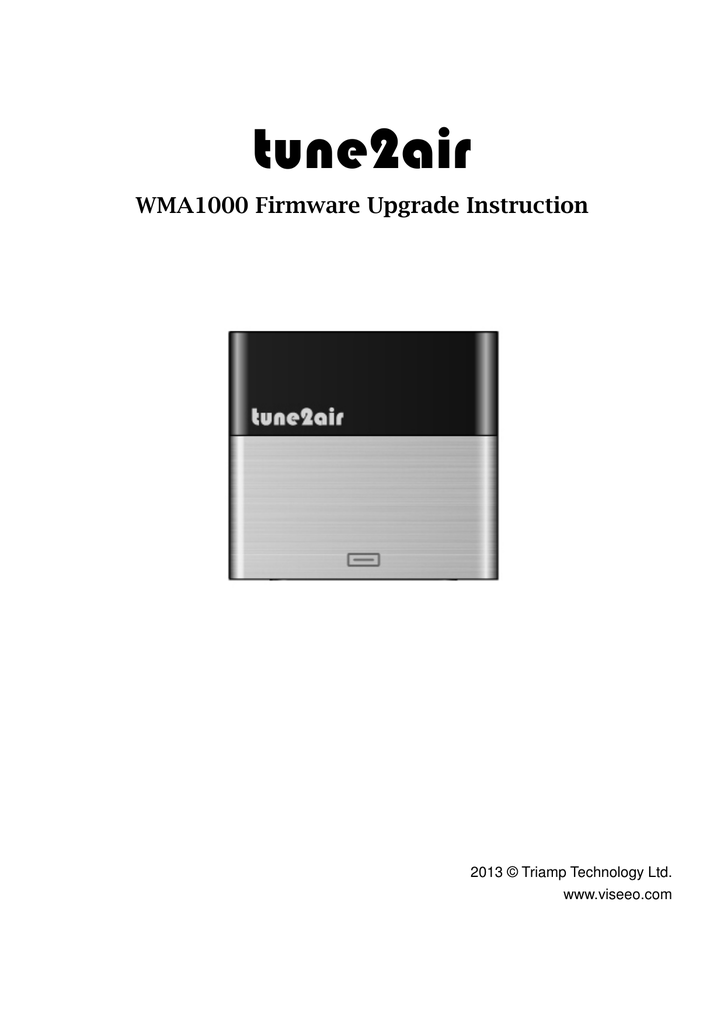 tune2air
WMA1000 Firmware Upgrade Instruction
2013 © Triamp Technology Ltd.
www.viseeo.com
A. Preparation before upgrading your firmware
You will need to prepare:
1.
2.
3.
4.
5.
6.
A 30 pin iPod cable which comes with the purchase of your Apple device.
A computer with USB port running Windows XP or Windows 7.
WMA1000 upgrade platform and driver.
WMA1000's latest firmware.
Your Tune2Air WMA1000 unit.
iPhone/iPad/iPod Touch (if you need to check the firmware version on your Tune2Air).
B. Installing the ViseeO Upgrade Platform and Driver for WMA1000
(if you have already done this part please skip this section)
Step 1. Download the WMA1000 Upgrade Platform and Driver for WMA1000 from
www.viseeo.com to your computer desktop.
Step 2. Unzip this file on your computer desktop.
Step 3. Open up the unzipped folder and double click on usbsetup.exe to install the
upgrade platform.
Step 4. Plug the original 30 pin iPod cable into your computer.
Step 5. Plug the Tune2Air WMA1000 into the 30 pin cable. The LED light should flash a
few times before it fade out to indicate WMA1000 is powered up by computer.
Step 6. Your computer should display a message showing "New hardware found". If this is
the first time you connect Tune2Air WMA1000 with your computer.
Step7. Found New Hardware Wizard windows should appear on your screen. It will ask
you: "Can Windows connect to Windows Update to search for software?" Please
select "No, not this time" to continue.
Step 8. Select "Install from a list or specific location (Advanced)" and press Next
button.
Step 9. Select "Search for the best driver in these locations" and tick "Include this
location in the search:" then, click Browse button to continue.
Step 10. Browse the computer esktop and select the Tune2Air Upgrade Platform and
Driver folder which you have just downloaded and unzipped on the desk top earlier as the
location for driver. Press Next > to continue installing driver.
Step 11. You will see a Hardware Installation warning windows please press Continue
Anyway button to continue.
Step 12. Driver installation completed. Please press Finish to exist hardware installation.
Step 13. Your computer should indicate the New found hardware is ready to use.
C. Upgrading the Software for Tune2Air
Step 1. Download the latest version of software for WMA1000 from www.viseeo.com to
computer desktop and unzip it.
Step 2. Double click on the ViseeO Bluetooth USB.exe upgrade platform which you have
installed earlier on your computer desktop.
Step 3. Activate the upgrade platform by clicking Register button.
Step 4. Copy the Hardware ID and paste it on the e-mail to request the License code from
sales@viseeo.com
Step 5. Copy and paste the License Code to the Register Window and click OK to activate
the platform.
Step 6. Press Search to search for Tune2Air WMA1000. When found Device Name: will
indicate CSR_HUB5_PORT1.
Step 7. Press Browse button and search for the firmware (.usb file) which is in the folder
of the latest software you have downloaded and unzipped on the computer desktop.
Step 8. Click burn to continue.
Step 9. When reach 100% in the status bar please close the program by clicking the cross
box on the top right of the platform window first before unplug your Tune2Air unit from
the 30pin connector.
Step 10. To check whether the connection is successful please pair and connect your
Tune2Air with iPhone and go to Setting on the iPhone and select General and click on
About and browse down the menu to click Tune2Air to see the firmware version directly
on your iPhone. For further information please see Section D of this instruction.
D. Checking Current Firmware Version
You should check your Tune2Air's firmware version before and after upgrading the latest
firmware. If your Tune2Air already has the latest firmware there is no need for you to
upgrade again. To check your firmware version:
Step 1. Plug the Tune2Air unit to your in-Car iPod integration and power on.
Step 2. Pair and connect iPhone/iPad/iPod Touch with Tune2Air as instructed in the User
manual. If you have already paired iPhone/iPad/iPod Touch with Tune2Air before you will
not need to pair them again. Simply wait for reconnection or press the Tune2Air from the
Bluetooth setting of your iPhone/iPad/iPod Touch to reconnect.
Step 3. Once connected go to the Setting menu on your iPhone/iPad/iPod Touch and
choose General setting menu
Step 4. Select About in the General setting menu
Step5. Browse the About page and select
Tune2Air (if you do not see Tune2Air device
name in this page after the connecting with it
please delete the paring from iPhone/iPad/iPod
Touch and pair again).
Step 6. Check the Firmware Version number
against the latest firmware release on
www.viseeo.com
E. Trouble Shooting
Unable to Detect Tune2Air
If your computer is unable to detect the Tune2Air after installing the ViseeO Upgrade
Platform (i.e. New Hardware Found message is not appearing on the status bar of your
Windows XP when you connect the Tune2Air WMA1000 with your computer for the first
time) or after pressing the Search button on the ViseeO Upgrade Platform (i.e. The Device
Name CSR_HUB5 not showing after pressing the Search button) then, the driver is
probably improperly installed. You must use a program called UNWISE.EXE under the
C:\Program Files\Triamp\USB directory to clean the driver and reinstall the driver again.
Step 1. Make sure Tune2Air is already unplugged from your computer
Step 2. Open the USB folder under the Triamp Directory of Program File folder in C drive
(i.e. C:\Program Files\Triamp\USB)
Step 3. Double click on UNWISE.EXE to execute the program.
Step 4. Plug the Tune2Air into your computer and reinstall driver as described in Section
B of this instruction.
If you have any further technical question regarding WMA1000 please do
not hesitate to contact Triamp by e-mail (sales@viseeo.com).

* Your assessment is very important for improving the work of artificial intelligence, which forms the content of this project