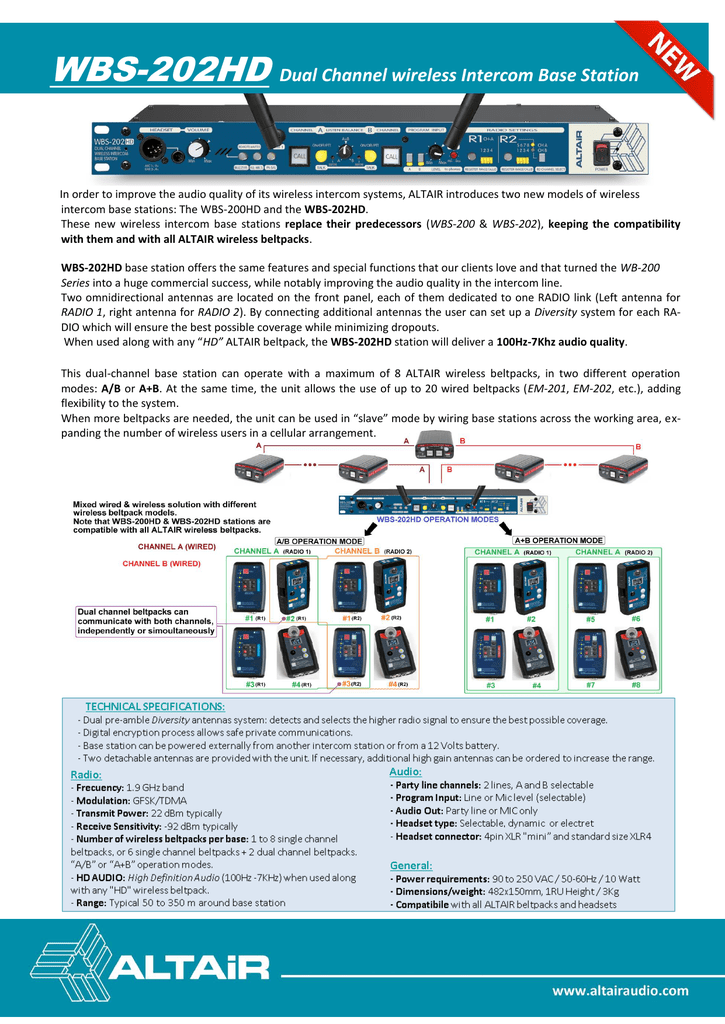 WBS-202HD Dual Channel wireless Intercom Base Station
In order to improve the audio quality of its wireless intercom systems, ALTAIR introduces two new models of wireless
intercom base stations: The WBS-200HD and the WBS-202HD.
These new wireless intercom base stations replace their predecessors (WBS-200 & WBS-202), keeping the compatibility
with them and with all ALTAIR wireless beltpacks.
WBS-202HD base station offers the same features and special functions that our clients love and that turned the WB-200
Series into a huge commercial success, while notably improving the audio quality in the intercom line.
Two omnidirectional antennas are located on the front panel, each of them dedicated to one RADIO link (Left antenna for
RADIO 1, right antenna for RADIO 2). By connecting additional antennas the user can set up a Diversity system for each RADIO which will ensure the best possible coverage while minimizing dropouts.
When used along with any "HD" ALTAIR beltpack, the WBS-202HD station will deliver a 100Hz-7Khz audio quality.
This dual-channel base station can operate with a maximum of 8 ALTAIR wireless beltpacks, in two different operation
modes: A/B or A+B. At the same time, the unit allows the use of up to 20 wired beltpacks (EM-201, EM-202, etc.), adding
flexibility to the system.
When more beltpacks are needed, the unit can be used in "slave" mode by wiring base stations across the working area, expanding the number of wireless users in a cellular arrangement.

* Your assessment is very important for improving the work of artificial intelligence, which forms the content of this project