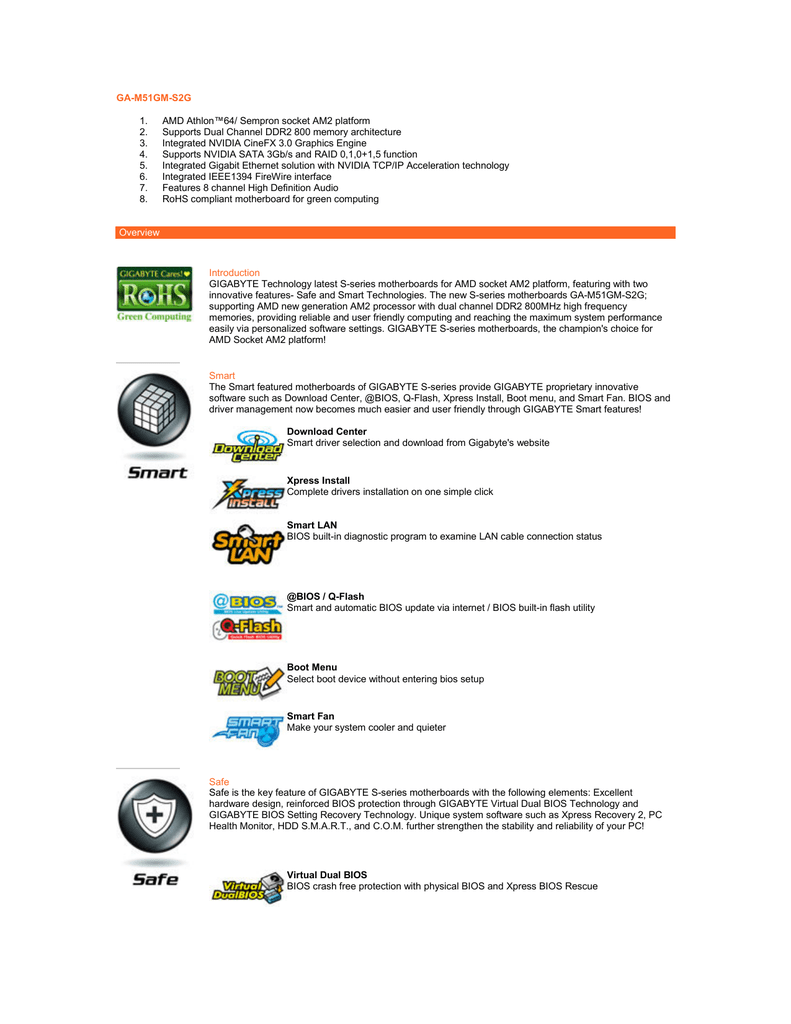 GA-M51GM-S2G
1.
2.
3.
4.
5.
6.
7.
8.
AMD Athlon™64/ Sempron socket AM2 platform
Supports Dual Channel DDR2 800 memory architecture
Integrated NVIDIA CineFX 3.0 Graphics Engine
Supports NVIDIA SATA 3Gb/s and RAID 0,1,0+1,5 function
Integrated Gigabit Ethernet solution with NVIDIA TCP/IP Acceleration technology
Integrated IEEE1394 FireWire interface
Features 8 channel High Definition Audio
RoHS compliant motherboard for green computing
Overview
Introduction
GIGABYTE Technology latest S-series motherboards for AMD socket AM2 platform, featuring with two
innovative features- Safe and Smart Technologies. The new S-series motherboards GA-M51GM-S2G;
supporting AMD new generation AM2 processor with dual channel DDR2 800MHz high frequency
memories, providing reliable and user friendly computing and reaching the maximum system performance
easily via personalized software settings. GIGABYTE S-series motherboards, the champion's choice for
AMD Socket AM2 platform!
Smart
The Smart featured motherboards of GIGABYTE S-series provide GIGABYTE proprietary innovative
software such as Download Center, @BIOS, Q-Flash, Xpress Install, Boot menu, and Smart Fan. BIOS and
driver management now becomes much easier and user friendly through GIGABYTE Smart features!
Download Center
Smart driver selection and download from Gigabyte's website
Xpress Install
Complete drivers installation on one simple click
Smart LAN
BIOS built-in diagnostic program to examine LAN cable connection status
@BIOS / Q-Flash
Smart and automatic BIOS update via internet / BIOS built-in flash utility
Boot Menu
Select boot device without entering bios setup
Smart Fan
Make your system cooler and quieter
Safe
Safe is the key feature of GIGABYTE S-series motherboards with the following elements: Excellent
hardware design, reinforced BIOS protection through GIGABYTE Virtual Dual BIOS Technology and
GIGABYTE BIOS Setting Recovery Technology. Unique system software such as Xpress Recovery 2, PC
Health Monitor, HDD S.M.A.R.T., and C.O.M. further strengthen the stability and reliability of your PC!
Virtual Dual BIOS
BIOS crash free protection with physical BIOS and Xpress BIOS Rescue
BIOS Settings Recovery
Recoverable Safe and frequently used CMOS settings
HDD S.M.A.R.T.
Hard drive "Self Monitoring Analysis and Reporting Technology" support
C.O.M. (Corporate Online Manager)
System administration utility for local area network
Xpress Recovery 2
Quick system image backup and restore
PC Health Monitor
System health monitor via bios and EasyTune utility
Windows Vista Ready
Windows Vista Ready Requirement: High Definition Audio and DirectX 9.0 VGA
AMD Live Ready
AMD Live Ready Requirement
AMD Athlon™ 64 FX/ 64 X2 / 64 /Sempron™ Processor
The leading-edge performance and unparallel technology of AMD Athlon™64 socket AM2 series processor
has built its strength on the well-known AMD64 framework which consisted of 64-bit computing platform,
HyperTransport Technology, and integrated memory controller. The latest Athlon™64 socket AM2 processor
brings the power and multitasking performance on the desktop platform and ensures superior performance
on mission critical business applications.
NVIDIA GeForce 6100 GPU
The brand new NVIDIA 6100 GPU features CineFX™ 3.0 Engine. This unique combination of 6100 GPU
creates a single motherboard featuring a world-class DX9, Shader Model 3.0 GPU for faster and smoother
game-play, a high quality video processing engine for advance quality of video and DVD playback.
NVIDIA® PureVideo™
NVIDIA PureVideo DVD decoder software delivers optimal picture clarity, smooth video, and precise image
scaling for all video content in home theater applications.
PCI Express Interface
Revolutionary PCI Express interface provides scalable bandwidth for multi-purpose usage. PCI-E x16
interface doubles the bandwidth of graphics interface of previous generation thus delivering the utmost
gaming experience. PCI-E x1interface provides twice the bandwidth of PCI interface up to 250MB/s for new
generation I/O peripheral devices.
Superior Dual channel DDR2 800 Architecture
AMD Athlon64 FX/ 64 X2 achieves the milestone for desktop computing with the CPU-integrated memory
controller. This platform supports dual channel DDR2 800 memory architecture with high bandwidth of up to
12.8 GB/s and shorter memory accessing latency thus delivering the greatest memory performance.
SATA 3Gb/s & RAID
This platform supports reliable storage solution for enhanced data protection and data accessing
performance. Serial ATA 3Gb/s is firstly introduced in this platform to provide blazingly 3Gb/s bus bandwidth
thus higher disk performance. The NVIDIA RAID allows multi-disk designs to be set up as RAID 0, 1, 0+1, 5
based on users' priority of protection/ performance. This NVIDIA RAID function makes the RAID even more
accessible by introducing the innovative windows-based facility.
IEEE1394 motherboard
This motherboard with IEEE1394 FireWire interface from Texas Instruments (TI). With the transfer speed up
to 400Mb/s, the new generation IEEE1394 interface further enhances PC connectivity with consumer
electronics audio/video (A/V) appliances, and storage peripherals.
High Definition Audio
Experience home theater-quality sound with your PC using High Definition Audio for enhanced multi-channe
Specification
Processor
1.
Socket AM2 for AMD Athlon™ 64 FX / Athlon™ 64 X2 Dual-Core / Athlon™ 64 /
Sempron™ processor
Chipset
1.
2.
3.
4.
Northbridge: nVIDIA® GeForce 6100
Southbridge: nVIDIA® nForce 430
Super I/O: ITE IT8716 chip.
Integrated Peripherals
1.
T.I. IEEE1394 controller
2. Marvell 88E1116 Gigabit Ethernet controller
3.
Realtek ALC883 Audio Codec
Memory
Internal I/O Connectors
1.
4 DDR2 DIMM memory slots (supports up to 16GB memory)(Note 1)
2.
Supports dual channel DDR2 800/667/533/400 DIMMs
3.
Supports 1.8V DDR2 DIMMs
(Note 1) Due to the limitation of Windows 32-bit operating system, when more than 4GB of
physical memory is installed, the actual memory available for the operating system will be less
than 4GB; Windows 64-bit operating system doesn't have such limitation.
1.
2.
3.
4.
5.
6.
7.
1 24-pin ATX power connector
1 4-pin ATX 12V power connector
1 floppy connector
2 IDE connectors
4 SATA 3Gb/s connectors
1 CPU fan connector
1 system fan connector
8.
9.
10.
11.
12.
13.
14.
15.
1 front panel connector
1 front audio connector
1 CD In connector
2 USB 2.0/1.1 connectors for additional 4 USB 2.0/1.1 ports by cables
2 IEEE1394a connectors for additional 2 port by cable
1 SPDIF In/Out connector
1 Power LED connector
1 COMB connector
Expansion Slots
1.
2.
3.
1 PCI Express x 16 slot
1 PCI Express x 1 slot
2 PCI slots
Rear Panel I/O
1.
2.
3.
4.
5.
6.
7.
8.
9.
1 PS/2 keyboard port
1 PS/2 mouse port
1 parallel port
1 COMA port
1 VGA port
4 USB 2.0/1.1 ports
1 IEEE1394 port
1 RJ-45 port
6 audio jacks (Line In / Line Out / MIC In/Surround Speaker Out (Rear Speaker Out))
Power
ATX power connector and ATX 12V connector
Form Factor
Micro ATX form factor; 24.4cm x 24.4cm
H/W Monitoring
1.
System voltage detection
2.
CPU / System temperature detection
3.
CPU / System fan speed detection
4.
CPU warning temperature
5.
CPU / System fan failure warning
6.
Supports CPU / System Smart Fan function(Note 2)
(Note 2) Whether the CPU Smart FAN Control function is supported will depend on the CPU you
install.
BIOS
Other Features
1.
2.
1 4Mbit flash ROM
Use of licensed AWARD BIOS
1.
Supports @BIOS
2.
Supports Download Center
3.
Supports Q-Flash
4.
Supports EasyTune (only supports Hardware Monitor function)(Note 3)
5.
Supports Xpress Install
6.
Supports Xpress Recovery2
7.
Supports Xpress BIOS Rescue
(Note 3) EasyTune functions may vary depending on different motherboards.

* Your assessment is very important for improving the work of artificial intelligence, which forms the content of this project