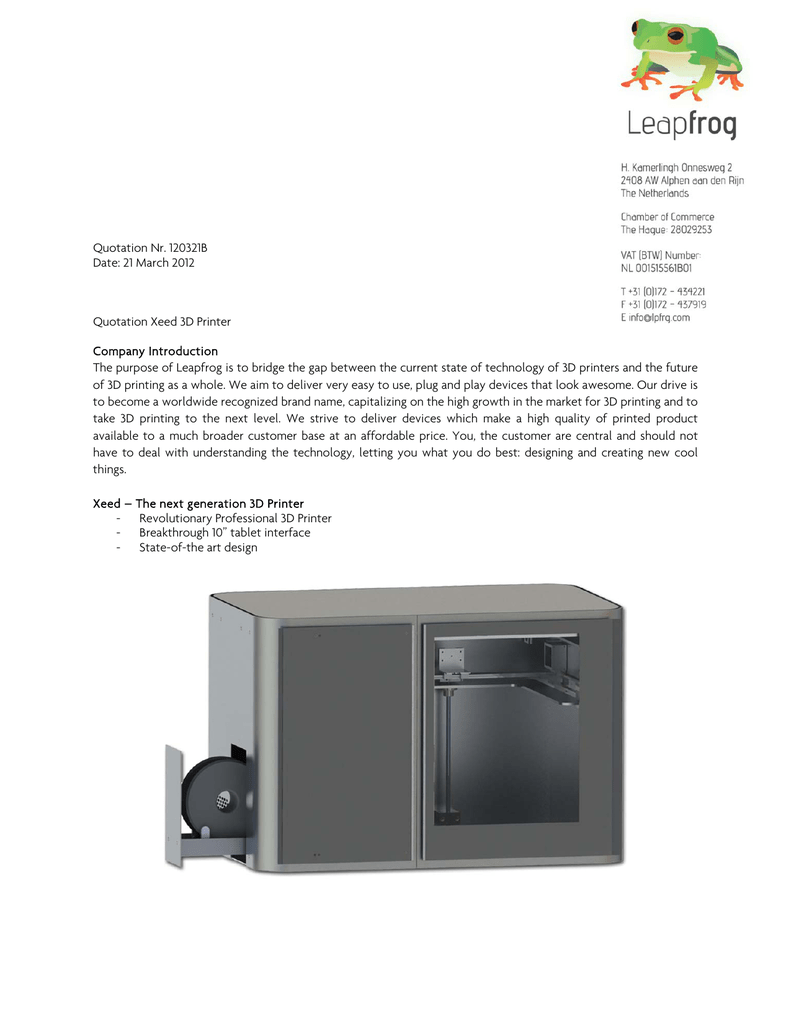 Quotation Nr. 120321B
Date: 21 March 2012
Quotation Xeed 3D Printer
Company Introduction
The purpose of Leapfrog is to bridge the gap between the current state of technology of 3D printers and the future
of 3D printing as a whole. We aim to deliver very easy to use, plug and play devices that look awesome. Our drive is
to become a worldwide recognized brand name, capitalizing on the high growth in the market for 3D printing and to
take 3D printing to the next level. We strive to deliver devices which make a high quality of printed product
available to a much broader customer base at an affordable price. You, the customer are central and should not
have to deal with understanding the technology, letting you what you do best: designing and creating new cool
things.
Xeed – The next generation 3D Printer
- Revolutionary Professional 3D Printer
- Breakthrough 10" tablet interface
- State-of-the art design
Easy Installation
- Pre-calibrated
- No assembling
- No tinkering!
Go to lpfrg.com/support/installation for an online guide to installing
Material
The Xeed can print with ABS and PLA plastic in many different colors. Changing a cartridge is easy with the quickslider system. The material can be bought online at lpfrg.com
Specifications
Specification
Dimensions LxWxH
Build Size LxWxH
Max. Print Volume
Positioning accuracy
Min. Layer thickness
Electrical Connection
Value
800 x 600 x 500
370 x 340 x 290
36.5
0.012
0.2
220-240
Dimension
[mm x mm x mm]
[mm x mm x mm]
[dm³]
[mm]
[mm]
[V]
Safety
The Xeed has a heated print bed which heats up to 90° C / 194 ° F and should not be touched. Warning stickers
clearly mark this area. The machine does not produce any fumes or smell.
Pricing and shipping
The Xeed is packed in a sturdy box and can be shipped with UPS Express (1-3 days shipping) or normal postal services
(up to 10 days). Pickup at our distribution point in Alphen a/d Rijn in The Netherlands is also possible so you do not
have to pay packaging and shipping charges.
Unit
Xeed 3D Printer
Packaging
Shipping
Total (Excl BTW)
Price
€ 4.920,€ 75,Depending on location
€ 4.995,-
Ordering
Orders can be placed online at lpfrg.com from the 1st of May 2012. Until this time, payment can only be done by
bank transfer. Please mention the quotation Nr in the payment details. Place your pre-order now to secure the first
delivery. Pre-orders can be placed with payment of 50% of the total amount. Deliveries of the Xeed start June 2012.
Bank details
Name:
Bank:
Account No.
IBAN
Swift address:
AV Flexologic b.v.
Deutsche Bank Nederland N.V.
47.50.00.811
NL06HBUA0475000811
HBUANL2R
Our Terms and Conditions, as mentioned on www.flexologic.nl and as registered under nr. 28029253 at the Chamber of Commerce for Den Haag,
are applicable to all our transactions.

* Your assessment is very important for improving the work of artificial intelligence, which forms the content of this project