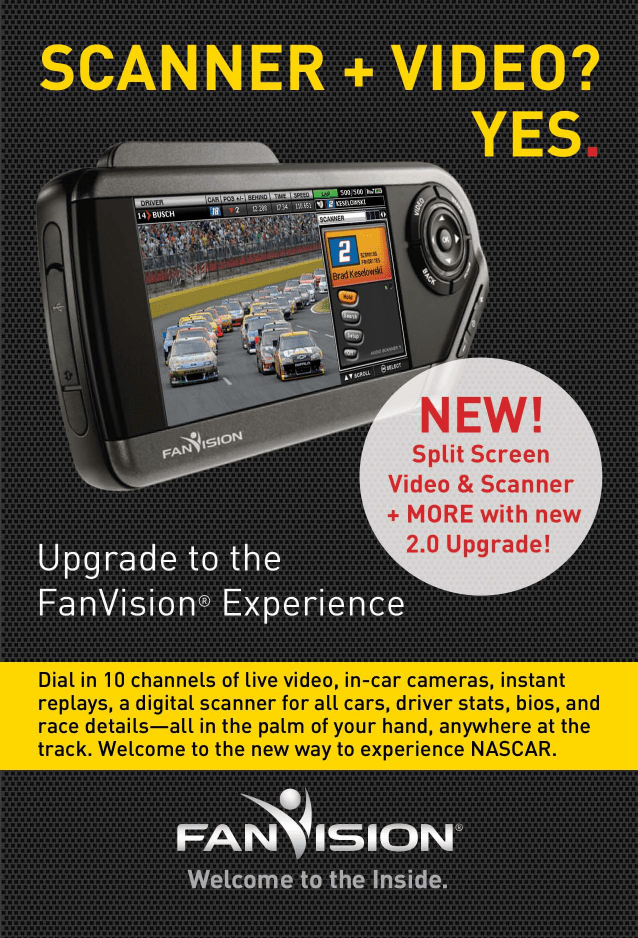 SCANNER + VIDEO?
— YES
| Split Screen
ъ Video & Scanner
+ MORE with new
2.0 Upgrade!
Upgrade to the
FanVision* Experience
Dial in 10 channels of live video, in-car cameras, instant
replays, a digital scanner for all cars, driver stats, bios, and
race details—all in the palm of your hand, anywhere at the
track. Welcome to the new way to experience NASCAR.
e
TR rae
Welcome to the Inside.
NASCAR® FanVisione _
gets you inside the action.
Features include:
> NEW! Split screen video > Split or full screen video
& scanner > Race & track information
> NEW! Split screen scanner with map
Геры) > NASCAR News & Twitter
> NEW! Favorite driver feeds
analysis on split screen
pitboards
> Digital scanner for all cars
> Live race broadcast -
video & radio
> 8 In-car cameras with replays
> Racing headphones
> Race statistics with
leaderboard
SAVE $10 DURING THE CHASE
Rent a FanVisione for the weekend during any of the 10 chase
races for only $49.99 - a $10 savings!
To see all FanVision® promotions and current offers,visit
our website at FanVision.com/NASCAR/promotions.
For your chance to win signed NASCAR merchandise,
"Like" us on Facebook and follow us on Twitter.
®
FANVISION
Welcome to the Inside.

* Your assessment is very important for improving the work of artificial intelligence, which forms the content of this project