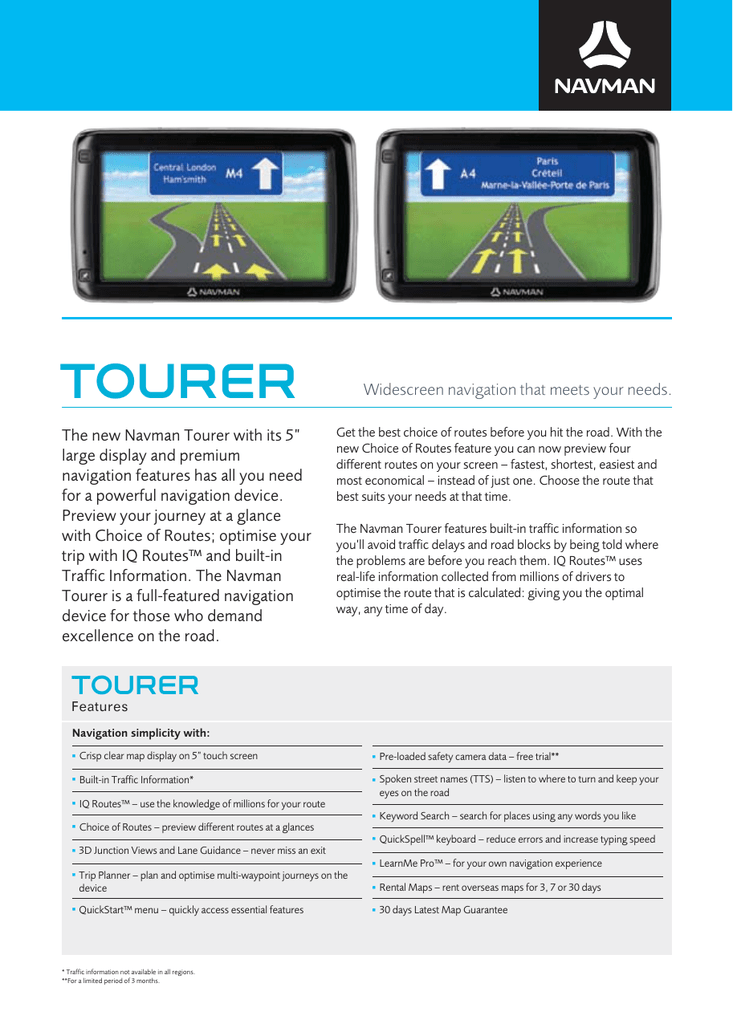 TOURER
The new Navman Tourer with its 5"
large display and premium
navigation features has all you need
for a powerful navigation device.
Preview your journey at a glance
with Choice of Routes; optimise your
trip with IQ Routes™ and built-in
Traffic Information. The Navman
Tourer is a full-featured navigation
device for those who demand
excellence on the road.
Widescreen navigation that meets your needs.
Get the best choice of routes before you hit the road. With the
new Choice of Routes feature you can now preview four
different routes on your screen – fastest, shortest, easiest and
most economical – instead of just one. Choose the route that
best suits your needs at that time.
The Navman Tourer features built-in traffic information so
you'll avoid traffic delays and road blocks by being told where
the problems are before you reach them. IQ Routes™ uses
real-life information collected from millions of drivers to
optimise the route that is calculated: giving you the optimal
way, any time of day.
TOURER
Features
Navigation simplicity with:

Crisp clear map display on 5" touch screen


Built-in Traffic Information*


IQ Routes™ – use the knowledge of millions for your route

Choice of Routes – preview different routes at a glances



QuickStart™ menu – quickly access essential features
* Traffic information not available in all regions.
**For a limited period of 3 months.
Spoken street names (TTS) – listen to where to turn and keep your
eyes on the road

Keyword Search – search for places using any words you like

QuickSpell™ keyboard – reduce errors and increase typing speed

LearnMe Pro™ – for your own navigation experience

Rental Maps – rent overseas maps for 3, 7 or 30 days

30 days Latest Map Guarantee
3D Junction Views and Lane Guidance – never miss an exit
Trip Planner – plan and optimise multi-waypoint journeys on the
device
Pre-loaded safety camera data – free trial**
TOURER Widescreen navigation that meets your needs.
Hardware
Software features
Navigation views
Weight:
185g
Software:
QuickStart™ navigation software
Turn–by–Turn™
Size (mm):
88 (H) x 142 (W) x 17 (D)
Spoken street names (TTS)
Route Summary
Processor:
Samsung 6443/400 MHz
Pre-installed Safety Camera Data*
Free trial
3D moving map
GPS receiver:
SiRFstarIII with InstantFixII
POIs (Places of Interest)
Traffic overview
Battery:
Rechargeable integrated Li-ION battery-up
to 2 hrs life (depending on usage)
Voice-guided instructions
Pedestrian mode
Multiple route options
Mapping
3D Junction Views and Lane Guidance
Tele Atlas map data 2010.09
IQ RoutesTM
TOURER Reginal:
Street-level Regional maps
Real-time traffic information
TOURER Europe:
Street-level European maps (44 countries)
Parking Assistance
Accessories
Display size & type:
5"(12.7 cm)touch screen
Display resolution WxH:
480 x 272 pixels
Choice of Routes
Multi-stop trip planner
Box Contents
Box dimensions (mm):
155(W) x 135(H) x 77(D)




Navman TOURER
In-vehicle charger
In-vehicle mounting bracket
Documentation and software
Key Features
Real-time traffic
* For a limited period of 3 months.
storesupport@navman-europe.com
+44 (0) 871 277 0138
Choice of Routes
The use of information regarding safety camera locations may be subject to local laws in
the country of use. You are responsible for checking that you can use the information in
your country or in the country where the information will be used. Safety camera data
from September 2010.
The characteristics of this product are subject to change without notice.
IQ Routes is a registered trademark of TomTom International BV. All trademarks are the
property of their respective owners. All specifications are subject to change without prior
notice.

* Your assessment is very important for improving the work of artificial intelligence, which forms the content of this project