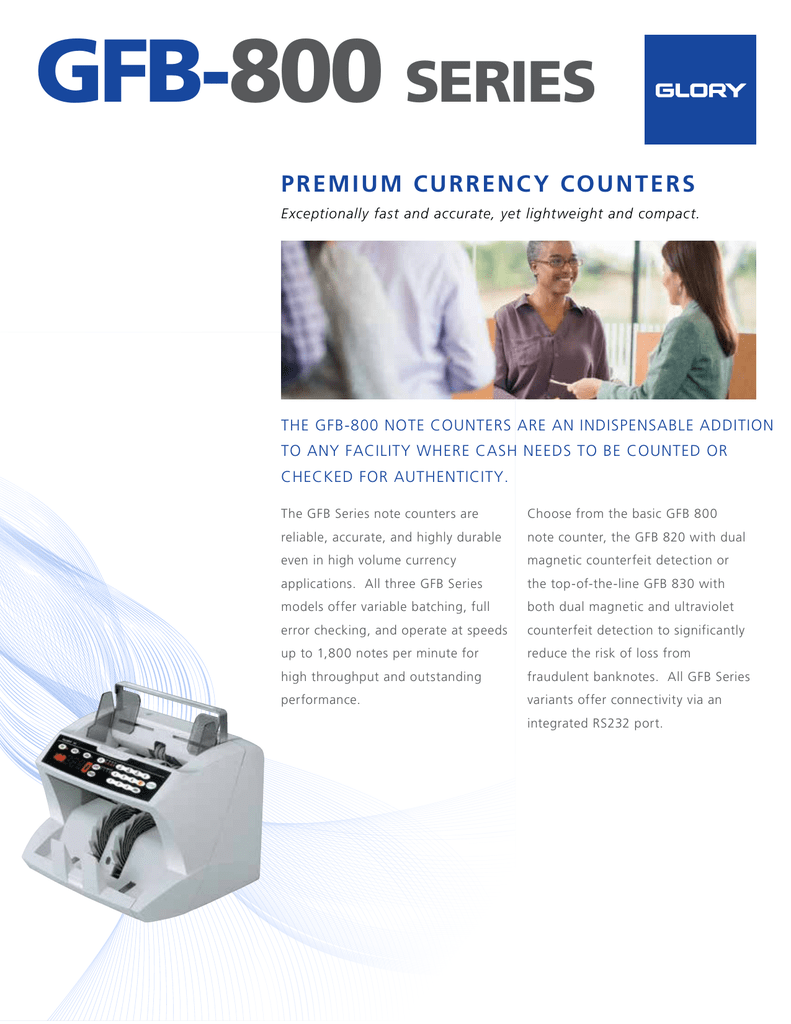 GFB-800 SERIES
PREM I UM CU R REN C Y COU N TERS
Exceptionally fast and accurate, yet lightweight and compact.
THE GFB-800 NOTE COUNTERS ARE AN INDISPENSABLE ADDITION
TO ANY FACILITY WHERE CASH NEEDS TO BE COUNTED OR
CHECKED FOR AUTHENTICITY.
The GFB Series note counters are
Choose from the basic GFB 800
reliable, accurate, and highly durable
note counter, the GFB 820 with dual
even in high volume currency
magnetic counterfeit detection or
applications. All three GFB Series
the top-of-the-line GFB 830 with
models offer variable batching, full
both dual magnetic and ultraviolet
error checking, and operate at speeds
counterfeit detection to significantly
up to 1,800 notes per minute for
reduce the risk of loss from
high throughput and outstanding
fraudulent banknotes. All GFB Series
performance.
variants offer connectivity via an
integrated RS232 port.
Simple to use
The GFB Series offers simplicity of operation. All variants use a simplified keyboard that features a ten-key pad and intuitive
function keys.
Lightweight and portable
At only slightly more than 12 lbs. and equipped with a built-in carrying handle, GFB note counters are portable to wherever
there is work to be done!
Multiple modes of operation
The GFB Series operates in count, add or batching modes. Batching is either according to preset quantities or variable.
Full error checking
To ensure accuracy in all note counting operations, the GFB Series offers full error checking including double, chain, half
note, and jam.
Counterfeit detection options
Choose Glory's effective dual magnetic counterfeit detection aid or our dual magnetic and ultraviolet combination for
reduced risk from would be fraudsters.
GFB-800 SERIES T E C H N I C A L
GFB-800
INFORMATION
GFB-820
Modes
GFB-830
Count, Add, and Batch
4-Speed count selection
(Auto or manual start)
Counterfeit detection
(Programmable density levels)
500, 1,000, 1,500 & 1,800 notes/per minute
Dual magnetic (MG)
(Auto-set density levels)
(Auto-set density levels)
Feed method
Dual magnetic (MG)
New ultra-violet (UV)
(Auto-set density levels)
Roller friction type
Hopper capacity
Up to 300 notes
Stacker capacity
Countable note size
Dimensions
Up to 200 notes
2" x 3.4" to 4.3" x 7.3" (50mm x 85mm - 110mm x 185mm)
GFB-800 SERIES
Advantage: Glory
10.8"(W) x 9.1"(D) x 9.3"(H) (275mm x 230mm x 235mm)
Power supply
100~240V AC, 50/60Hz
Weight
12.1 lbs. (5.5kg)
Options
I/F connection via RS-232C system
External display device
Specifications and design subject to change without notice. Please carefully read the instruction manual to ensure correct usage.
Glory Global Solutions
3333 Warrenville Road, Suite 310 Lisle, IL 60532
Tel: +1 (630) 577-1015
Fax: +1 (630) 577-1270
www.gloryglobalsolutions.com
Glory Global Solutions is part of GLORY LTD.
This document is for general guidance only. As the Company's products and services are continually being developed it is important for customers to check that the information contained herein includes the latest
particulars. Although every precaution has been taken in preparation of this document, the Company and the publisher accept no responsibility for errors or omissions. The Company and the publisher accept no liability
for loss or damages resulting from the use of the information contained herein. This document is not part of a contract or licence save insofar as may be expressly agreed. All capabilities and capacity and throughput
figures are subject to note/coin size, note/coin quality and process used. GLORY is a registered trademark of GLORY LTD. in Japan, the United States of America, and EU. All trademarks are owned by the GLORY Limited
Group of companies. © Glory Global Solutions (International) Limited 2013.

* Your assessment is very important for improving the work of artificial intelligence, which forms the content of this project