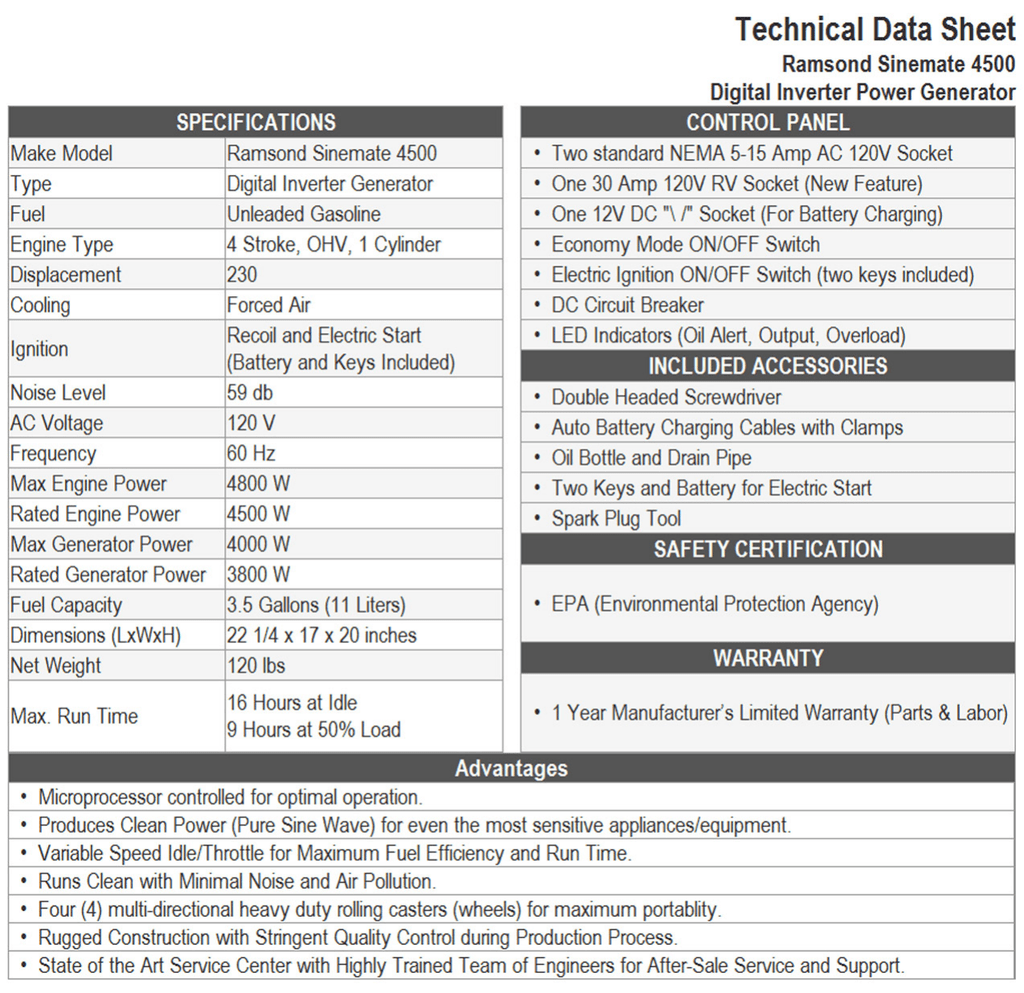 SPECIFICATIONS
Technical Data Sheet
Ramsond Sinemate 4500
Digital Inverter Power Generator
CONTROL PANEL
Fuel Capacity
3.5 Gallons (11 Liters)
Dimensions (LxWxH)
22 1/4 x 17 x 20 inches
Net Weight
120 Ibs
Max. Run Time
16 Hours at Idle
9 Hours at 50% Load
* Microprocessor controlled for optimal operation.
Advantages
Make Model Ramsond Sinemate 4500 * Two standard NEMA 5-15 Amp AC 120V Socket
Type Digital Inverter Generator * One 30 Amp 120V RV Socket (New Feature)
Fuel Unleaded Gasoline * One 12V DC "\ /" Socket (For Battery Charging)
Engine Type 4 Stroke, OHV, 1 Cylinder * Economy Mode ON/OFF Switch
Displacement 230 * Electnc Ignition ON/OFF Switch (two keys included)
Cooling Forced Air * DC Circuit Breaker
A Recoil and Electric Start + LED Indicators (Oil Alert, Output, Overload)
Ignition
(Battery and Keys Included) INCLUDED ACCESSORIES
Noise Level 59 db * Double Headed Screwdriver
AC Voltage 120 V * Auto Battery Charging Cables with Clamps
Frequency 60 Hz * Oil Bottle and Drain Pipe
Max Engine Power 4800 W * Two Keys and Battery for Electric Start
Rated Engine Power 4500 W * Spark Plug Tool
Max Generator Power 4000 W SAFETY CERTIFICATION
Rated Generator Power 13800 W
* EPA (Environmental Protection Agency)
WARRANTY
* 1 Year Manufacturer's Limited Warranty (Parts & Labor)
Produces Clean Power (Pure Sine Wave) for even the most sensitive appliances/equipment.
Vanable Speed Idle/ Throttle for Maximum Fuel Efficiency and Run Time.
Runs Clean with Minimal Noise and Air Pollution.
Four (4) multidirectional heavy duty rolling casters (wheels) for maximum portablity.
Rugged Construction with Stringent Quality Control during Production Process.
State of the Art Service Center with Highly Trained Team of Engineers for After-Sale Service and Support.

* Your assessment is very important for improving the work of artificial intelligence, which forms the content of this project