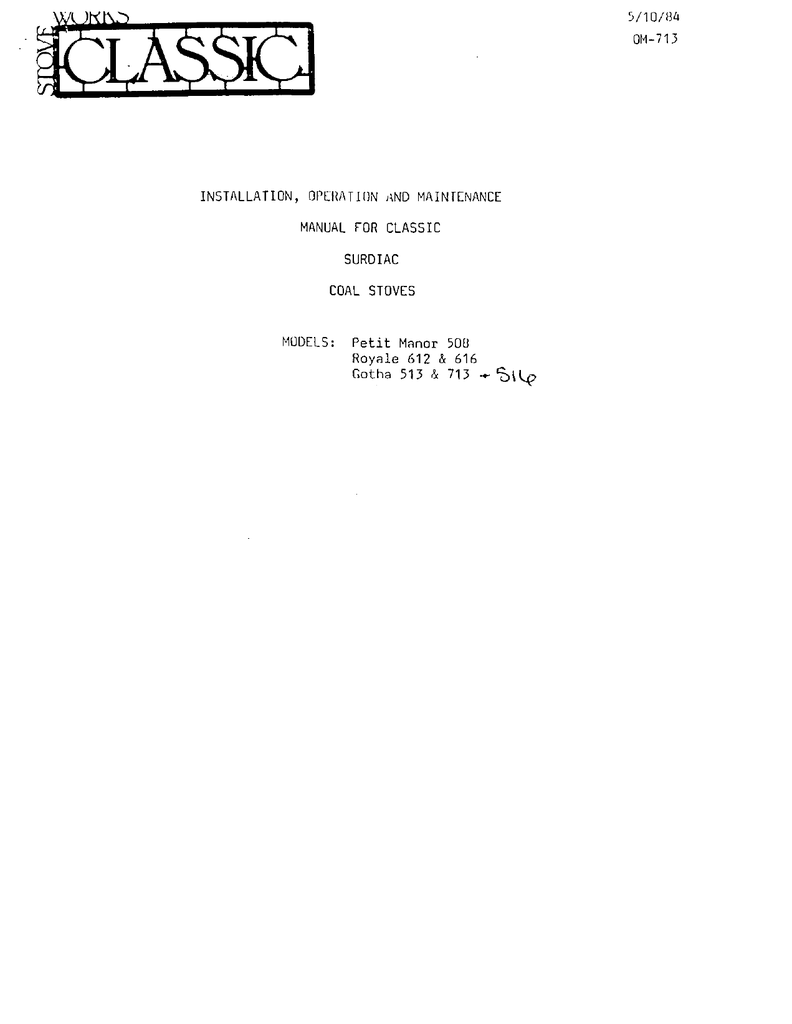 2/10/84
OM-713
INSTALLATION, OPÉRATION AND MAINTENANCE
MANUAL FOR CLASSIC
SURDIAC
COAL STOVES
MODELS: Petit Manor 508
Royale 612 & 616
Gotha 513 & 713 + Die
TABLE OF CONTENTS
INSTALLATION , >
THE CHI-NEY & THIMBLES 2 2 1 22 4 4444 4 vo vv vw + 3&4
STOVE PIPE TO CHIMNEY 2 2 2 2 2 4 4 eee. sn 5
RECOMMENDED SOLID FUELS 2.222 14 4 1 1 1 4 1 11 1 687
CLEANING + vv te ee ee et ee ee eee ee 8
LIGHTING YOUR STOVE . . . . . . ae 9
BREAKING IN YOUR STOVE L 2 2 22 2 4 4 1 4 1 1 4 4140 10
ADJUSTING THE HOPPER . . . . . . '. 11
THERMOSTAT ADJUSTMENT 22 21 4 22 4 4 4 4 4 4 4 440 12
KEEPING THE FIRE BURNING . + + » e e. 213 & 14
CHIMNEY & VENT CLEANING . . .
в» 15
CARE ... . 16
DRAFT FACTORS 2. 2 42444 4 4 4 4 4 4 4 4 a eeu 17
WARRANTI — у т о ттог отт оттого стотт : 4+8-
SAFETY NOTICE: IF THIS SURDIAC COAL STOVE IS NOT PROPERLY INSTALLED, A HOUSE
FIRE MAY RESULT. FOR YOUR SAFETY, FOLLOW THE INSTALLATION DIRECTIONS. CONTACT
LOCAL BUILDING OR FIRE OFFICIALS ABOUT RESTRICTIONS AND INSTALLATION INSPECTION
IN YOUR AREA.
NOTE: THIS STOVE IS NOT APPROVED FOR USE IN MOBILE HOMES,
NOTE: USE OF ALUMINUM TYPE B GAS VENT FOR SOLID FUELS IS UNSAFE & PROHIBITED
BY THE NATIONAL FIRE PROTECTION ASSOCIATION CODE.
=
NOTE: KEEP ALL HOUSEHOLD FURNISHINGS AT A CONSIDERABLE DISTANCE AWAY FROM THE
STOVE.
INSTALLATION
y commend that your coal stove be installed in your home by a qualified
we Te
| h
and that you carefully read this notice - particularly the paragraphs
erson —
where the thermostat is concerned.
d
| th %" thick asbestos millboar
th the unit must be covered wi A 111 ç
о valent. The non-combustible floor covering shall extend a minimum o
or equ
) +
8" pevond the rear of the chimney connector; 8" beyond the sides of the unl
and 20" beyond the front of the unit (Fig. 1).
The minimum clearances to combustible materials are as follows (Fig. 2):
e —
А 19" from back of chimney connector to the back wall.
8 15" from side of stove to nearust side wall.
h
Back wall
19" (A) 28" on 612 & 513
17" on 508
30" on 713 & 616
-— (A)
= 0
Ta er aU EEE EIT
Li
CE ааа ата оое ау Нан ло
: NTC LLE ON
Side wall Ñ EE CA
LN)
CCL NL ee)
ELN LIN
Ll NAS
AA AAA
au
-
CAC II
Side
20
Front
Fig. 2 - Distance from Camhustibles
Front |
Fig. 1 - Floor Protection
DANGER! LOADING DOOR. MUST BE CLOSED DURING OPERATION
CAUTION!
- Hot while in operation.
Do not touch, keep children, clothing and furniture away.
- Contact may cause skin burns.
kerosene,
Never use gasoline or any gasoline type of lantern fuel such as ke
LOU] a fire
charcoal lighter fluid or similar liquids to start or freshen up
in this stove.
| ~ hustible. CONSULT YOUR
: ar: тах Бе reduced if walls are non-com
COEL UL OTUR CODES DR FIRE DEPARTHENT FOR AN ACCURATE cas OF A
NON COMBUSTIBLE ALL" AND FOR CLEARANCES FROM THESE WALLS.
THE CHIMNEY
This stove should have its own chimney of a suitable height (approximately
15 ft.). All openings such as clean-out doors or flue openings on other
floors should be sealed airtight. |
CONDITIONS FOR THE PROPER FUNCTION OF THE CHIMNEY SECTION (FIG. 3).
1. The cap should be well ventilated.
2. [In a masonry system, chimney reduction | AN
must be made gradually.
3, Elbows and offsets should be
made clear and unrestricted.
4. The inside should be kept smooth
and free of cracks.
5. Chimney thimble is to be tight.
6. The smoke pipe must be carefully
sealed.
7. The smoke pipe 1s to be properly
inserted into the correct depth
and is not to protrude inside the
chimney.
8. When usinr a manufactured chimney,
it must be a UL listed residential
type heating appliance chimney system,
Fig. 3
* For additional information pertaining to chimney draft, please refer to
page 17. |
THE CHIMNEY can't
A Darometric iraft damper must be installed to insure a stable draft and a
consistent rate of combustion.
toves will operate properly at draft levels of -.015" WC to -.05" WC.
With readings of less than -.015" WC increasing chimney height, installing
a draft inducer or any other applicable corrective measure may be used to
increase the draft to an appropriste level.
when readings are in excess of -.05" WC, a barometric damper must be installed
and the necessary adjustments made to reduce draft intensity. The idea'
operating draft range is -.03" to -,04" WC. Have yor authorized retailer
check your specific draft level and adjust it if necessary.
MANUAL CAST IRON DAMPERS
Although cast iron dampers have resolved many operational problems on wood
stoves, they are not recommended for use on our coal stoves. They do not
compensate for variations in wind activity.
THIMBLES
\ metal or fireclay thimble 1s used when passing a stovepipe through non-
combustible walls or into a chimney. The thimble should be permanently
cemented (with refractory cement) into the masonry and should extend through
the chimney wall to the inner face of the liner, but not beyond. If possible,
the stovepipe should extend into the thimble so the end of the stovepipe is
Flush with the inner end of the thimble. In many cases the inner diameter
of the thimble will be too small to allow full penetration of the stovepipe
into the thimble. In this case, the stovepipe should be inserted as far as
possible and then securely fastened to the thimble. If it is necessary to
pass a flue connection through a combustible interior or exterior wall, a
horizontal section of prefabricated chimney installed according to the
chimneys Inanuracturer's speclfications can be used. A combustible wall may
also be penetrated by a fireciay or metal thimble surrounded by solid masonry
at least 3 inches on all sides, by a metal ventilated thimble at least 12
inches larger than the flue pipe or by removing all combustible material
within 18 inches of the stovepipe. These wall penetrations should only be
used when it 1s necessary to penetrate a chimney which is immediately in
back of a combustible wall. Stovepipe should never be used to penetrate a
ceiling. À stovepipe may never pass through a ceilina, closet, or concealed
area; for these areas a listed factory-made chimnev is required. Once the
stovepipe connects to a chimney, it must remain a chimney from that point HLL LINER
on. No further use of stovenipe 1s allowed.
VENTILATED ow =
METAL IMIMBLL A) FIRECLAY ) JR
FILIAL
VEN] ПМЕ
HOLL S
37 MINIMUNN
- TO BOTTOM OF
a Herne : THE CR
MASONRY THIMELE
STOVE PIPE TO CHIMNEY
The smoke pipe should be airtight in order to avoid malfunction and be
installed according to Figures 4,5,6,7.
1. Stove pipe must be properly sealed to the stove. Flue sizes 5" 0D.
Material must be 24 GA blue steel or equivalent.
2. It should be straight and as short as possible.
3, The pipe must have 1" per foot rise properly secured by 3 equally
spaced sheet metal screws at each joint.
4. Stove cement or some other material that will not disintegrate should
be used to seal joints.
5. The smoke pipe may be attached to flue by filling the void with a mix-
ture of asbestos and water and should not be inserted more than 1".
Fig. 6
Fig. 7
RECOMMENDED SOLID FUEL
CAUTION: Proper operation requires the use of only pea size anthracite coal -
other fuels can cause excessive temperatures.
PEA sized premium grade anthracite coal is the recommended fuel for our
coal heaters.
oem grade anthracite 1s usually referred to as the type having approximately
o to 10% ash content, a fixed carbon content of approximately 86% to 88%, and
a 'volatile combustible matter percentage of approximately 4%. The best type
of anthracite would be one with a higher volatile combustible atter percentage
coupled with a reduction of ash content although maintaining at least an 86%
fixed carbon content.
The ash fusion point (the temperature at which "clinkers" are formed because
of coal ash being fused) of a high grade of anthracite will be in the area
of 2, 800°F to >, 000° F, and the BTU output should be approximately 13,500 to
14, 500 BTU's per pound.
If larger CHESTNUT or smaller BUCKWHEAT coal is used, a negative change in
stove performance can be expected. Chestnut size coal will give you a hotter
fire and a noticeable decrease in unattended burn time. (The faster your
coal burns, the more often you need to shake down ashes due to resultant
accelerated ash buildup.)
It is 4 normal misconception that larger size coal produces more heat as
compared to an equal volume of a smaller caliber coal. A load of chestnut
size coal will burn hotter only because there is more fuel being consumed
at a faster than normal rate. This is primarily due to the increased air
spaces or pockets that are created by the larger chunks of coal as they stack
up in the hopper of your stove and thus encouraging faster than normal air-
flow and combustion. The BTU output of a pound of chestnut size coal is the
same as a pound of pea sized coal of equal quality.
Using smaller BUCKWHEAT size coal will result in longer
times, a decrease in normal heat output
coal waste because of the smaller pieces of coal fa
of the grates.
Our coal stoves are resigned for effici
RECOMMENDED SOLID FUEL (con't)
be burned with logs of 14-18"
Never use gasoline, gasoline type lantern fuel, k
fluid or similar liquids to start or "freshen up"
Keep all such liquids well away fr
ent anthracite coal combustion.
in length and removal of the coal hopper.
erosene, charcoal lighter
a fire in this heater.
om the heater while it is in use,
RATING AND HEATING CAPACITY"
than normal burn
, and 1t will also increase raw
lling through the openings
Rating BTU/h Heating Capacity Cu. Ft.
MCK 508 Up to 38,000 Up to 14,100
MCK 512-612 Up to 44,400 Up to 13,200
MCK 516-616 Up to 60.000 Up to 17.600
Baronet 520 Up to 44,000 Up to 13,200
Baronet 720 Up to 60,000 Up to 17,600
Gotha 513 Up to 44,000 Up to 13,200
Gotha 713 Up to 40.000 Up to 17.600
* NOTE: THE HEATING CAPACITY OF aNY STOVE IS AFFECTED BY SUCH FACTORS AS:
1) FUEL - QUALITY OF WOOD OR CUAL BURNED IN
7 C0AL WOOD
ASH CONTENT MOISTURE CONTENT
VIOLATILE CONTFNT SEASONING OF 00D
ASH FUSION POINT APPROPRIATE STORAGE
SIZE OF INDIVIDUAL PIECES: OF CUAL
2) ARE A HEATED:
A) AIR INFILTRATION OF HOMIE
13) INDIVIDUAL HEAT DEMAND OF HOIlSE OR HEAT LOSS FACTURS
С) STOVE LOCATION AND INSTALLATION.
3) OPERATION OF STOVE:
A PROPER STOVE MAINTENANCE AND DAILY CARF
В; PROPERLY SET AND CONSISTENT CHINE' DRAFT,
1
CLEANING
Before putting your stove into use, wipe it off with a clean, soft, dry cloth.
As moisture and fingerprints will stain your appliance permanently, be very
meticulous while doing this. If any drops of moisture are on the stove when
you light it, be sure to wipe them off immediately. The blue wax applied
to the cooking surface and the clear plastic tape applied to chrome parts
of the stove should be completely removed prior to lighting your stove since
it is only applied at the factory to protect the stove during shipment.
NOTE: To protect the hopper from damage during shipment, blocks of wood were
wedged in the hopper and prevent adjustment to the hopper. Also, in the
models #502, #612 and #616 the blue vax protective coating should be removed
from the polished cast iron top. The tape used for glass protection and the
plastic covering on all chrome parts should be removed prior to firing.
LIGHTING YOUR STOVE
Open the front pyrex. door and place several nieces of crumpled newspaper along
the cradle area on top of the firegrates. Place some dry kindling wood (approx-
imately 4" long) over the newspaper. Add a small amount of coal by lightly
distributing it on top of the wood kindling. Then set the thermostatic control
dial on the righthand side of the stove on Position #5. Start the fire by
lighting the newspaper. When the newspaper begins to ignite, close the pyrex
door. After the kindling is burning well, add some additional wood kindling
with a shovel of coal into the hopper; then make sure the hopper door is
tightly shut. When the coal is burning, add additional coal a little at a
time. Also, it is very important that there are no pleces of coal or coal
particles in the closure area го that the hopper door is airtight.
After 20-30 minutes, reset the thermostatic control to the heating comfort
desired. Now with the coal on the grate burning brightly, fill the hopper
with coal, leaving at least one inch of space between the coal and the hopper
cover when closed.
NOTE: The pyrex glass door may be cleaned with a non-abrasive household
cleaner such as ammonia. The cleaner should only be applied when the glass
1s cool. Placing a moist cloth on the glass surface when it is hot could
cause permanent etching and clouding.
NOTE: Before lighting your fire, cover the inside of the pyrex door with
aluminum foil, This will keep the glass free of smoke build up while
starting the fire. After the coal fire is well established, remove the
foil for clear visability of the fire.
After using your stove for several weeks, the glass may develop a slight
white haze. In the morning when the fire has subsided and before shaking
down the ashes, open the pyrex door and cover the front stove opening with
aluminum foil allowing the glass door to cool for 20-30 minutes. When
the ylass is cool, you may then clean it while the stove is still in op-
eration.
UTE: You should never operate 1 stove with broken glass, replace it
immediately. For replacement glass contact your nearest authorized
Classic-Surdiac Dealer, or Classic Stove Works directly.
NOTE: Classic Stove Yorks stocks and sells both (glass cleaner and a
sllica jel substitute known as "/erust" capsules. If you have difficulty
In obtaining any of these materials locally, please contact our nearest
authorized De:ler or our New Britrin. Connecticut office for details and
Pricina,
BREAKING IN YOUR STOVE
Just like any other fine appliance constructed of high quality cast iron
alloys, the Surdiac stoves need to be gradually "broken in" prior to loading
the hopper fully and using the stove normally.
it is mandatory that five (5) consecutive small coal fires be built in the
stove prior to using it continuously 24 hours/day with the hopper fully loaded.
The Five "firings" referred to are successive small coal fires being built with
a complete cooling off of the stove after the fire dies down. It is not
ccceptable to build a small fii= and keep it goir. for 2-3 days on a low
stove setting. The stove must be cooled off completely after a firing in
order to properly heat treat or break in all the metal parts on the stove.
NOTE: You should never bring the stove from very cold temperatures into
your home and build a fire in it immediately. The stove should be allowed
to properly warm up to room temperature (50-609) before firing it up for
the first time.
10
ADJUSTING THE HOPPER
We suggest the use..of pea sized coal. With the use of the pea sized coal,
the hopper should be raised to the higher position (Fig. 8). For low heat
output in warm weather, the hopper should be lowered to the lowest position
(Fig. 9).
- ar 4
© pyr sme =
Hopper ——
a
#1
Ji
y
Fig. 9
When wood 1s burned in these Surdiacs the hopper must be removed.
ensily done by removiny the front cost iron liner (#1). The hopper is
lowered and tilted so it will come out of the stove through the front pyrex
door opening. The stove will now accept logs of 14 to 18" in length depending
on model.
This is
THERMOSTAT ADJUSTMENT
0-1 Mild temperature or for night time use.
1-2 Normal usage.
5-4 Cold weather usage.
2-6 High heat setting for a duration of NOT MORE THAN TWO HOURS. On any
of these high heat settings, the cover of the stove should be raised
to an upright position to prevent warping or damage: to the cast iron
parts of the stove. (After high heat setting usage, the stove MUST
be operated at a setting of less than 3 "or 24 hours prior to next
high heat usage.)
IMPORTANT
The thermostat has been regulated in the factory and is not to be adjusted
except by a qualified mechanic. A prolonged overheating of the stove can
damage both the stove and the thermostat. Treat your stove carefully as
with any other fine appliance. Do not force the thermostat dial, Turn it
only as far as it will naturally go. When the stove is hot, the dial will
not go back to a setting of zero.
KEEPING THE FIRE BURNING
Be sure that all Lhe doors on the appliance are tightly shut, including the
ash pan door and the coal hopper door to insure that the stove is completely
airtight.
Never leave any of these doors open while operating your appliance. This
could cause overheating and damage your appliance.
The chamber which holds the ash pan should be kept reasonably clean to allow
the ash pan to be pushed in as far as. possible so as not to impede the closing
of the ash pan door.
To keep the fire burning, ashes should be shaken down into the ash pan using
the poker provided with the appliance. Ashes can be shaken down once every
6 hours on high settings; on warmer days or when the stove is set on the lower
settings, shaking is necessary only every 12 hours. |
NOTE: Continuous frequent shakedowns such as every 1, 2 ог 3 hours will cause
damage to the stove - this must be avoided.
Depending on the model of the stove, there are 2 or 3 openings above the ash
door where the poker must be inserted in order to shake down the ashes (Fig.
10). When you introduce the poker into each opening, use a stabbing motion
several times moving to the right, to the left, and to the back and front of
the firegrate. Do not employ a side-to-side swaying motion when shaking the
stove down. This procedure will result in coal and ash build-up along the
edges of the fire basket.
Fig. 10
NOTE : LL 158 important ЕВ add sn 15 remveÜ rom the rate aren with par-
ticular attention ta the a.rk side oF Lhe homer arca. [f the ashes are not
thoroughly removed, less 3, we alt ve Vallas le 107 coul combust ion result ing
tn less heat,
"UNC: after extended use 591 Lia: КОР, tE 111 econ Shorter From enr wakin
WE nee RÉ ICUlE Lo romane ash irc che nae of Lhe Cretan. Inspect the
coker cently aki SUES E so Treo $
| NE AU daa meri Lena ina luding
Andie.
ALLE TIL ETRE BURNING (con't)
PAR TAN
Aller removing Lhe poker (tom ench opening, be sure that the closure on the
inside al the apentm; is in Closed position so that it does not permit a
draft uf mir to enter the firebox aren - this would interfere with the oper-
stion of the thermostat. A brass hook tool is provided with the stove for
the purpose of removing ash or pieces of coal.
To renuve the ashes, open the lower front panel on the stove. Use the cast
iron tool provided to open the ash pan door. The closure is located to the
left of the ash pan door. Remove the ash pan with the same tool nrovided
with the appliance.
Ashes should be placed in a metal container with a tight fitting lid. The
closed container of ashes should be placed on a non-combustible floor or
outdoors well away from all combustible materials. If the ashes are dis-
posed of by burial in soil or otherwise locally dispersed, they should be
thoroughly cooled.
DO NOT LET ASHES ACCUMULATE IN THE ASH PAN
A yood rule of thumb is to empty the ash pan every time the ashes are shaken
down. If ashes accumulate in the ash pan, this will clog the hopper grates
and impede the air flow to the firebed. This will cause premature deterior-
ation of cast iron grates.
On the coldest day of winter if the thermostat is on a higher setting, the
ash pan may need to be emptied one extra time in the middle of the day.
Everytime ashes are shaken down and the ash pan is emptied, new fresh coal
must be ndded into the hopper reservoir to assure and maintain normal stave
operation.
CHIMNEY % VENT CLEANING
IMPORTANT: =
A clean chimney is paramount to the safe operation of your stove.
should be inspected and cleaned at least once a year f
keep your appliance in good working order, it is neces
lation to a minimum.
Your chimney
or safe operation. To
sary to keep soot accumu-
Depending on the model, there are duct openings on the rear h
your stove which may be removed occasionally to
(Model #508 does not have a cleanout duct and cleanout is accomplished through
the 5" rear flue outlet). This can impede the draft and hamper operation of the
stove. Any duct closures should be replaced with care to be sure that they are
perfectly sealed (see Fig. 11).
eat exchanger of
inspect for soot accumulation
Your appliance must be installed in such a way that the movement of the draft
control in the rear of the stove must not be impeded or obstructed in any way.
It must be able to open and close easily with a turn of the dial.
A. Horizontal ducts
8. Position of thermostat bulbs
C. Clean out plugs
Fig. 11
CARE
Do not -clean the appliance until it has completely cooled down. Avoid
harsh chemical cleaners or abrasives,
The pyrex panes on the front door of the stove can be cleaned only when the
stove is completely cold. The manufacturer suggests a water-vinegar solution."
WHEN THE STOVE IS NOT IN USE: Remove carefully all coal ashes and soot.
Cover chromed surfaces with a thin coat of pure vaseline. Place 3 cloth bag
inside of stove containing a dehydrating substance such a silica-gel, which
absorbs mositure while the stove is not in use. Silica-gel may be purchased,
in most drugstores. -
TO EMPTY STOVE APPLIANCE COMPLETELY: Lift and pull to the right the stem of
the qrate which protrudes from the lower right-hand side of the appliance,
using the door opening tool provided. This opens the grate and allows all
the coal and ashes to fall into the ash pan. For the Model #508, this stem
is located in the lower front of the appliance. This opens the grate and
allows all the coal and ashes to fall into the ash pan.
During the summer months or when the stove is idle for a long time, the cable
from the dial to the thermostatic control should be lubricated with a small
amount of oil.
CAUTION: DO NOT CLEAN WHILE HOT
NOTE: Periodically you should inspect the gasketing materials on all three
doors: The Top Loading Door, The Ash Pan Door and The Front Pyrex Door. With
extended time and usage the yasketing can wear and should be replaced to
Insure sale, controlled burning in your stove.
NUTE: Classic Stove Yorks stocks and sells both glass cleaner and a silica
gel substitute known as "Zerust" capsules. If you have difficulty in obtaining
ппу of these materinls locally, please contact vur nenrest authorized Dealer
ur our New Oritnin, Connecticut office far details and pricing.
10.
11.
12.
13.
14.
15.
16.
17.
DRAFT FACTORS
Poorly assembled pipe connections running from the stove itself to flue
connection. >=' |
Chimney is not insulated properly - needed to maintain correct stack
temperature (cooling off and losing negative pressure).
Leaks in the chimney system,
Improper chimney dimension, stack easily cooled.
Chimney flue not straight - starts at one point then angles off,
Chimney not tile lined, may result in cooling and leaks.
Poor masonry work on lining of chimney - excessive mortar and leaks.
Fireplace connection where the pipe running from the stove to the fire-
place flue improperly installed. |
Pipe connection forced against smoke shelf.
Pipe connection into regular chimney flue not properly installed.
a. Forced in too far.
b. Not sealed properly.
Where chimney system connected te oil burner flue - furnace goes on
causing excessive draft or disrupts the continuity of combustion.
Fireplace clean-out door opened - causing draft interference.
Insufficient chimney height.
Trees around chimney or location of home - making it susceptible to
down drafts.
Materials and construction of a makeshift chimney,
Chimney obstructions.
Outside temperatures too warm, creatine poor draft.