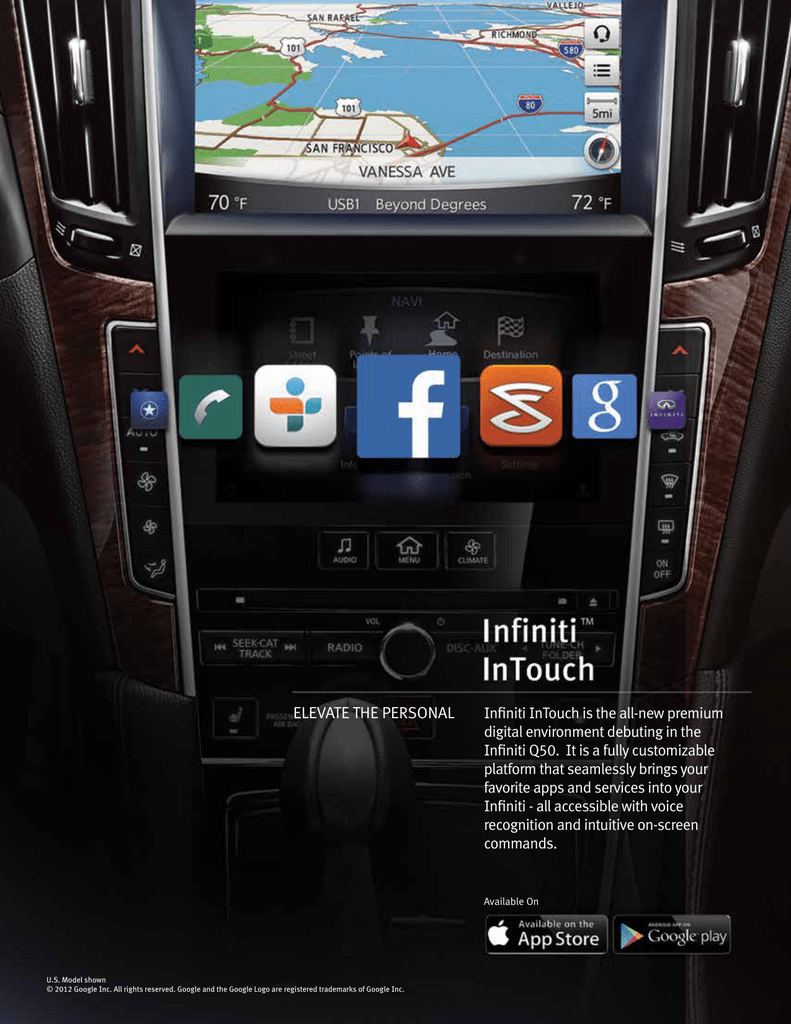 ELEVATE THE PERSONAL
Infiniti InTouch is the all-new premium
digital environment debuting in the
Infiniti Q50. It is a fully customizable
platform that seamlessly brings your
favorite apps and services into your
Infiniti - all accessible with voice
recognition and intuitive on-screen
commands.
Available On
U.S. Model shown
© 2012 Google Inc. All rights reserved. Google and the Google Logo are registered trademarks of Google Inc.
InTouch Apps
Infiniti InTouch Apps give you a world of connection every time you
get in your vehicle. Facebook, Google, and more are all accessible at
your fingertips or via voice command.
1. DOWNLOAD APP
Download the "Infiniti InTouch" app to your Android device from the Google Play store or to
your iPhone from the Apple App Store.
2. CONNECT YOUR PHONE TO YOUR INFINITI Q50
For Android, please connect your phone using Bluetooth. For iPhone, please connect your
phone via the Apple USB cable into the USB port located in the console of your vehicle.
For a list of compatible phones and pairing instructions, please visit Infiniti.ca/Bluetooth
3. ENROLL WITH INFINITI INTOUCH
To enroll from Infiniti InTouch app, open app and select "Sign In" if you already have a
Canada.InfinitiInTouch.com account. Otherwise, select "Create Account".
To enroll from a computer, log in to Canada.InfinitiInTouch.com and "Login" if already have
an account. Otherwise, click "Register". You can manage your apps online, but will still need
to download the Infiniti InTouch companion app to your smartphone for full functionality.
4. ADD YOUR INFINITI Q50
From Infiniti InTouch app, select "Add Vehicle", respond to prompt asking if you are the
owner, and then input the Vehicle Identification Number (VIN) of vehicle along with a
Nickname
From computer, click "Add Vehicle" and input the Vehicle Identification Number (VIN) of
vehicle along with a Nickname. Then click the "Access my Infiniti InTouch Apps" link.
NEED HELP?
Contact Infiniti Owner Services
infinitiownerservices@infiniti.com
1-855-444-7244
Mon-Sat 8am-Midnight EST
For a complete list of compatible phones
and Bluetooth pairing instructions
please visit
Infiniti.ca/Bluetooth
For more information, video
demonstrations, FAQ's and
enrollment assistance, please visit
Infiniti.ca/InfinitiInTouch
5. LINK APP PROVIDER ACCOUNTS
Go to the "Manage My Apps" page and select the apps you wish to activate in your vehicle.
Some apps require you to have the app downloaded and installed onto the smartphone,
while some require you to enter your credentials to log in.
6. START ENJOYING INFINITI INTOUCH APPS
Your apps will appear in your Infiniti Q50's App Garage only when your phone is connected
to the vehicle and the internet. Apps can be updated by selecting "Vehicle Apps Manager"
and then selecting "New Releases".
If you wish to turn any apps off, please use the "Manage My Apps" feature within the Infiniti
InTouch mobile app to deactivate apps in the vehicle.
Driving is serious business. Only use Infiniti InTouch Apps™ services when safe to do so. Subscription Agreement required. Compatible smartphone
required. Late availability. May require dealer service visit or software upgrade to activate. Not all app features are available for all models– check
Infiniti.ca/Infiniti InTouch for details. Like any computer, processing speed may vary and system response delay or system reset may occur
intermittently. Never program while driving. GPS mapping may not be detailed in all areas or reflect current road regulations. Cellular network not
available in all areas. Cellular network, apps, and services, including Google Services, are provided by independent companies not within Infiniti's
control. Independent companies providing service may terminate or restrict service without notice or liability to Infiniti and/or its agents. Infiniti
is not responsible for any equipment or app replacement/upgrades, or associated costs that may be required for continued operation. Terms and
conditions of Subscription Agreement apply. 48 mo. trial period starts on vehicle sale date; subsequently a paid subscription is required at the then
current rate. See retailer for details. Standard text rates and/or data usage may apply.
© 2012 Google Inc. All rights reserved. Google and the Google Logo are registered trademarks of Google Inc.
Infiniti Connection™
A network of services seamlessly integrated to enhance your life and well-being –
complimentary with your first year of ownership.
Respond, engage and stay fully connected. Some features respond automatically, such
as Automatic Collision Notification, which activates in the event of an emergency. Others,
including Infiniti Personal Assistant™ , respond to you via voice command.
Access Infiniti Personal Assistant, Roadside Assistance, Vehicle Alerts, Remote Lock and
Unlock and more through your Infiniti Connection Web Portal, or Infiniti Connection App.
CONNECT YOUR LIFE AND YOUR VEHICLE BY DOWNLOADING TODAY.
FOR A FULL LIST OF
INFINITI CONNECTION & INFINITI CONNECTION PLUS FEATURES
PLEASE VISIT
Infiniti.ca/Connection
We took care of the engineering—all you have to do is enroll. Activating your Infiniti Connection
system is a very simple process, and can be done through the Infiniti Connection app, or on your
personal computer at home.
·
Access the Infiniti Connection Portal at Canada.InfinitiConnection.com
·
Select Register and enter your information.
·
Click Add Vehicle to add your Infiniti Connection-equipped vehicle with your VIN.
·
Click the Access My Infiniti link. Select Enroll Now on the new screen.
·
Enter required information on the Primary Subscriber tab.
·
Select complimentary trial or a package that best suits you.
·
Read and accept the Infiniti Connection Terms and Conditions and click Enroll Now.
·
C
ongratulations, your enrollment is now complete. Hit the SOS button in your vehicle to experience
the service today.
Avoid operating Infiniti Connection services in a way that you are distracted while driving. Initial 12 months, beginning on your date of purchase, included complimentary.
Infiniti Connection subscription service requires owner consent to activate. Subsequently, your credit card (if on file) will be charged at the then current subscription rate and
your service will continue for 1-year periods under the terms of your Subscription Agreement, unless cancelled. Terms and conditions of Subscription Agreement apply. See
dealer for details. Never program while driving. GPS mapping may not be detailed in all areas or reflect current road regulations. Infiniti Connection™ requires compatible
2G GSM/GPRS cellular network provided by independent cellular companies. In areas with 2G network coverage, signal strength may vary and / or may not be available at all
times. Cellular technology is evolving, and changes to cellular networks provided by independent companies are not within Infiniti's control. Like other devices that rely on
2G network coverage, once the 2G network is terminated, Infiniti Connection will not function unless equipment replacements, upgrades, or alternative 2G network coverage
are available at that time, which Infiniti cannot guarantee. Infiniti not responsible for associated costs that may be required for continued Infiniti Connection operation due
to cellular network termination (including equipment upgrades, if available, or roaming charges on alternative networks). Standard text rates and/or data usage may apply to
Infiniti Connection communications received by email or SMS/text message.
SiriusXM services are active in your vehicle, ready to enjoy.
Go to siriusxm.ca for packages and pricing.
COMMERCIAL-FREE MUSIC
Commercial-free music from every genre, artist-dedicated
channels, exclusive live performances.
EXCLUSIVE ENTERTAINMENT
The biggest personalities, politics, lifestyle, family, comedy.
EVERY MAJOR SPORT
League dedicated talk channels, all kinds of sports talk, live
sports play-by-play.
WORLD CLASS NEWS
Financial news, public radio.
SIRIUSXM TRAFFIC
Nationwide coverage, alerts on major accidents, construction
and detours, 24/7 information via satellite, color-coded roads
showing traffic speed.
SIRIUSXM INTERNET RADIO
Listen wherever you go on your computer, smartphone or tablet.
SiriusXM™ Satellite Radio is available in the 10 Canadian provinces and the 48 contiguous United States. Basic monthly
subscription required and sold separately after trial period. NavTraffic® is available in select North American markets. In Canada,
at time of printing, incident and flow data is available for 7 metropolitan areas of Canada (Vancouver, Calgary, Edmonton, Toronto,
Ottawa, Montreal and Quebec City). Limited flow data is available for Toronto. Subscription sold separately after trial period.
Subscription subject to customer agreement at siriusxm.ca. All fees and programming subject to change. © 2013 Sirius XM
Canada Inc. The Sirius and XM names, NavTraffic and all related marks and logos are registered trademarks of Sirius XM Radio
Inc. All other trademarks and channel names are property of their respective owners.