RCU Review: World Models Clipped Wing Cub - 1/3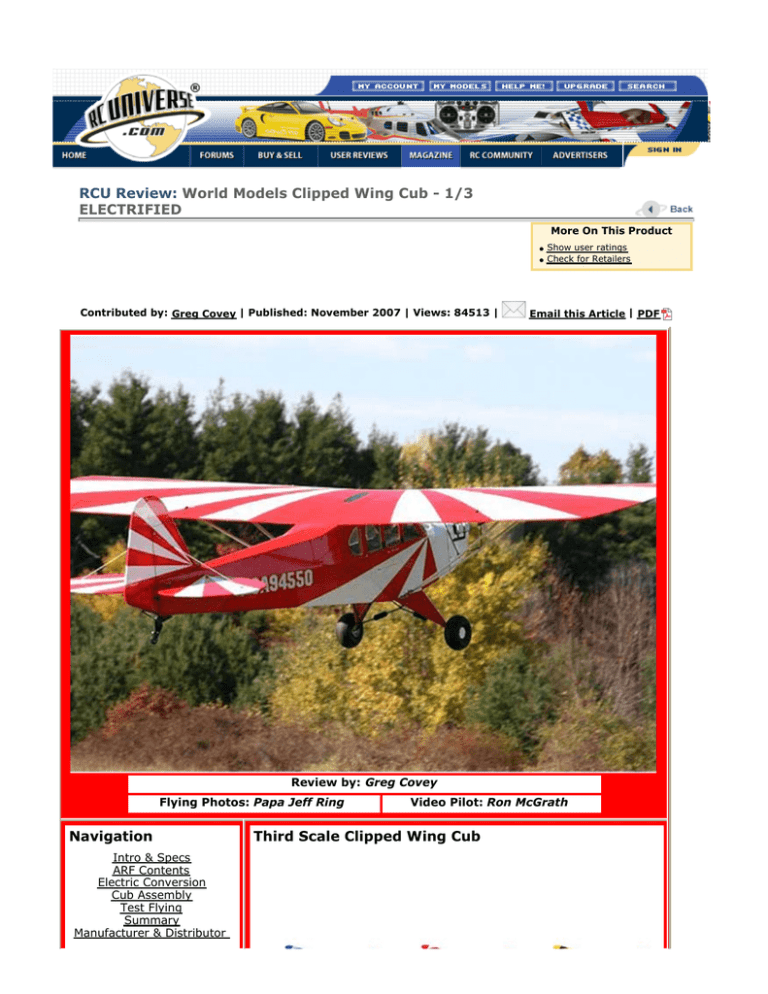 RCU Review:
World Models Clipped Wing Cub - 1/3
ELECTRIFIED
More On This Product
Show user ratings
Check for Retailers
Contributed by: Greg Covey | Published: November 2007 | Views: 84513 | Email this Article | PDF
Review by:
Greg Covey
Flying Photos: Papa Jeff Ring Video Pilot: Ron McGrath
Third Scale Clipped Wing Cub Navigation
Intro & Specs
ARF Contents
Electric Conversion
Cub Assembly
Test Flying
Summary
Manufacturer & Distributor
Info
Dealer Info
1/3 CLIPPED WING CUB
Distributed exclusively by:
Airborne Models
2403 Research Drive,
Livermore, CA 94550
925-371-0922 www.airborne-models.com
Hits
Complete Kit with hardware
Great ARF value and looks
Superb Covering &
Flying Performance
Misses
Supplied Wheels Leak Air
The World Models has created the first third scale clipped wing Cub
ARF. It comes in three different star burst color schemes and is an aerobatic version of their classic yellow Piper J-3 Cub. The clipped wing Cub and spare parts are available from Airborne Models.
My review will use new products for an electric conversion that delivers 6000 watts of power with a safe spark-free enabling feature.
Specifications:
Wing Span: 120 in / 3050 mm
Wing Area: 2402 sq in / 155 sq dm
Flying Weight: 27.5 lbs / 12500 g
Fuselage Length: 91.5 in / 2330 mm
Engine Required: 80cc gasoline engine
Radio Required: 4-channel radio w/ 6 servos
Key Features:
Top quality balsa and plywood construction
Covered with hand iron-on World Models' ToughLon coverings
Pre-painted fiberglass cowling
Detachable main wing using dual aileron servos
Comes with all hardware and accessories
ARF Contents :
The 1/3 scale Clipped Wing Cub arrived via Greyhound Transport Services. My initial inspection showed no damage and I found all the hinges to be pre-installed. The covering was beautiful! As you can see from the yard stick next to the horizontal stabilizer, my initial thought was that this model may need to be built in the garage.
The ARF includes a manual, finishing decals, plastic manifolds, and a painted pilot with mounting deck and hardware.
I unwrapped most of the parts for easier viewing. The pre-painted fiberglass cowl is fully protected in shipping and the transparent dummy cowling can be used to aid in cutting holes for engine and exhaust pipe protrusions. For my electric conversion, I will be adding several air flow holes for cooling.
Two wing rods are used to connect the wing halves through the fuselage. I liked the pre-assembled tailwheel which had built-in shock absorption. As usual, the little hardware packets are all numbered to match the diagrams in the manual. This makes it real easy to find the right set of hardware for each step of assembly. A nice touch by World Models!
A closer look at the fuselage reveals quality construction and excellent lightening techniques. The right side of the fuselage has a double door that opens half up and half down. The fuselage nose and cowl measure 7-3/4" wide and 9" high.
Electric Conversion:
The motor in my electric conversion review is the new XTRM 7050/06 from Hang-It R/C. At only $335, this cutting edge power comes at a cutting edge price!
The XTRM 7050/06 is a 176 KV Brushless Outrunner with a current capacity of 150 amps continuous and up to 240 amps at 30 second bursts. It is meant for aerobatic and 3D models weighing 25-50 lbs.
It offers a maximum efficiency of 90%, a no load current @ 10vdc of 2.8 amps, and, an internal resistance of 15 Mohms. This outrunner has a 10mm shaft and is designed to run on 10-15 LiPo cells.
A 30x12 prop on 10 cells for large scale models or a 28x10 on 12 cells is great for extreme aerobatic flying. The price includes a bolt on prop adapter. The motor weighs in at 3.7 pounds.
My favorite part of many glow to electric conversions is the motor mounting scheme. With this new motor, I could not find a mount large enough to work properly so I made my usual trip to Home Depot for a look around.
I decided to create a galvanized steel box using two inexpensive 4x4 post caps. The Simpson BC40Z
4x4 CAP Strong-Ties cost only $3.12 at Home Depot. Each 4x4 CAP weighs 5.6oz. I also needed a small block of 3/4" hard wood to extend the motor further and also allow easier drilling of the 1" hole used to clear the motor shaft collar.
The motor mounting holes are 5cm apart across the diameter and 3.5cm to each adjacent hole. The threaded mounting holes are 6mm. I used the following hardware items to assemble my box and mount the motor.
2 - BC40Z 4x4 CAP Simpson
Strong-Ties
4 - 6mm x 30mm Cap Screw
Sockets
4 - 1/4" x 1-1/2" Cap Screw
Sockets
4 - 1/4" T-Nuts
8pcs - #10-32 x 3/8" Slotted screws and nuts
The second 4x4 CAP was screwed to the firewall using shorter 1/2" 1/4-20 socket heads screws into the t-nuts. To help hold it secure, I added plenty of Pacer Z-42 Thread Locker to the screw threads before tightening them down hard. The motor was then easily mounted to the firewall using eight
#10-32 x 3/8" slotted screws and nuts; 4 per side.
Due to the high current of this power system, I will connect each of the three motor wires to the ESC using a whole Dean's Ultra connector (or both pins) per wire.
The cowl opening was enlarged a bit using a Dremel sander to allow the massive prop adapter to protrude without rubbing. The cowl was then mounted using the supplied rubber grommets and screws in the kit.
I used a PE26015E APC 26x15 e-prop from Hobby Lobby. For a size comparison, I put it next to a tiny
U80 prop.
My motor installation was clean and solid. If there are any signs of side-to-side weakness, I can easily press a 2x4 wood piece in the middle of the mount and secure it with screws. I may also add a
TruTurn TTH-1500-B-CUB hub to the nose for an added scale look.
Jeti SPIN Controller:
My 6000 watt power system will make use of the new Jeti SPIN200
Opto 200-amp controller from Hobby
Lobby.
When high voltage battery packs are required for your aircraft it is necessary to use an "Opto" controller. Opto controllers do not have a BEC (battery eliminator circuit) to power your radio receiver and servos. A separate power supply is required like either a 4.8v - 6v standard receiver battery or a
UBEC (KFS001 - KFS003). A UBEC is a device that regulates high voltage from your flight batteries and supplies power at a voltage suitable to run your receiver and servos. SPIN Opto controllers are programmed either with your transmitter or with the "SPIN BOX", just like the regular SPIN controllers.
The SPIN Opto controllers have a dedicated programming plug that simplifies program setup and data retrieval.
The Jeti SPIN200 ESC costs about $550. and weighs 270 grams (9-1/2 oz.). It can handle a 24-40 cell
NiMH/NiCd pack or a 6-14 cell LiPo pack. The SPIN200 uses two sets of 4mm power input cables (2 for positive and 2 for negative) and has 4mm output cables to the motor. Due to the high voltage supply, the SPIN200 has an ancillary circuit that prevents sparking when the controller is being connected to the flight batteries. The negative poles of the flight pack must be plugged to the two 4mm black wires first, then the thin (1.5mm) red wire must be plugged into the positive side of the flight pack. Only then can the two 4mm red wires be plugged into the flight pack. The controller has two
2-1/2"x2-1/2"x3/16" heat sinks and four standoff mounts to allow free airflow around all sides of the unit.
Jeti SPIN BOX Programming Control not only programs your SPIN controller, it is also a powerful testing tool!
When the SPIN BOX is connected to a Jeti SPIN controller, it allows you to custom program your SPIN controller and provides a readout screen for the data that is stored in the SPIN controller after a flight. It is simple and intuitive to use. You will not need to drag a huge set of instructions or a computer to the flying field with you.
When the Jeti SPIN Box is not connected to a Jeti SPIN Controller, it can be used by itself as a powerful testing tool:
Measure receiver channel output pulse widths.
Measure servo transfer speeds, either unloaded or in actual use in the aircraft.
Servo pulse generator, center your servos without receiver and transmitter.
Servo-cycler, check the function of your servos, from 10 to 990 cycles.
Simple controller setup allows you to select the type of aircraft from the menu on the "SPIN BOX", and timing, brake, etc., will be set automatically.
Advanced controller setup gives you the complete freedom to program the following:
Timing: 0 to 30 degrees in 1 degree steps for any brushless motor type.
Acceleration: for how quickly the motor reaches full power.
Braking: can be set Off or On with selection of hardness.
Helicopter constant RPM: can be set for minimum and maximum rotor head RPM and how quickly the controller reacts to changes in RPM under load.
Battery type: and number of cells can be picked as well as the per cell cutoff voltage. Choose either Hard or Soft slow down at cutoff voltage.
Motor rotation: can be reversed from the controller. which is great for motor systems where access to the motor/speed controller is difficult.
The SPIN BOX data logging feature means that you will never need to bench test again! After a flight, just plug the SPIN Controller into the SPIN Box and read out the following in-flight data:
Maximum and Minimum temperature of controller during operation and the time it occurred.
Maximum and Minimum current at full throttle, the time this occurred and the voltage of the flight batteries at that time. A huge help in selecting the ideal propeller for your airplane.
Cut-off voltage and the time that this occurred.
Motor run time measured from the first revolution.
Maximum Motor RPM is recorded and the time it occurred.
Errors where control parameters have been exceeded are recorded; this is a big help in determining the causes of motor cut-offs.
Mounting the SPIN Controller:
The Jeti SPIN200 ESC comes with large bullet connectors and mates for the motor. It also comes with standoffs and screws for easy mounting to the firewall. The SPINbox comes with a special servo connector for stand-alone testing with a receiver output.
I prepared the ESC with the bullet connectors and a single Dean's Ultra connector on the plus and minus wires. I also replaced the Dean's Ultra connectors on the motor with the bullet connector mates.
The ESC mounted easily to the firewall. Holes were drilled in the firewall to run the wires into the fuselage. I plan to cut holes in the cowl to force air over the motor and down across the ESC before exiting. The third spark eliminator wire was extended and run into the fuselage. It will be connected to an On/Off switch before enabling the main 14s 10AH pack.
Spark-free ESC Arming:
When I cannot find a product I need for electric flight, or the product is more expensive than expected, I often go outside the R/C industry to look for what I need to get the job done. My inexpensive motor mount using 4x4 CAP ties is an example of this situation.
Another situation like this arose with enabling a 200amp power system. I had a motor and controller that can draw up to 200 amps but no product to help me properly arm the system. I discovered that
Battery Disconnect Switches were a common product in motorcycle racing, RVs, and campers.
This 100amp to 500amp "Little Switch" from Flaming River Industries is available in a simple switch-only form for $20 or with mounting plate, hardware, and rubber seals for $28. I purchased mine from a known good source like Summit Racing Equipment.
For my application, the mounting plate was not needed. The rubber cover is really meant to keep the switch clean in racing environments where oil, fuel, or dirt can more easily come in contact with the switch. To keep the switch from protruding too far, I made a thick washer from the foam flooring I used to line my trailer floor. These flooring pieces can be purchased at most home improvement stores and cut easily with a razor knife.
The heavy duty toggle switch from Radio Shack was not really needed, but at the time, I had no specs for the anti-spark line requirements. It is possible to use a standard receiver On/Off slide switch as there is only a slow charge through a 100 ohm resistor in the Jeti controller.
The procedure to arm my power system is to first throw the anti-spark toggle switch and a few seconds later insert the removable key and turn it to arm the system. This also locks the key in place for the flight. I plan to use a separate 2-cell Lithium pack and regulator to power the receiver and servos.
I made a power distribution diagram for my combination of 5AH Lithium packs that will make up the
14s 10AH total battery supply. The distribution board will be wired from #12 wires and Dean's Ultra connectors.
Final Wiring:
My beefed up series/parallel connector will allow me to connect 3 pairs of 5AH packs in series for my
14s 10AH supply. I mounted it to a plywood former in the Cub after gluing a corner piece in with epoxy for added support.
The Spektrum AR7000 receiver mounted cleanly. I am using an FMA Power Force Regulator for a 6v supply at 10amps for the servos and receiver. It will be fed by a FlightPower 2-cell 7.4v 3000mAh EVO-RX
EVO-RX LiPo pack
Cub Assembly:
After sizing up the 1/3 scale Cub, I decided that I could assemble it in my back Family Room where it could stay in various stages of assembly without being in the way. The horizontal and vertical stabilizers come already prepared to install. All you need to do is cut away the covering from the fuselage tail and remove the two hardwood pieces used to support it during manufacturing and shipping.
I first test fit the stabilizers without using any glue. They fit perfectly and I discovered that the vertical stabilizer is locked in place much like a puzzle piece. After gluing the horizontal stabilizer with
5-minute epoxy, I decided to glue the vertical stabilizer with Aileen's Tacky White Craft glue. Note that the white lines along the stabilizer and fuselage joint will turn clear when the glue dries. The white glue makes for a cleaner looking joint when you have the time to let it dry overnight.
The wing halves were temporarily installed to check the fit as well as the incidence with the stabilizers.
Everything fit great and aligned properly without the need for any changes. The wings use two aluminum bars that push through the fuselage top.
The gear mains installed without issue. The wheels are held by two collars which end up hidden for a clean look. The tires can be inflated using a normal air pump stem. The metal bars for the wing struts are also installed at this time. They are held secure by one machine screw into a t-nut and one wood screw into the plywood.
The tailwheel assembly has a built-in spring to absorb shock on landings. I found that the flat spot on the shaft was a bit off center so I corrected it with a Dremel tool sanding disk.
My 36" long servo extensions for the two elevator servos and rudder servo were first tied with Fireline
(carbon fishing line) and then shrink wrapped to keep them secure.
The supplied threaded control rods, clevises, control horns, and hardware all seemed to install easily and fit well. I used HD servo arms on my digital servos in the tail. The two elevator servos were Hitec
HS-5645MG and the rudder servo was a Spectrum DS821 Digital Sport Servo. These were servos that
I had on hand but you could use any good high torque digital servo. The clevis is held to the servo arm with a supplied machine screw and nylock nut.
Windows:
The windows installed easily using BOND 527 Multi-Purpose Cement from my local hobby shop. The windshield is held in place using the four supplied screws and rubber spacers to protect it from cracking.
The pilot comes pre-painted but I added a mustache. The pilot mount comes pre-cut as does the black balsa base.
The Dubro wheels are solid and can be drilled to the needed
1/4" axle diameter.
Wheels:
I had difficulty keeping air in the inflatable tires from World Models.
I suspected that I may have had a bad set so Airborne Models was nice enough to send me a second set. Unfortunately, these tires also had problems holding air so I set them aside and replaced them with Dubro (500TL) 5" Treaded Lightweight Wheels.
Scale Cub Wheels:
I then discovered that Dubro makes Cub Wheels in 1/5, 1/4, and
1/3 scale sizes. The 1/3 size wheel mounts right on the 1/4" diameter gear rod. Instead of using the supplied yellow Cub Hub
Caps that came with the Dubro wheels, I cut the hubs from the
World Models kit down to size for a better color match.
Trailer Test Fit:
Aileron Linkage:
The aileron linkage installed as easy as the tail linkage. The control horn hole is marked by a pinhole in the aileron covering. I used JR
DS8611 Ultra Torque digital servos which will help me perform aerobatics with the clipped wing design of the Cub. I replaced the stock servo arm with Dubro (#671) Super Strength Long servo arms.
Struts:
The wing struts installed without issue and all the hardware was supplied. Each wing half contains 4 pre-installed t-nuts to receive the screws that hold the strut. The t-nut positions are marked by pinholes in the covering so they are easy to find.
With the landing gear installed, the Cub could now be wheeled around. I decided to test the fit in my trailer and bring it to a local R/C show. The wings press on easily to the two aluminum bars and the
Clipped Wing Cub covering scheme really looks great!
Tail Brace:
The large tail is braced on all 4 quadrants. The kit includes all the hardware needed and the tail is pre-drilled with metal sleeves in place. To help find the covered holes, I positioned a flashlight on the opposite side before cutting the holes open with a razor knife.
Wing Assembly:
The wing halves are mounted using two aluminum tubes. One side is secured with removable machine screws and the other side with more permanent sheet metal screws. The holes in the wing and in the tubes are pre-drilled and tapped for the machine screws. Optionally, you can use machine screws on both ends, if you desire.
I replaced the hardware that secures the struts with a 3/8" Hitch Pin Clip from Home Depot. Holes were drilled in some brass screws to secure the strut and retain the clip. The clips are easily removable and make for a quick setup in the field.
Cowl and Cooling:
I painted the manifold caps and added some air cooling for the motor and ESC. The manifolds and valve covers were painted black and silver and then glued to the cowl with Pacer Poly-Zap. The areas that were glued were first roughed a bit with sandpaper. I added an opening in the front for cooling air flow to enter and a larger rectangular opening for the air to exit the bottom of the cowl. To help direct the air flow, a 1/4" wide flap was bent toward the outside.
Lithium Battery Setup:
When the Cub is "loaded with Lithium", the motor is powered by FlightPower EVO25 5000mAh Lipo packs. The 25C continuous packs can deliver 250amps continuous in my paralleled 10AH configuration so I won't be stressing them with my planned 200amp maximum burst setup.
The 2-cell 3000mAh EVO-RX pack is a safe independent supply for my receivers and servos. The 20C,
7.4v pack can deliver 60amps continuous to the FMA Power Force Regulator. The clean linear regulator output provides 6v at up to 10amps continuous. This supply to the digital servos is more than what is needed so there will be no load lag on the control surfaces. Note that the dual wire and connector set from the EVO-RX pack allows it to provide more burst current to the servos when needed. I plan to replace the dual connectors with a single Dean's Ultra connector to mate with the Power Force
Regulator.
Ground Testing:
I decided to ground test everything in my backyard and check the CG before taking the Cub to the flying field. The CG is suppose to be about 6" behind the leading edge measured at where the wing meets the fuselage. I marked the underside of the wing tips so that two people could lift the Cub at the appropriate balance point. My Cub was a bit nose heavy which will be fine for the initial flight. I measured 87.5 amps on one of the paralleled packs which means my current flow is 175 amps near full throttle. This provides 175amps * 14 cells * 3.4v per cell =8300 watts or 11h.p. which is 2300 watts over my target 6000 watts.
I needed to either reduce my prop size or cell count to approach my goal. Either way, the XTRM
7050/06 from Hang-It R/C has tremendous power!
My friend, Paul Weigand, made a spinner hub similar to the TruTurn TTH-1500-B-CUB. It really gives the nose an added scale look. We made a short video showing the power test and some taxi turns in my backyard. Cub Testing Video (2meg)
Ready-To-Fly!
Our "Chamber of Commerce" day finally arrived on the first weekend in November. A plane this size requires a team to help assemble as well as document the results through photos and video. My pilot for the test flight was Ron McGrath, the father of Team JR's Devin McGrath. Ron has several decades of flying experience.
We had to drop the cell count down to 12s in order to obtain a reasonable power output level. I measured 156 amps which provided a full throttle power level of 6700 watts. This was much more power than needed and everything was well within specification.
The Dubro Cub wheels looked great and all the control surfaces were checked out. We range checked the Spectrum receiver using the convenient button on the back of the transmitter while walking several hundred feet away.
I discussed the flight plan with Ron and we were ready to go...
Test Flying
The Cub took off with only 1/3 throttle and the tail lifted without any elevator offset. No trimming was needed so we flew it around for a while to test the maneuverability. It was very stabile in flight right from the take-off.
The Cub had much more power than needed so most of the 12 minute flight was under 1/3 throttle.
It could loop and roll without issue. Our rolls (in the video) used rudder compensation but did not have any differential set up. The 10AH 12s battery pack was only 50% discharged upon landing.
1/4 Scale J3 Cub ARF
Summary
Clipped Wing Cub Maiden Flight
CLICK HERE (18meg)
The Cub landed gently with and without power applied. In the maiden flight video, we landed after a few minutes to adjust the throttle trim. This allowed the prop to stay spinning as it eliminated the dead zone and gave the pilot finer control.
Although we had no issues with the Cub performance, something bad happened and we were forced to land after 12 minutes. The big 1/3 scale Cub was safe on the ground.
As Ron and I walked back to the pit area, we discussed what happened to the motor that caused the flight to end. It turns out that several magnets had broken free, causing the motor to completely seize up. Fortunately, the Cub wingloading was so light that it didn't require any motor power to land. It was safe on the ground.
I reported the issue to Hang-It RC and they immediately took the 7050 off their Web site. I felt this was a very responsible move on their part and they conveyed that they were very concerned about the motor issue, yet happy that no damage occurred to my Cub.
They have since reported that after speaking with the manufacturer, the 7050 is already undergoing changes to assure this doesn't happen in the future. The motor will now have a new casing (housing) to better support the magnets at
AXI / Jeti Power System
AXI 5345/16 motor
each end. They are also looking into filling the gaps between the magnets with resin for additional support. When Hang-It
RC releases the upgraded motor, the Cub will be back in the air for the next flying season.
Since 3000-4000 watts is plenty of power to fly aerobatic maneuvers with the third scale Cub, a suggestion for another usable setup is the AXI / Jeti power system shown on the right.
The only thing I found on this third scale Cub that I didn't like was the wheels that leaked air. These were easily replaced with a set of scale Cub wheels from Dubro.
The World Models kit is very complete and includes all the hardware needed in individual bags that are marked to match the assembly step number. This third scale Cub is a great value because it is highly pre-assembled and beautifully covered. The flying performance is simply superb!
Jeti 99-amp SPIN ESC or
Castle Creations HV-110 ESC
12s 5AH-10AH LiPo pack
APC 24x12 e-prop
Manufacturer/Dealer Information
Airborne Models
2403 Research Drive,
Livermore, CA 94550
925-371-0922 www.airborne-models.com
Hobby Lobby
5614 Franklin Pike Cr.
Brentwood, TN 37027
615.373.1444
www.hobby-lobby.com
Hang-It R/C
409 Cowan Court
Nolensville, TN 37135
(615) 337-7289 www.HangItRC.com
ZAP Glues On-line at Frank Tiano Enterprises
Pacer Z-42 Thread Locker
5-minute Z-poxy
Pacer POLY ZAP(tm)
Dubro Scale Cub Wheels
FlightPower EVO Series LiPo Packs
ROMCO Manufacturing, Inc.
100 West 1st Street
Deer Park, Texas 77536
281-479-9600
Website: www.truturn.com
Comments on RCU Review: World Models Clipped Wing Cub - 1/3
ELECTRIFIED
Posted by: EUROSPORT JET IRELAND on 07/25/2009 Profile
Gregg Great article on converting to electrick. Can you tell me will a speed controller with 120 amps be ok, with 2 6 cell
Lipos. How many batteries did you use? Many thanks John Beasley
Posted by: Greg Covey on 07/25/2009 Profile
Hi John, Yes, that should work fine. I used 12s 10A of LiPo with a 22x10 e-prop on an AXI 5345/16 motor. The 10AH capacity was made from two 5AH packs in parallel to achieve the proper CG. In addition to the extra weight for balance, it did allow for some nice flight time around 15 minutes. Good luck!
Posted by: Bivens on 08/03/2009 Profile
What is total flying weight? For large electric such as this, with multple 4s and 5s packs, what charger do you like and how much flight time vs. charge time do you normally find? How many sets of Batteries make it practical to enjoy a day at the field?
Page: 1
The comments, observations and conclusions made in this review are solely with respect to the particular item the editor reviewed and may not apply generally to similar products by the manufacturer. We cannot be responsible for any manufacturer defects in workmanship or other deficiencies in products like the one featured in the review.
EMAIL THIS ARTICLE OR CHECK OUT THESE OTHER GREAT REVIEWS!
Photo Manufacturer Product
Tower Hobbies J-3 Cub
Summary Reviewed
With its distinctive looks, it is probably safe to say that the J-3 Cub is one of the most recognized and known airplanes in ...
11/23/2015
RCGF
21cc Twin Cylinder
Gasoline Engine
RCGF, a Chinese manufacturer of gasoline engines, designs and manufactures engines specifically for 'the RC aircraft market. ...
11/23/2015
RCGF
120cc Twin
Cylinder Gasoline
Engine
RCGF, a Chinese manufacturer of gasoline engines, designs and manufactures engines specifically for the RC aircraft market. T...
11/23/2015
Seagull Models
Maule Super
Rocket 10-15cc
ARF
When Seagull Models announced that they were going to produce not just a model, but an ARF of the Super Rocket, I just had to...
11/22/2015
Hobbico Estes Proto-Z
The Proto-Z is a Blast of micro-sized fun! It's the ultimate user-friendly drone- The fastest, easiset and most economical wa...
11/22/2015
Flitework Edge 540
The Flitework Edge 540 is an electric only ARF airframe with a generous wing span of 66.9" and also beautifully dressed up in...
11/21/2015
Seagull Models
Steen Super
Skybolt 15cc ARF
Seagull Models introduced this biplane early on in 2015, and SIG mfg. had a pre-production sample at the Toledo Expo.
That pr...
11/20/2015
ST Model Salto
ST model brings us a fun aerobatic glider with the H101 Salto. The self-launch electric glider has no bad tendency and will b...
11/19/2015
RCGF
10cc Gasoline
Engine
RCGF, a Chinese manufacturer of gasoline engines, designs and manufactures engines specifically for 'the RC aircraft market. ...
11/17/2015
Seagull Models
Funky Cub 10-15cc
ARF
The new Funky Cub has some really cool attributes, borrowed from scale aircraft, that should add up to make it a great flying...
11/16/2015
RCGF
20cc Gasoline
Engine
RCGF, a Chinese manufacturer of gasoline engines, designs and manufactures engines specifically for 'the RC aircraft market. ...
11/15/2015
ST Model ASW28
ST Model chose to reproduce the Schleicher
ASW28, a single seater standard class glider capable of glide ratio up to 45. The ...
11/10/2015
The World
Models
30% PT-17
Stearman ARF
(U.S. ARMY)
Some may call me lucky. I would agree! One of the reasons that the PT-17 is so close to my heart is that I have a personal co...
10/03/2015
Bomberfield
USA 2015
27th Annual B-17
Gathering
Every year, the end of the summer brings the big birds back to Monaville, TX, for a festive fly-in weekend at the local RC si...
10/03/2015
HeliMax Voltage 500 3D
This quad is absolutely not for the faint of heart, but if you·re an established heli pilot with some experience under your b...
10/03/2015
Return to Magazine Homepage
RCUniverse is a service of Internet Brands, Inc. Copyright © 2001-2017.
Terms of Service
|
Privacy Policy
GET FREE RC CONTENT FOR YOUR WEBSITE
Search | Marketplace | Event Central | Local Clubs | Magazine | Product Ratings | New Products | Discussion Forums
Search | Marketplace | Event Central | Local Clubs | Magazine | Product Ratings | New Products | Discussion Forums
Photo Gallery | Instructor Search | Field|Track|Marina Search | RCU Youtube Channel | | RCU Twitter!
Member Locator | Advertisers | Hobby Vendor Resources | Rate Manufacturers | Sign In/Sign Up
Products
Videos
WattFlyer.com
RC Classifieds
RCU2 | 10.17.133.22 | 0 | 1 | 12:01:06 PM EST | NC
* Your assessment is very important for improving the work of artificial intelligence, which forms the content of this project