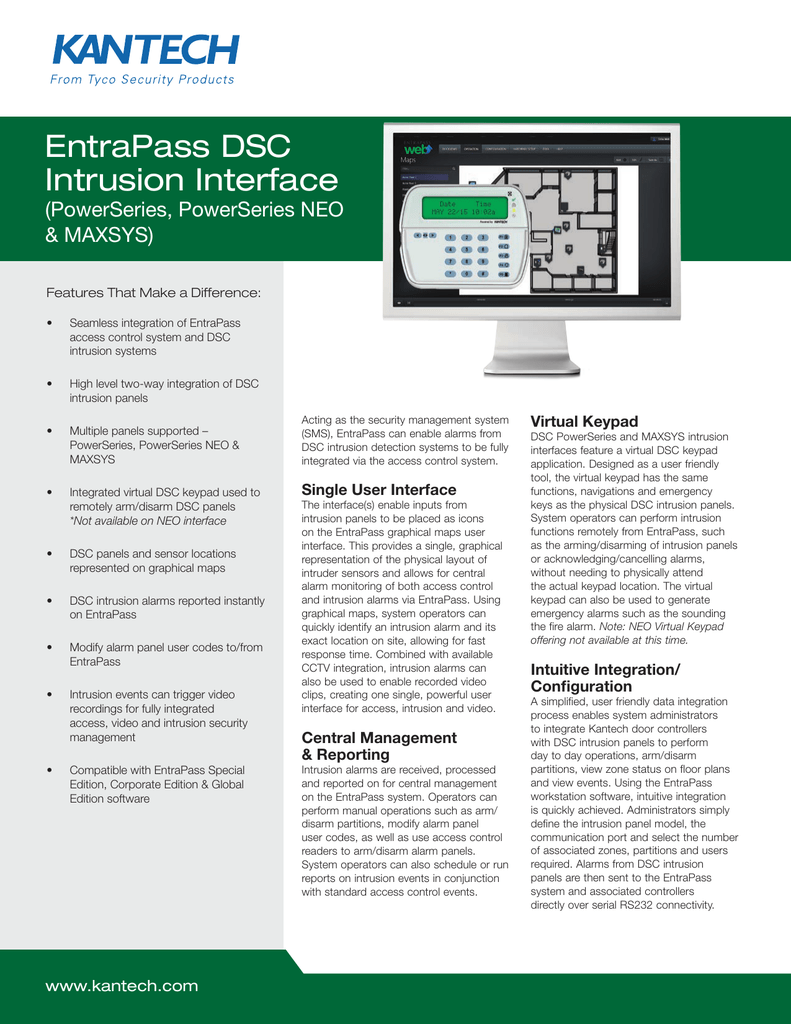 EntraPass DSC
Intrusion Interface
(PowerSeries, PowerSeries NEO
& MAXSYS)
Features That Make a Difference:
•
Seamless integration of EntraPass
access control system and DSC
intrusion systems
•
High level two-way integration of DSC
intrusion panels
•
Multiple panels supported –
PowerSeries, PowerSeries NEO &
MAXSYS
•
Integrated virtual DSC keypad used to
remotely arm/disarm DSC panels
*Not available on NEO interface
•
DSC panels and sensor locations
represented on graphical maps
•
DSC intrusion alarms reported instantly
on EntraPass
•
Modify alarm panel user codes to/from
EntraPass
•
•
Intrusion events can trigger video
recordings for fully integrated
access, video and intrusion security
management
Compatible with EntraPass Special
Edition, Corporate Edition & Global
Edition software
www.kantech.com
Acting as the security management system
(SMS), EntraPass can enable alarms from
DSC intrusion detection systems to be fully
integrated via the access control system.
Single User Interface
The interface(s) enable inputs from
intrusion panels to be placed as icons
on the EntraPass graphical maps user
interface. This provides a single, graphical
representation of the physical layout of
intruder sensors and allows for central
alarm monitoring of both access control
and intrusion alarms via EntraPass. Using
graphical maps, system operators can
quickly identify an intrusion alarm and its
exact location on site, allowing for fast
response time. Combined with available
CCTV integration, intrusion alarms can
also be used to enable recorded video
clips, creating one single, powerful user
interface for access, intrusion and video.
Central Management
& Reporting
Intrusion alarms are received, processed
and reported on for central management
on the EntraPass system. Operators can
perform manual operations such as arm/
disarm partitions, modify alarm panel
user codes, as well as use access control
readers to arm/disarm alarm panels.
System operators can also schedule or run
reports on intrusion events in conjunction
with standard access control events.
Virtual Keypad
DSC PowerSeries and MAXSYS intrusion
interfaces feature a virtual DSC keypad
application. Designed as a user friendly
tool, the virtual keypad has the same
functions, navigations and emergency
keys as the physical DSC intrusion panels.
System operators can perform intrusion
functions remotely from EntraPass, such
as the arming/disarming of intrusion panels
or acknowledging/cancelling alarms,
without needing to physically attend
the actual keypad location. The virtual
keypad can also be used to generate
emergency alarms such as the sounding
the fire alarm. Note: NEO Virtual Keypad
offering not available at this time.
Intuitive Integration/
Configuration
A simplified, user friendly data integration
process enables system administrators
to integrate Kantech door controllers
with DSC intrusion panels to perform
day to day operations, arm/disarm
partitions, view zone status on floor plans
and view events. Using the EntraPass
workstation software, intuitive integration
is quickly achieved. Administrators simply
define the intrusion panel model, the
communication port and select the number
of associated zones, partitions and users
required. Alarms from DSC intrusion
panels are then sent to the EntraPass
system and associated controllers
directly over serial RS232 connectivity.
System Requirements & Features Matrix
DSC Intrusion Panel Type
PowerSeries
(PC1616, PC1832, PC1864)
MaxySys
(PC4020)
Neo
(HS2016, HS2032, HS2064,
HS2128)
Interface/Communicator required
Kantech KT-IT100 cable kit/
module
Kantech KT-4401VK cable kit/
module
DSC NEO Communicator (TL-280)
& Kantech NEO cable kit
(CBLK-ITV2)
Supporting Kantech controller
KT-1 (PCB), KT-400, KT-NCC
KT-1 (PCB), KT-400, KT-NCC
KT-1 (PCB), KT-400, KT-NCC
Yes
Panel to panel connection
Yes
Yes
Panel to gateway connection
Yes
Yes
Yes
Connection type
Serial
Serial
Serial
Manage user codes from EntraPass workstation
Yes
Yes
Yes
Uploading zone and partition labels
Yes
Yes
Yes
Receiving programming of the intrusion system
Yes
Yes
Yes
Real-time panel events received
Yes
Yes
Yes
View status of zones and partitions
Yes
Yes
Yes
Manual operations from EntraPass
Yes
Yes
Yes
Intrusion components on Maps workstation
Yes
Yes
Yes
Virtual Keypad
Yes
Yes
No
Arm and disarm partitions from EntraPass
Yes
Yes
Yes
Arm and disarm from ioProx reader
Yes
Yes
Yes
Bypass zones
No
Yes
Yes
Entrapass software support version
v4.03 & upwards
v4.04 & upwards
v6.03 & upwards
* All features above are fully available using EntraPass workstation software. Please note when using EntraPass web software certain restrictions apply.
EntraPass
Neo Intrusion Keypad
TCP/IP NETWORK
KT-1
PC-Link
KT-400
RS-232
Neo Communicator
TL280
DSC Neo control panels
HS2016, HS2032,
HS2064, HS2128
Related Products
EntraPass
Security Software
KT-1 Controller
*Sample diagram illustrating DSC PowerSeries NEO
integration with EntraPass
Approvals
KT-400 Controller
DSC
Alarm Panels
www.kantech.com
©2015 Tyco Security Products. All Rights Reserved. KT0361-DS-201506-R01-LT-EN
Tyco and the product names listed above are marks and/or registered marks. Unauthorized use is strictly prohibited.
Product offerings and specifications are subject to change without notice. Actual products may vary from photos. Not all products include all features. Availability varies by region; contact your sales representative.

* Your assessment is very important for improving the work of artificial intelligence, which forms the content of this project