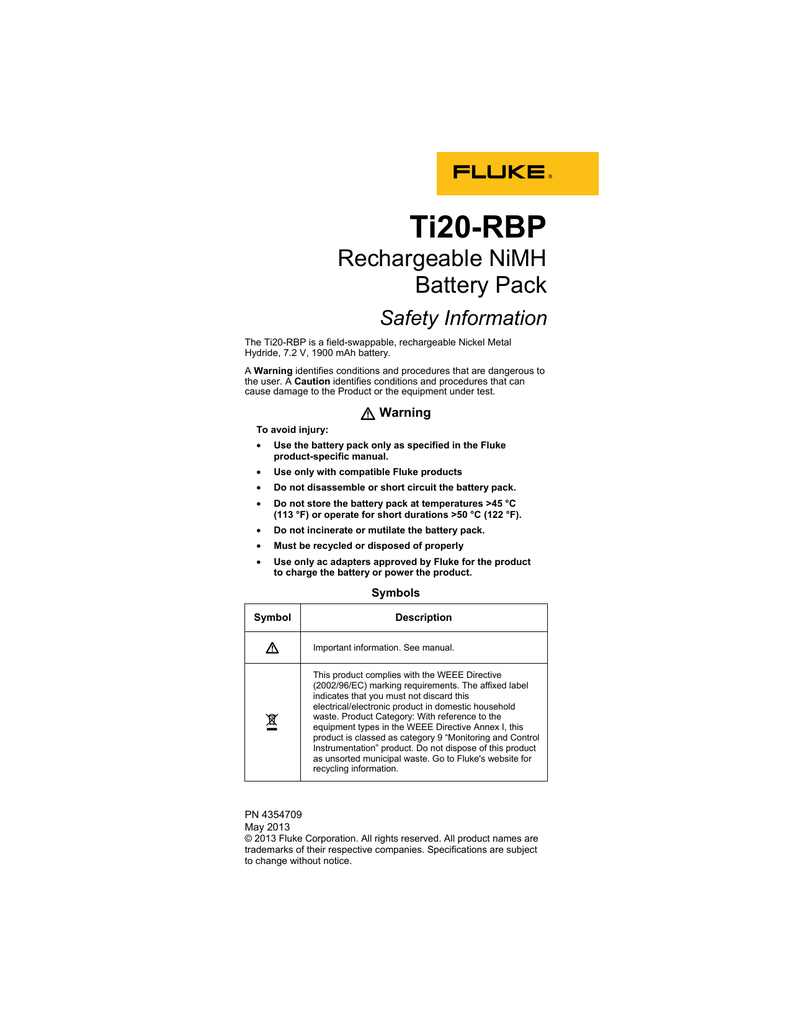 Ti20-RBP
Rechargeable NiMH
Battery Pack
Safety Information
The Ti20-RBP is a field-swappable, rechargeable Nickel Metal
Hydride, 7.2 V, 1900 mAh battery.
A Warning identifies conditions and procedures that are dangerous to
the user. A Caution identifies conditions and procedures that can
cause damage to the Product or the equipment under test.
 Warning
To avoid injury:
•
Use the battery pack only as specified in the Fluke
product-specific manual.
•
Use only with compatible Fluke products
•
Do not disassemble or short circuit the battery pack.
•
Do not store the battery pack at temperatures >45 °C
(113 °F) or operate for short durations >50 °C (122 °F).
•
Do not incinerate or mutilate the battery pack.
•
Must be recycled or disposed of properly
•
Use only ac adapters approved by Fluke for the product
to charge the battery or power the product.
Symbols
Symbol
Description

Important information. See manual.

This product complies with the WEEE Directive
(2002/96/EC) marking requirements. The affixed label
indicates that you must not discard this
electrical/electronic product in domestic household
waste. Product Category: With reference to the
equipment types in the WEEE Directive Annex I, this
product is classed as category 9 "Monitoring and Control
Instrumentation" product. Do not dispose of this product
as unsorted municipal waste. Go to Fluke's website for
recycling information.
PN 4354709
May 2013
© 2013 Fluke Corporation. All rights reserved. All product names are
trademarks of their respective companies. Specifications are subject
to change without notice.
Specifications
Battery Type
NiMH, 7.2 V, 1900 mAh, 13.7 Whr
Dimensions
11 cm x 3 cm x 3 cm
(4.3 in x 1.2 in x 1.2 in)
Operating Temperature
-10 °C to 50 °C (14 °F to 122 °F)
Long Term Storage
Temperature
-20 °C to 45 °C (-4 °F to 113 °F)
How to Contact Fluke
To contact Fluke, call one of the following telephone numbers:
•
USA: 1-800-760-4523
•
Canada: 1-800-36-FLUKE (1-800-363-5853)
•
Europe: +31 402-675-200
•
Japan: +81-3-6714-3114
•
Singapore: +65-6799-5566
•
Anywhere in the world: +1-425-446-5500
Or, visit Fluke's website at www.fluke.com.
To register your product, visit http://register.fluke.com.
To view, print, or download the latest manual supplement, visit
http://us.fluke.com/usen/support/manuals.

* Your assessment is very important for improving the work of artificial intelligence, which forms the content of this project