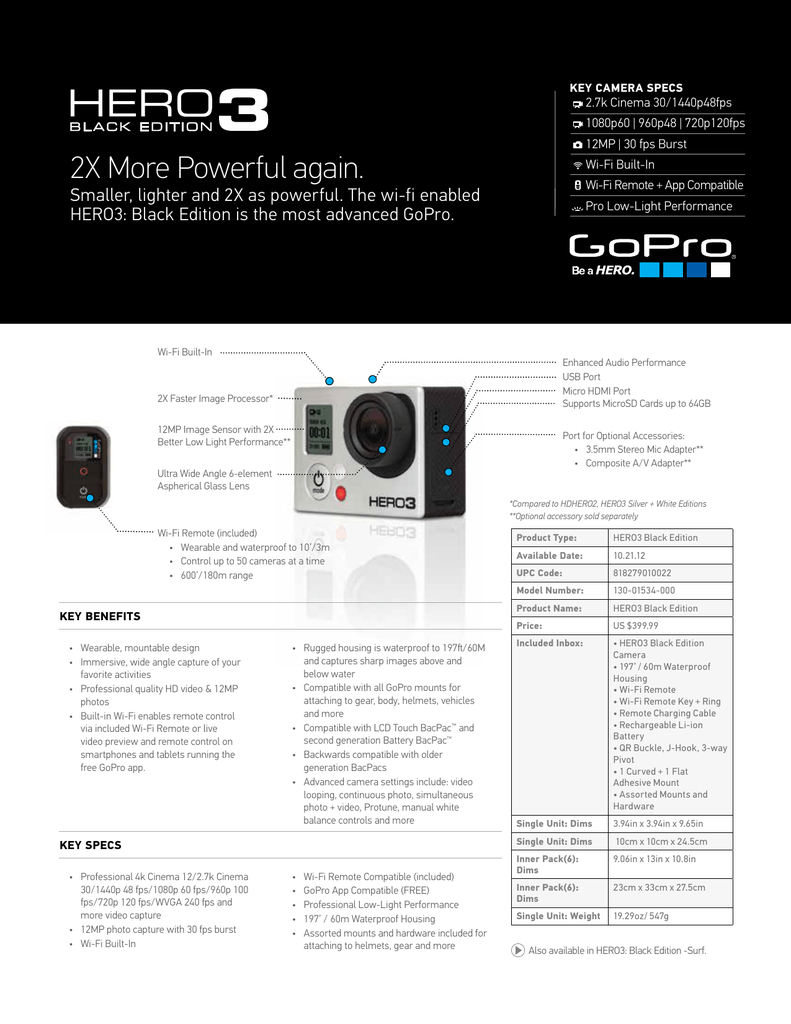 Key Camera specs
2.7k Cinema 30/1440p48fps
1080p60 | 960p48 | 720p120fps
12MP | 30 fps Burst
2X More Powerful again.
Wi-Fi Built-In
Wi-Fi Remote + App Compatible
Smaller, lighter and 2X as powerful. The wi-fi enabled
HERO3: Black Edition is the most advanced GoPro.
Pro Low-Light Performance
Wi-Fi Built-In
Enhanced Audio Performance
USB Port
Micro HDMI Port
Supports MicroSD Cards up to 64GB
2X Faster Image Processor*
12MP Image Sensor with 2X
Better Low Light Performance**
Port for Optional Accessories:
• 3.5mm Stereo Mic Adapter**
• Composite A/V Adapter**
Ultra Wide Angle 6-element
Aspherical Glass Lens
*Compared to HDHERO2, HERO3 Silver + White Editions
**Optional accessory sold separately
Wi-Fi Remote (included)
• Wearable and waterproof to 10'/3m
• Control up to 50 cameras at a time
• 600'/180m range
Key Benefits
• Wearable, mountable design
• Immersive, wide angle capture of your
favorite activities
• Professional quality HD video & 12MP
photos
• Built-in Wi-Fi enables remote control
via included Wi-Fi Remote or live
video preview and remote control on
smartphones and tablets running the
free GoPro app.
• Rugged housing is waterproof to 197ft/60M
and captures sharp images above and
below water
• Compatible with all GoPro mounts for
attaching to gear, body, helmets, vehicles
and more
• Compatible with LCD Touch BacPac™ and
second generation Battery BacPac™
• Backwards compatible with older
generation BacPacs
• Advanced camera settings include: video
looping, continuous photo, simultaneous
photo + video, Protune, manual white
balance controls and more
Key Specs
• Professional 4k Cinema 12/2.7k Cinema
30/1440p 48 fps/1080p 60 fps/960p 100
fps/720p 120 fps/WVGA 240 fps and
more video capture
• 12MP photo capture with 30 fps burst
• Wi-Fi Built-In
•
•
•
•
•
Wi-Fi Remote Compatible (included)
GoPro App Compatible (FREE)
Professional Low-Light Performance
197' / 60m Waterproof Housing
Assorted mounts and hardware included for
attaching to helmets, gear and more
Product Type:
HERO3 Black Edition
Available Date:
10.21.12
UPC Code:
818279010022
Model Number:
130-01534-000
Product Name:
HERO3 Black Edition
Price:
US $399.99
Included Inbox:
• HERO3 Black Edition
Camera
• 197' / 60m Waterproof
Housing
• Wi-Fi Remote
• Wi-Fi Remote Key + Ring
• Remote Charging Cable
• Rechargeable Li-ion
Battery
• QR Buckle, J-Hook, 3-way
Pivot
• 1 Curved + 1 Flat
Adhesive Mount
• Assorted Mounts and
Hardware
Single Unit: Dims
3.94in x 3.94in x 9.65in
Single Unit: Dims
10cm x 10cm x 24.5cm
Inner Pack(6):
Dims
9.06in x 13in x 10.8in
Inner Pack(6):
Dims
23cm x 33cm x 27.5cm
Single Unit: Weight
19.29oz/ 547g
Also available in HERO3: Black Edition -Surf.
Professional Video
PHOTOS
RESOLUTION
FPS
VIEW ANGLE
4Kp
12
Ultra Wide
2.7Kp
30, 25, 24
Ultra Wide
1440p
48, 30, 25, 24
Ultra Wide
1080p
60, 50, 48, 30, 25, 24
Ultra Wide, Med, Narrow
960p
100, 48
Ultra Wide
720p
120, 100, 60, 50
Ultra Wide, Med*, Narrow*
WVGA
240
Ultra Wide
Photo
Continuous Burst
Photo
12, 7, 5MP
12MP @
3/sec, 5/sec,
30 fps
10/sec
Time-lapse Simultaneous
0.5, 1, 2, 5, 10, video + Photo
30, 60 second 1080p24/1080p30/
720p60/1440p24
intervals
WI-FI Built in
*720p120 does not support medium view angle. Medium and narrow may require a
software update. Visit gopro.com/update
Includes:
Protune is a video mode that enables cinemaquality video for professional productions.
Wi-Fi Remote (Included)
Control up to 50 cameras at a time.
GoPro App Compatible(FREE)
Use your smartphone or tablet1
as a live video2 remote control.
1Wi-Fi
remote sold separately. 2For a list of GoPro App compatible smartphones and
tablets, visit gopro.com.
CAMERA SPECIFICATIONS
Optics
• Ultra sharp ƒ/2.8 6-element aspherical glass lens • Ultra wide angle / reduced distortion
• 2X Better low-light performance*
Video (NTSC/PAL)
• See info above for resolutions and frame rates
• Video format: H.264 codec, .mp4 file format
• White Balance: auto and manual
Photo Modes
• 12, 7, 5MP resolutions
• Burst: 30 photos per second
• Time-lapse: 0.5, 1, 2, 5, 10, 30, 60 second intervals
• Continuous photo: 3, 5, 10 photos/sec
Battery & Charging
• 1050mAh rechargeable lithium-ion
• Charge via USB
Audio
• Mono, AAC compression w/ AGC
• Supports optional 3.5mm stereo mic adapter**
HERO3: black Edition Assets:
The HERO3: Black Edition images
above are available on the GoPro
Asset Vault for download in both
high (for print) and low (for screen)
resolution files. FTP information to
access these images is available
through your GoPro account rep.
Storage
Memory:
• MicroSD (Class 10 or higher
required)
• Up to 64 GB capacity required
• Record times will vary with
resolution and frame rates
Included Cables
• USB charging cable
• Remote charging cable
Optional Cables + Adapters**
• Micro HDMI cable
• Composite A/V cable
• 3.5mm stereo mic adapter
Operating System
• Microsoft Windows® Vista, 7 and later
• Mac OS® X 10.5 and later
*Compared to HD Hero2 and HERO3 White and Silver Edition cameras.
**Optional accessories sold separately.
For more information,
visit: gopro.com
3000 Clearview Way, Bldg E
San Mateo, CA 94402
GoPro, HERO and their respective logos
are trademarks of Woodman Labs, Inc.
in the United States and other countries.
Copyright © 2012. Woodman Labs, Inc.
All rights reserved.