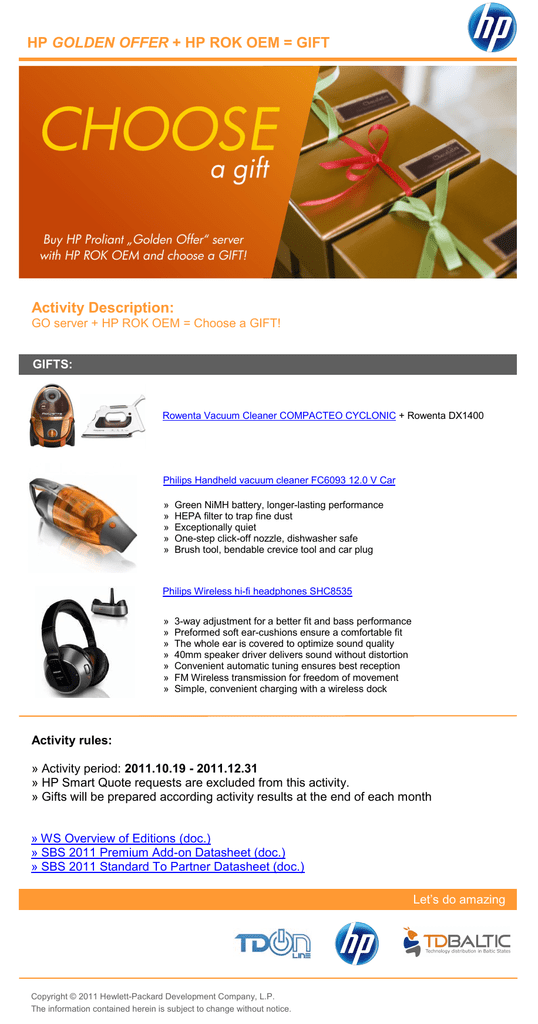 HP GOLDEN OFFER + HP ROK OEM = GIFT
Activity Description:
GO server + HP ROK OEM = Choose a GIFT!
GIFTS:
Rowenta Vacuum Cleaner COMPACTEO CYCLONIC + Rowenta DX1400
Philips Handheld vacuum cleaner FC6093 12.0 V Car
»
»
»
»
»
Green NiMH battery, longer-lasting performance
HEPA filter to trap fine dust
Exceptionally quiet
One-step click-off nozzle, dishwasher safe
Brush tool, bendable crevice tool and car plug
Philips Wireless hi-fi headphones SHC8535
»
»
»
»
»
»
»
3-way adjustment for a better fit and bass performance
Preformed soft ear-cushions ensure a comfortable fit
The whole ear is covered to optimize sound quality
40mm speaker driver delivers sound without distortion
Convenient automatic tuning ensures best reception
FM Wireless transmission for freedom of movement
Simple, convenient charging with a wireless dock
Activity rules:
» Activity period: 2011.10.19 - 2011.12.31
» HP Smart Quote requests are excluded from this activity.
» Gifts will be prepared according activity results at the end of each month
» WS Overview of Editions (doc.)
» SBS 2011 Premium Add-on Datasheet (doc.)
» SBS 2011 Standard To Partner Datasheet (doc.)
Let's do amazing
Copyright © 2011 Hewlett-Packard Development Company, L.P.
The information contained herein is subject to change without notice.

* Your assessment is very important for improving the work of artificial intelligence, which forms the content of this project